Strategic campus in Singapore heightens creativity in Asia

Essential hub for the Asia Pacific region
Component content
Givaudan's Perfumery School in Singapore makes strategic 'scents'. The Singapore Campus of Givaudan's Perfumery School in Paris plays a vital role in training our future perfumers and is an essential hub for our customers in the Asia Pacific region. 
Singapore, the epicentre of the ancient spice route and a trading post for the world's finest cinnamon, nutmeg, pepper and clove, is a fitting location for our state-of-the-art Campus. Famously, Givaudan's purpose-built building boasts no elevators, only stairs, to deliberately create connections and conviviality at every opportunity. This spirit of collaboration extends to the customers, perfumers and elite perfumery school students that call this hub their home.
Component content
Strategic partner
The Singapore Campus is the only perfume school of its kind outside Europe and is a strategic partner to Givaudan's Paris Perfumery School in every sense of the word. It's a gateway to the Paris Perfumery School, where they will spend a year on an exciting exchange, immersing themselves in the sights, sounds and smells of France and Europe, working with peers, tutors and colleagues.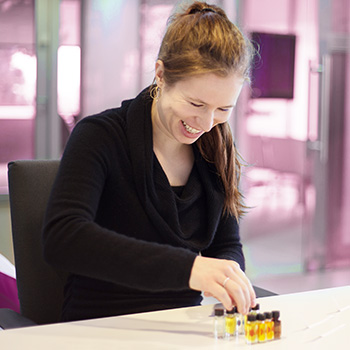 Similarly, select students that attend the Paris school will travel to Singapore to spend a year at the Campus. This is an opportunity, often for the first time, to immerse themselves in a wholly different culture and experience the fruits, flora and flowers of Asia Pacific.
For both sets of students, the experience is equally exotic, a stimulating cultural and academic exchange designed to enrich the rigorous training that they undertake to be among the world's greatest perfumers.
Component content
Local market insights
For Alethea, Perfumery School student, the experience was unforgettable:
"The fragrances, scents and raw materials that I have worked with on the Singapore Campus have provided a rich bank of olfactive ideas. Having grown up in Singapore and experiencing the plethora of smells and botany in the region, many local scents I love and grew up with aren't widely used in perfumery. It's a big privilege to translate these experiences and inspirations into creations."
 
Givaudan's presence in Asia enables international and European customers direct access to local market insights and to innovate with a rich palette of locally sourced raw materials. All customers benefit from the privilege of a world-class fragrance school peopled with global perfumers ready to respond to ideas quickly and precisely.