Component content
Imagine standing in the middle of a forest, surrounded by wonderful earthy scents and soothing sounds. Now imagine being at the beach, hearing the waves crashing and feeling the salty sea air on your face. Inspired by the healing power of these amazing natural environments.
Givaudan has created two fragrance technologies that capture the energy of our planet's blue and green spaces. Phytogaia™ and Thalassogaia™ are designed to revitalise our bond with nature through our most primal sense: smell.
A deeper connection with our planet
Since the start of the COVID-19 pandemic, people all over the world have been making efforts to reconnect with nature and spend more time outdoors. Consumers are focusing more on their mental wellbeing and seeking a simpler, more authentic way of life – and this trend is affecting their shopping choices, too. There is a growing demand for planet-friendly products that blend wellbeing benefits with green claims.
Unlocking the power of nature
Component content
Unlocking the power of nature
At Givaudan, developing technology from nature is a key part of our purpose of "creating for happier, healthier lives with love for nature" and our 2025 strategy. Both Phytogaia™ and Thalassogaia™ have been developed according to our Naturality Guide™, which help us to design fragrances in a nature-conscious way. Our versatile Phytogaia™ and Thalassogaia™ accords cover various olfactive spaces and enable you to tell different stories, depending on your brand positioning and values. Many contain 100% natural ingredients and/or are 100% biodegradable.
"The natural world has always been a great source of inspiration for Givaudan, from its rich array of ingredients to its incredibly complex chemistry and processes. When it comes to creating new technologies, we believe that nature has all of the answers we need – we just need to listen and look around us. This is exactly how we arrived at our Phytogaia™ and Thalassogaia™ accords, which capture the essence of the forest and the sea and transform these calming natural spaces into fragrances."

Philippe, Global Head of Fragrance Technology, Givaudan
Bringing the wellbeing benefits of phytoncides to perfumery
Component content

Phytogaia™: bottling the forest bathing trend
Component content
Phytogaia™: bottling the forest bathing trend
The Japanese art of forest bathing or 'Shinrin-Yoku' has become a major wellness trend. Spending time soaking up the sights, sounds and serenity of the forest, with all of the senses actively engaged, is believed to improve our mood, reduce stress and fatigue, and even boost immunity. This is because trees communicate and protect each other by emitting natural chemical substances called phytoncides – and scientists have found that exposure to these volatile organic compounds can have a positive effect on people. This fascinating connection has already been leveraged in aromatherapy and cosmetics. Now we are bringing the wellbeing benefits of phytoncides to perfumery with Phytogaia™.
Our Science and Technology team analysed phytoncides to understand their volatility and composition, then translating their findings into our perfumery palette.
Thalassogaia™: the call of the sea
Component content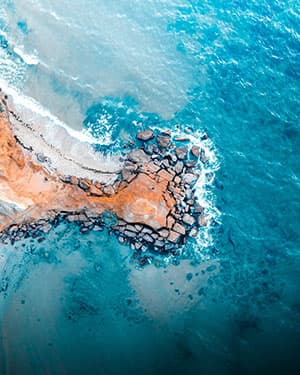 Thalassogaia™: the call of the sea
Following the successful launch of Phytogaia™, we decided to explore another space where people love to spend time: the beach. This led to Thalassogaia™, which draws on the ancient practice of thalassotherapy. The Egyptians were the first to recognise the therapeutic virtues of seawater, while the Romans invented pelotherapy: mud baths from sediments extracted from the bottom of the seas.
To understand the link between oceanic atmospheres and compounds in perfumery, we carried out detailed research in coastal locations using our ScentTrek™ headspace technology. 
This allowed us to develop a collection of Thalassogaia™ accords that mimic the composition of the marine environment, for all categories, with maximum respect for nature.
Our Thalassogaia™ accords are designed to trigger the calming feeling of being near, on or in water.
Environmentally friendly discovery with ScentTrek™
Component content
Environmentally friendly discovery with ScentTrek™
Scent Trek™ is our headspace technology that captures the true scents of natural environments without harming the planet. Weighing just 3kg, this pioneering tool unveils all of the subtleties that make a fragrance unique: the soil, air, surrounding flora and fauna, and countless other nuances. It can identify every single molecule, even in quantities as small as a billionth of a gram, giving us and our customers a deeper understanding of natural scents.
Harvesting happiness right at the source
With Phytogaia™ and Thalassogaia™, you can create innovative fragranced products that delight consumers and bring a sense of relaxation and reconnection to everyday moments. From pine-scented air fresheners to aromatic bath salts, the possibilities are endless. At Givaudan, we will continue to channel Earth's happiness resources to design extraordinary fragrances that help people all over the world to renew their relationship with nature, no matter where they live.