Component content
Throughout Givaudan's 250-year history, we have always placed naturals at the heart of fragrance creation. Built on decades of forward-thinking, our approach to Naturals reflects our deep respect for nature and the growing demand for eco-conscious fragrances.
We are passionate about protecting our planet's precious resources for future generations, and we go the extra mile to find top-quality, transparent solutions with the lowest possible environmental impact. This means focusing on responsible sourcing, using biotech to find innovative alternatives to Naturals, and expanding our capabilities through acquisitions and partnerships in the country of origin. Ultimately, our aim is to craft beautiful, sustainable fragrances to delight and inspire perfumers, customers and consumers around the world.
Component content
Watch our 'Naturals at Origin' video
Naturals innovation and exclusivity
Component content
Enriching olfactive innovations
We understand that responsible innovation is vital for the future of our Company, our industry and our planet. That's why we place sustainability at the heart of our product development process, from upcycling 'waste' materials to exploring biodegradable or renewable ingredients, and we innovate directly in the country of origin to minimise our environmental impact.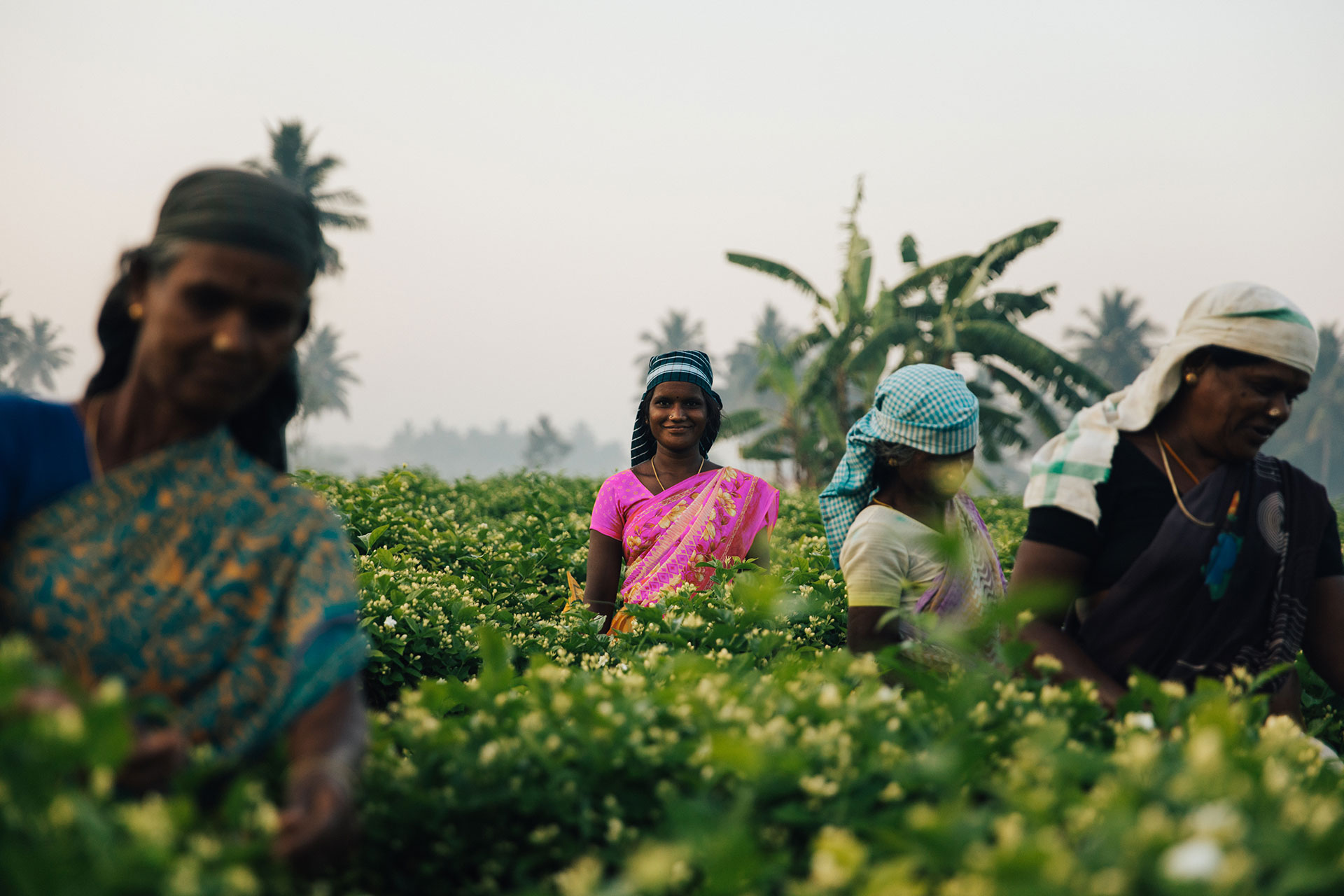 Jasmine harvest in India
A recent example is the beautiful new jasmine we produced in India with Synthite, a worldwide leader in spices. Through this partnership, we have also co-developed an eco-friendly 'flash distillation' technique, which has led to extraordinary new variants of ginger, lemongrass and other well-known spices. These olfactive innovations enrich the perfumers' palette allowing them to dream up new creations that are not only beautiful and inspiring, but also sustainable by reducing the energy consumption.
Our exclusive Orpur® label
Our exclusive Orpur® label, inspired by the words 'origine pure' (pure origin) in French, is our most exclusive collection of Naturals. First introduced over 20 years ago, this constantly evolving palette of highest-quality ingredients gives perfumers the building blocks to create luxurious, nature-conscious fragrances. This precious and unique range of sustainably sourced materials is selected and approved by a special committee of fine fragrance perfumers and technical experts.
Component content
Acting at origin
It's important to us to work in the field where our ingredients are produced, so that we can source and develop solutions in a responsible and traceable way. As well as enhancing our palette of Naturals, this enables us to be a force for good for local communities. It also brings environmental benefits, as it limits our carbon impact and helps us to conserve biodiversity through our agronomy programmes. To date, we have planted hundreds of thousands of trees and preserved around 150,000 hectares of forest as part of our global carbon reduction ambition. This approach reflects our Company purpose of creating for happier, healthier lives with love for nature, and helps us to improve the livelihoods of thousands of people.
Read more about our sustainability initiatives
Sourcing4Good programme
Sourcing4Good means strengthening our key supply chains for Naturals and making a positive impact on the places where our ingredients originate. This not only benefits local producers and communities; it also helps us to innovate and improve the quality of our Naturals.
Component content
Developing our capabilities with acquisitions
From Spain to Madagascar, acquisitions play a key role in our Naturals strategy. Our global network of companies enables us to increase our knowledge in important areas such as agronomy. It also gives us access to production sites all over the world, which in turn helps us to innovate at source and lower our carbon footprint.
Recent acquisitions include Centroflora Nutra, a world player in natural extracts; Naturex, an international leader in plant extraction and the development of natural ingredients; and Albert Vieille, a specialist in 100% natural, 100% pure essential oils for aromatherapy. These capabilities complement our own expertise and allow us to offer customers an even broader range of solutions and services.