Shaping tomorrow's signature fragrances with science

Component content
Raw materials are a vital part of a perfumer's toolkit and many of these are molecules. Despite their invisible nature, these tiny bundles of atoms pack a powerful punch: they revolutionised the industry when they were discovered in the 19th century, paving the way for a new approach to fragrance creation.
Today, Givaudan continues to use cutting-edge chemistry and biotechnology to develop pioneering molecules to complement our palette of Naturals. This not only helps our customers to launch distinctive, high-performing products; it also opens up new opportunities for sustainable innovation.
Our fragrance molecule signatures
Fragrance molecules play a starring role in some of the world's most famous fine fragrances. They also appear in many much-loved consumer products, from laundry detergents to shampoos. Fragrance molecules allow brands to create new signature scents. Unique and instantly recognisable, these so-called 'imprinting smells' help to enhance the emotional connection with consumers and can increase brand loyalty.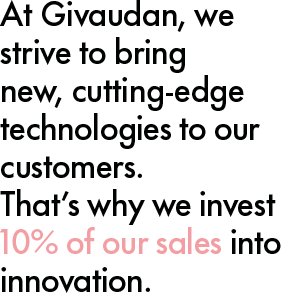 Endless opportunities for development
To give our customers' fragrance products the edge, our Science and Technology team works determinedly to develop new captive ingredients for our perfumers to create new olfactive signatures for Givaudan. Our scientists at our two research innovation centres in Zurich and Shanghai synthesise nearly 2,000 new molecules every year. Only a small number of these end up in our perfumers' palette, based on a rigorous selection process involving performance and tests for human and environment safety. We have patented over 150 new molecules and processes in the past 20 years. 
Zurich Innovation Centre video
Component content
Discover our Zurich Innovation Centre
Sustainability at our core
Component content
Sustainability at our core
Sustainability remains a top priority for us in fragrance creation. A new comprehensive guide of our fragrance ingredients is now available in the form of a Sustainability Profile. This catalogue encompasses more than 200 ingredients; each one measured against nine sustainability parameters, presenting their individual performance. We invite you to discover our palette of ingredients, from a sustainability perspective, below.
Component content
FiveCarbon Path™
Reflecting our commitment to responsible innovation, FiveCarbon Path™ is our unique sustainability ambition for developing new molecules. It is based on five measurable targets:
increasing our use of renewable carbon,
maximising our use of biodegradable carbon,
increasing carbon efficiency in synthesis,
increasing the odour per carbon ratio and
maximising our use of upcycled carbon. 
 
This approach which brings together innovation and sustainability in a measureable way is unique not only to our creation process, but also in the entire industry.
Component content
What is FiveCarbon Path™?
Component content
Safe by Design
Through our Safe by Design initiative, we are leading industry efforts to replace animal testing, while at the same time speeding up the testing process. Scientific innovation centred around early testing of molecules without animals have a wide range of benefits: for consumers by ensuring safety for use on human skin, for customers by bringing products faster to market, and for the environment by creating eco-friendly ingredients.
Safe by Design includes our OECD validated KeratinoSens®, a leading non-animal test for skin sensitisation, and PebitoSens™, a combination of in vitro methods for persistence, bioaccumulation and acute fish toxicity assessment which involves testing on fish cells and enzymes rather than living fish. We also developed the Kinetic DPRA, a non-animal test to predict the potency of allergic reactions in the skin, and validated it in partnership with the chemical company BASF and other institutions. This battery of tests allows us, not only to create new molecules, but also select those that have the best safety profile, while replacing animal testing. 
We worked hard to make these tests industry standards globally accepted by the OECD to make them broadly available. More recently, the OECD approved two more of these innovative in vitro tests (the kinetic DPRA and RTgill-W1 assay) and a combined approach to test skin sensitisation based on in vitro methods only enhancing the number of OECD test guidelines to replace animal testing to which we contributed to six. Once again these achievements highlight our continued commitment to innovating safely and researching new scientific ways that enhance the lives of consumers around the world.
Biotechnology of the future
Component content
Biotechnology of the future
Biotechnology holds enormous potential for carving out a more sustainable future for perfumery and for our planet. At Givaudan, it has already led to some extraordinary innovations. For example, we can now use green chemistry including a biotransformation step to produce the biodegradable ingredient Ambrofix® from sustainably sourced sugar. This results in 100% renewable carbon, in line with our FiveCarbon Path™, and uses far less land compared to the traditional production method starting from clary sage. Akigalawood® is another example of a raw material we achieved to produce through biotechnology and a ground-breaking and environmentally friendly process.
Component content
Our signature captive molecules
Rosabloom™

Rosyfolia®

Mahonial®

Nympheal®

Akigalawood®

Pomelol®

Ebelia®

Tab Content

Rosabloom™ brings a spectacular blooming and natural, transparent and fresh rose petal effect with fruity-juicy undertones.

Tab Content

Rosyfolia® is a floral, rosy, geraniol note with an elegant, fruity airiness. Versatile, comforting and diffusive, it gives perfumers a new perspective on petally radiance.

Tab Content

Mahonial® is a green muguet note bringing floral density to creations with magnolia facets. 

Tab Content

Versatile and diffusive, Nympheal® blends fresh, floral creaminess with linden blossom facets. We developed it as part of our ongoing programme to engineer future-proof muguet molecules.

Tab Content

With a spicy, woody olfactive signature, Akigalawood® is radiant and room-filling, with woody facets of patchouli and agarwood.

Tab Content

Pomelol® is a fresh juicy, green citrus floral note, with a trendy grapefruit connotation and a soft peony undertone.

Tab Content

Ebelia® has a fruity, grapefruit, juicy scent with a touch of cassis.
Component content
Interactive fragrance index
Discover how to map our ingredients