Haute Parfumerie: Givaudan's 85-years rich heritage of unmatched creativity

Celebrating a history of fearless creativity
Component content
Givaudan celebrated its history of fearless creativity in Haute Parfumerie, in an immersive retrospective and future-oriented exhibition, dedicated to its unique creative savoir-faire in Haute Parfumerie creation at the alluring Fine Fragrance Creative Centre in Paris.
Givaudan enticed guests to journey through its heritage, from original formulas to exclusive archives. It showcased a selection of past and present emblematic creations, warmly narrated by Givaudan's experts and visionary perfumers, and how technology transcends olfactory creation.
A perfume steeped in history
Component content
Theresa Révay with Xavier Renard
A perfume steeped in history
Haute Parfumerie was born from know-how, intimate convictions, creative impulses and a desire to design a perfumery nurtured by artistic statements and emotions.
85 years ago, the very first creation of Givaudan in Haute Parfumerie emerged. Over the years, the most iconic creators made their olfactive dreams a reality, hand in hand with Givaudan.
The original handwritten formulas of the perfumers alongside the original bottles offer an exclusive and emotional journey back in time.
Marking a special moment, writer Theresa Révay, the great-granddaughter and great-great niece of co-founders Xavier and Léon Givaudan, was presented with a letter dating back to 30 September 1913, containing a fragrance formula.
Discover Givaudan's pioneering heritage
Component content
The heart of creativity
Conviction, intuition, audacity, creative freedom, quality and substance have become the key words in Haute Parfumerie. The most contemporary olfactive creations are all born in a precise socio-cultural context, and have had a powerful impact on perfumery. 
We enter a moment where image takes centre stage, where unexpected stories enrich fragrances design and creativity intuitions are invited in without compromise. 
Givaudan paved a way for the modern Haute Parfumerie with a sincere, artistic and emotional discourse that met with a growing response from consumers.
The success of a perfume in Haute Parfumerie still depends on a scent whose development will have been marked by creativity and demands, imagined by nourished and fulfilled talents. 

"Givaudan demonstrates its savoir-faire in Haute-Parfumerie and how its creators and experts define the rules of tomorrow's fragrance design."

Oriol, Head of Fine Fragrances Europe
Composing the fine fragrance of tomorrow
Component content
Composing the fine fragrance of tomorrow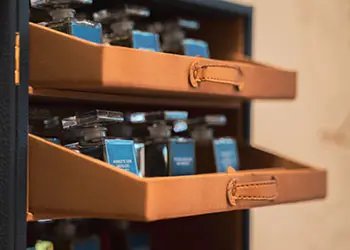 The future of Haute Parfumerie considers the influence of new tools such as Carto, precious raw materials and incredible emerging talents.
The Givaudan Perfumery School remains one of the most admirable example of how Givaudan nurtures and supports tomorrow's creative freedom et prepares its students to answer the most challenging and inspiring demands.
Driven by its mission to innovate and to honour the very best in perfumery since 85 years, Givaudan has been designing the icons of Haute Parfumerie that have stood the test of time. 
Through its connection with the consumers' need to feel unique, to feel inspired, to allow their senses to transport them and be consumed by memory, Givaudan remains the partner of choice to create tomorrow's most exquisite fragrances.