Protecting skin from digital stress with Synchronight™

Helping skin to recharge while we switch off
Component content
With most of us struggling to get a good night's sleep, Givaudan Active Beauty saw an opportunity to develop a cosmetic ingredient that could fight the effects of digital stress.
Activated by the skin microbiome, Synchronight™ protects skin melatonin production, improving sleep quality and preventing premature ageing.
Helping skin to recharge while we switch off
Sleep is vital for good health and wellbeing, but many of us are getting less rest than ever before. Research shows that 80% of people are not completely satisfied with their quality of sleep, and that digital stress is at least partly to blame.
What is digital stress?
With a never-ending stream of news, emails and social media updates at our fingertips, it is becoming increasingly difficult to ever really 'switch off'. But the artificial blue light emitted by our phones, tablets and computers impacts our natural circadian rhythm. This is because it disrupts the production of skin melatonin, a hormone that controls our sleep cycle. Interestingly, skin melatonin is also a powerful anti-ageing agent, which is why 'beauty sleep' helps skin to look more youthful.
A powerful new ingredient
Component content
A powerful new ingredient
Always alert to new trends and opportunities, Givaudan's Active Beauty team decided to find a solution that could protect skin from digital stress, while providing restful sleep to enable skin to regenerate properly. The beauty industry is always looking to satisfy consumers' wishes. A key consumer desire is to achieve 'inside-out' beauty, meaning better skin through better sleep quality. After all, it's well known that a good night's sleep is the best beauty secret.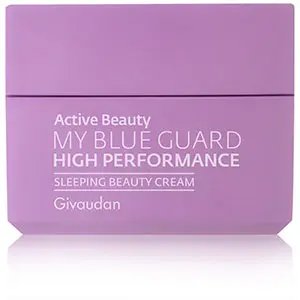 Developed at our Green Fractionation Centre of Excellence in Avignon, France, Synchronight™ is the first cosmetic innovation to merge our scientific expertise in botanicals, the skin microbiome and sleep research.
This patent-pending natural active is made from Gardenia fruit extract and activated by the skin microbiome, the layer of microorganisms on the surface of the skin. Thanks to its blue light absorbing properties, it protects the production of skin melatonin when skin is exposed to digital stress.
Clinical tests showed that Synchronight™ reverses visible signs of ageing, while significantly improving sleep quality. After using a cream containing Synchronight™ for 56 days, 80% of test participants (women aged 18-50) said that their skin was more hydrated, while 75% claimed that their skin felt smoother.
"Synchronight™ brings an extra dimension to cosmetics. It enables us to satisfy consumers on several different levels, by not only protecting skin against the harm caused by digital stress, but also ensuring sleep quality and improving wellbeing in a holistic sense."

Mathias, Category Manager, Givaudan Active Beauty