International Day of Biodiversity: From Agreement to Action

From Agreement to Action on Biodiversity
Component content
International Day of Biodiversity is 22 May. This year's theme "From Agreement to Action: Build Back Biodiversity" reflects both the celebratory nature of what was achieved at last year's COP 15 Biodiversity conference, as well as reinforcing the urgency of what still needs to be done in terms of implementation.
Biodiversity is essential for the survival of all species and it is the natural heritage we leave as a legacy for future generations. Experts highlight an unprecedented rate of biodiversity loss, noting that a million species of plants and animals are close to extinction. WWF's Living Planet Report 2022 highlights an average decline of 69% in the relative abundance of monitored wildlife species populations around the world since between 1970 and 2018.
As a business, we rely on a steady supply of thousands of ingredients from across the globe; natural resources that are used as inspiration and in the creation of our products. From healthy soils, to a stable climate to access to freshwater, our activities depend on biodiversity and ecosystem services, as do the many communities where we source and operate.
Aligned to our nature and communities' goals, including our ambition to source all materials and services in a way that protects people and the environment, our ambition to become climate positive before 2050 and our ambition to improve the lives of millions of people in the communities where we source and operate, we are integrating biodiversity action into our global approach and beginning to deploy it throughout the organisation.
Our approach will follow the mitigation and conservation hierarchy principles of "avoid, reduce, restore and renew" at every level of action, through our creations, our direct operations, our supply chains and the landscapes in which we operate.
An innovative project being run by the Givaudan Foundation with tonka bean producers in Venezuela is a great example of this approach in action. Read on to find out more.
Tonka beans are an iconic raw material used in fine fragrance creations. The beans come from the Dipteryx odorata tree which naturally grows in the Amazon rainforest, and particularly in the Caura river basin between Venezuela and Brazil.
Protecting people and the environment
Component content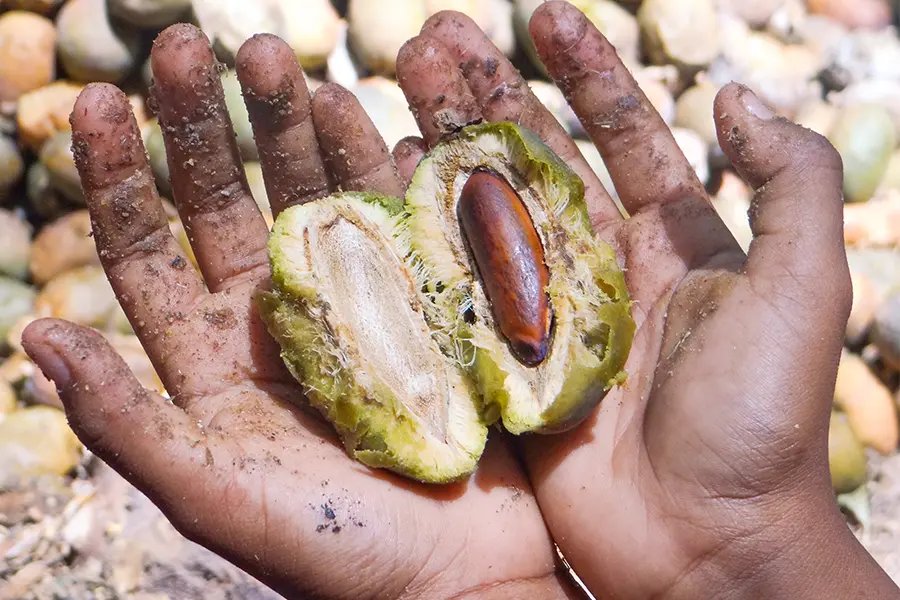 Protecting people and the environment
The areas in which tonka beans are produced face social and environmental challenges including timber extraction, gold mining, hunting or fishing and agricultural expansion. Preserving the rainforest in these areas is vital not only to preserve the population of tonka trees but also protects the income from the harvest of its beans generated for the Aripao communities who depend on it.
Working together for change
Component content
Working together for change
To address these challenges, the Givaudan Foundation initiated a long-term project, first with Conservation International and subsequently a local Venezuelan NGO to set up a conservation agreement with local communities through which they would actively contribute to the protection of the forest and monitor the ecosystem's status with a biodiversity inventory.
The partnership has helped build the communities' capacity to contribute to the protection of the Caura basin not only by preventing and reporting encroachment into the forest but also by restoring the natural environment.
Tangible outcomes and ongoing action
Component content
Tangible outcomes and ongoing action
Since the start of the project 150,000 hectares of forest have been protected in the area around the Caura basin. Through close monitoring of the state of the ecosystem and its key biodiversity, more than 1,600 animal species have been identified of which 200 are considered as keystones such as jaguar, tapir and so are positively impacted by the project. Two hectares of cropland have been reforested between 2020 and 2022. To further support the communities' livelihoods and discourage activities which could pose a threat to local biodiversity the project has included the set-up of a tree nursery. This has so far enabled two production cycles of 600 tonka plants. Also, thousands of trees are to be planted throughout the year in an ecological unit located in Aripao's land. This will contribute to protecting a main source of water and will bring alternative income-generating activities. The Aripao community has also planned to apply for the qualification of "Communal Park'' to avoid damaging activities in this specific area.
The direct and active role of the local communities in the protection and restoration of the ecosystem has been a vital component to the success of the project and will continue to play an important ongoing role as we continue our work together to protect and restore biodiversity in the region.
Read more about our approach to biodiversity and our progress in our 2022 Sustainability Report.