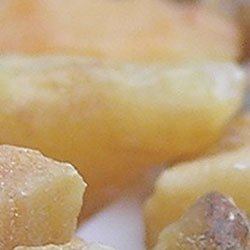 Component content
Harvested by hand from the trunk of the 'Styrax tonkinensis' tree, the rich and diverse scent of benzoin is sweet and comforting. More than an ingredient, benzoin represents a people and a culture.
The time and investment required to cultivate this special resin is huge, as trees can only be 'tapped' for benzoin gum after seven years. This prized material is found in forests of the 'Styrax tonkinensis' tree, which grows in the landlocked lands of Laos, between Burma, China, Vietnam and Cambodia. Laos is home to 150 villages where 40,000 local farmers are directly involved in harvesting benzoin as an additional income to their staple crops of rice and vegetables.
Making an incision in the bark to make it 'weep' releases the benzoin gum, which will form 'tears' after about ten weeks. Farmers climb up to a height of 10 metres using a homemade rattan rope ladder to tap the precious, fragrant resin. Apparently simple but physically demanding, this is a skilled technique, which, if we are not careful, will be lost as the generations pass.
To address this dwindling heritage, and a consequent drop in livelihoods, Agroforex, a company founded in Laos, has invested in the benzoin value chain for the last two decades, adopting and upholding an integrated approach that covers all element of benzoin production – from research, production promotion, tree plantations, harvest grouping, pretreatment of benzoin, export, as well as social initiatives. Agroforex has also been instrumental in ensuring international recognition for the Lao benzoin by its key contribution to registering 'Benzoe tonkinensis'.  
Since 2007, Givaudan has entered into a unique partnership with Agroforex, offering a secure base for our benzoin sourcing in the most northern parts of Laos. We also work together with Biolandes, who import and process the gum into a resinoid that is used by our perfumers.
In the remote mountainous parts of Laos, education is highly valued, and although primary education facilities in this area are generally adequate, the number of secondary schools is insufficient. In many cases, parents are forced to send their children away to secondary education or families move away, to areas with more facilities. This phenomenon of rural exodus threatens the fabric of social cohesion here and the future of a workforce for styrax plantation and benzoin collection.
Benefitting local communities
Component content
Benefitting local communities
Through our partnerships, and as part of the Agroforex programme, Givaudan has helped to build two secondary schools in central locations serving remote villages. Village communities are also supported to improve 'Styrax tonkinensis' planting and benzoin collection, and farm upland rice, a local food staple, and red ginger, which provides an extra cash income, whilst ensuring food security.  
The exclusive Red Ginger Essential Oil has been added to Givaudan's palette of ingredients and brings a further source of income to local people.
Laos is an important centre of benzoin production. Thanks to these initiatives, we see that responsible and ethical development becomes possible, in a way that directly and effectively benefits the local communities whilst ensuring a sustainable supply of the raw material for years to come.
Facts about benzoin
It takes seven years between planting the tree and gum harvest
Rural exodus threatens the Laos community, and benzoin production
Education and forestry techniques: subjects taught in the Givaudan-built secondary school to secure the livelihoods and wisdom of the upcoming generation
'Sweet, but not sugary', 'rich but not heavy' are the reasons why perfumers prize benzoin
Responsible sourcing programme
Component content
Responsible sourcing programme
We have always shown leadership in responsible sourcing, traceability, and transparency to meet our customer, consumer and environmental needs and expectations; Givaudan was the first in the flavours and fragrances industry to publish a responsible sourcing policy. Sourcing4Good is based on collaboration and knowledge-sharing, experience and expert input from suppliers, customers and partners.