Givaudan appoints VP Perfumer Calice Becker as new director for the Givaudan Perfumery School
01 Mar 2017 · 17:21 CET
Givaudan was proud to celebrate in 2016 the 70th anniversary of its renowned Perfumery School. The legacy of the school started in Grasse under the guidance of perfumer Jean Carles and, since its inception, the school has maintained its reputation and prestige for offering a top quality education in perfumery.
Today, the school is credited with training the perfumers who crafted one third of the fragrances available on the market. In 2015, we opened our campus in Singapore, an extension of our France based school, to cater to our customers in this growing region. We're committed to providing exceptional training to the next generation of perfumers that will go on to hone their craft in our creative centres around the world.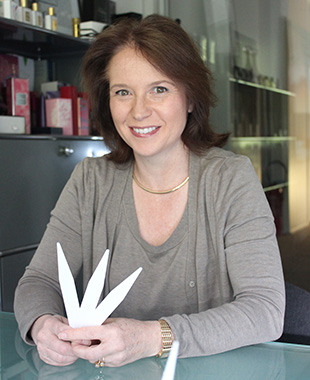 We are pleased to announce that Calice Becker is appointed Director of the Givaudan Perfumery School. With the support of Alain Alchenberger, she will lead the training of the future perfumery talents who will craft the successful fragrances of tomorrow. In parallel, Calice will continue to create fragrances for select customers.
Calice joined Givaudan in 2007 at the time of the Quest acquisition as a VP Perfumer. She has worked in Paris and New York City, creating world renowned fragrances such as Dior J'adore, Tommy Hilfiger Tommy Girl, Marc Jacobs Lola, most of the By Kilian collection and some major consumer products.
An artist at heart with a scientific state of mind, Calice draws inspiration for her work in observing the artistic process across genres - music, painting and sculpting all contribute to her creative philosophy. Calice is a graduate from the Givaudan Perfumery School that she attended in Grasse.
Maurizio Volpi, President Fragrance Division said: "Calice is an exceptional perfumer and will be a great mentor for our students. Having her leading the Perfumery School will give us the capacity and flexibility to fulfil the three missions of the Perfumery School: develop Givaudan's future perfumery talent; train our internal staff; and train our customers."
---
About Givaudan
Givaudan is the global leader in the creation of flavours and fragrances. In close collaboration with food, beverage, consumer product and fragrance partners, Givaudan develops tastes and scents that delight consumers the world over. With a passion to understand consumers' preferences and a relentless drive to innovate, Givaudan is at the forefront of creating flavours and fragrances that 'engage your senses'. The Company achieved sales of CHF 4.7 billion in 2016. Headquartered in Switzerland with local presence in over 95 locations, the Company has more than 10,000 employees worldwide. Givaudan invites you to discover more at www.givaudan.com.
About Givaudan Fragrances
Givaudan is passionate about perfumery and is dedicated to combining creativity and innovation to design beautiful fragrances. With the industry's largest perfumery team, Givaudan contributes to making life delightful and memorable through unique scent experiences for customers around the world. Currently present in all major markets, Givaudan strives to deliver fragrances for personal, home and laundry care, as well as prestige perfumes. Our customers benefit from Givaudan's expertise in three business areas: Fine Fragrances, Consumer Products, and Fragrance and Cosmetics Ingredients. We invite you to 'engage your senses' and learn more about Fragrances at www.givaudan.com/fragrances.
---
For further information please contact
Peter Wullschleger, Givaudan Media and Investor Relations
T +41 22 780 9093
E peter_b.wullschleger@givaudan.com
Marie Laure André, Fragrance Communications
T +33 1 3998 4477
E marie-laure.andre@givaudan.com