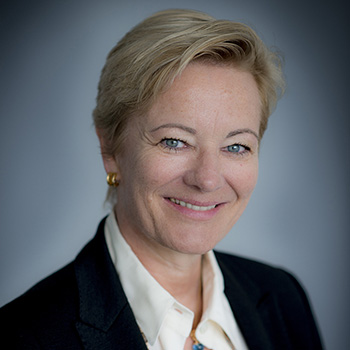 Businesswoman
Dutch and Swiss national, born in 1960
Non-executive
First elected 2015
Ingrid Deltenre has held several executive positions in the press and media including Director of Publisuisse from 1999 to 2004, and Director of the leading public TV broadcaster in German-speaking Switzerland, Schweizer Fernsehen, from 2004 to 2009. In 2010, she became Director General of the Geneva-based European Broadcasting Union (EBU), a position she held until June 2017.
She holds the following mandates in companies that are quoted on an official stock exchange: member of the Board of Banque Cantonale Vaudoise, member of the Supervisory Boardof Deutsche Post/DHL, and member of the Board of Sunrise (since April 2018).
She also is a member of the board of Agence France Presse and is a member and chairs the supervisory body of the Executive  MBA of the University of Zurich.
Ingrid Deltenre holds a Master of Arts and a Bachelor of Arts in Journalism and Educational Sciences from the University of Zurich.