Calvin Grieder
Chairman of the Board of Directors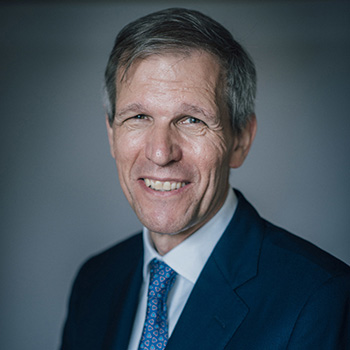 Engineer
Swiss national, born in 1955 in the USA
Non-executive
First elected 2014
In 1980, Calvin Grieder started his career as Marketing Manager with Georg Fischer Ltd in Switzerland and continued in various executive positions at Swiss and German companies including Bürkert Controls Ltd., Mikron Machines Ltd, Swiss Industrial Company (SIG) Ltd and Swisscom Telecom Ltd, where he served as Head of the Mobile and Internet business and Member of the Executive Board. He was CEO of the international engineering group Bühler from 2001 to 2016. In 2017, he was elected Chairman of the Board of Directors of Givaudan.
Calvin Grieder holds the following mandates in unlisted companies: Chairman of the Board of the Bühler Group, member in the Advisory Board of Swissmem, member of the Board of Trustees of Avenir Suisse, owner and member of the Board of CGTech in Küsnacht, and member of the Advisory Board of the ETH, Department of Mechanical and Process Engineering.
Calvin Grieder holds a Master of Science from the ETH Zurich and has completed an Advanced Management Program (AMP) at Harvard University.