Givaudan takes flavour creation to the next level with first-of-its-kind virtual reality experience
11 Feb 2020 · 09:00 CET
Building on its long-term partnership with the University of California, Riverside (UCR), Givaudan is launching a multi-sensorial virtual reality tool for citrus beverage applications. Combining sight, sound and smell, this truly surprising experience enables customers to learn about the citrus market landscape and co-create their own flavours.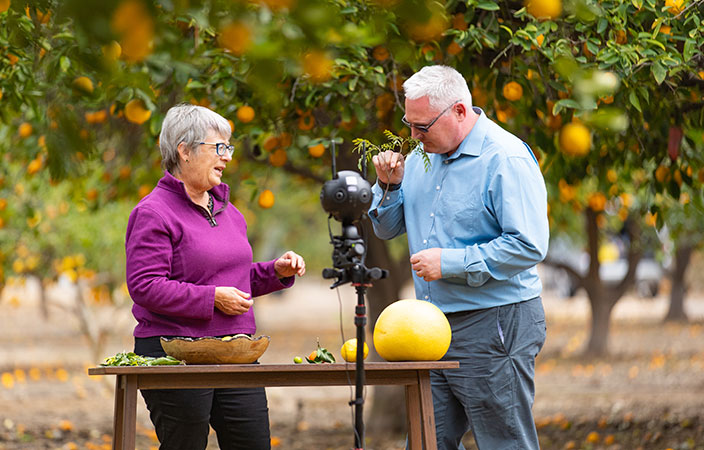 Imagine strolling through UCR's Citrus Variety Collection, stopping to learn about unique varieties, enjoying their delicious scents and creating a new, personalised citrus flavour, all from the comfort of one's own office. Users of Givaudan's Virtual TasteTrek® Citrus tool will be able to do just that. Created from the combination of 360° virtual reality videos and Givaudan's proprietary Virtual Aroma Synthesizer® (VAS) technology, Virtual TasteTrek® Citrus is a revolutionary tool with both educational and inspirational applications.
The experience takes users through a virtual tour of UCR's extensive Citrus Variety Collection. With a large selection of educational content available at their fingertips, users can explore the groves while developing their expertise on various topics, such as the origins of citrus, its different varieties and sensory attributes, or the challenges faced by the citrus market.
Beyond education, Virtual TasteTrek® Citrus is also about sparking inspiration: during the experience, users can sample selected flavours, increase or decrease key notes and start co-creating their own flavours. The ability to provide the virtual grove experience while engaging the users' olfactory senses and their own creativity makes this technology one-of-a-kind.
"Experiencing first-hand some of the unique and surprising aroma profiles the fruits have to offer helps our customers unleash their creativity," says Dawn Streich, Global Product Manager for Citrus at Givaudan. "Commercialising on-trend beverages with increasingly shorter time-to-market is a challenge that every manufacturer must face. By combining Givaudan's knowledge on more than 250 citrus varieties with the latest digitalisation technology, Virtual TasteTrek® Citrus helps create beverages that stand out on the market, in a shorter time frame."
Virtual TasteTrek® Citrus is part of Givaudan's Flavours' TasteTrek® programme which aims to discover ingredients and varietals never before used in flavour creation. Givaudan's partnership with UCR has made it possible to research and analyse rare and non-commercial varieties, which, combined with a creative approach to citrus, delivers fantastic insight for customers. More than any other flavour family, citrus holds a special place in Givaudan's heart, and the Company's long-term collaboration with UCR typifies its commitment to the preservation of this unique resource. Through the Virtual TasteTrek® Citrus technology, users around the world will now be able to enjoy this biodiversity treasure.
---
About Givaudan
Givaudan is the global leader in the creation of flavours and fragrances. In close collaboration with food, beverage, consumer product and fragrance partners, Givaudan develops tastes and scents that delight consumers the world over. With a passion to understand consumers' preferences and a relentless drive to innovate, Givaudan is at the forefront of creating flavours and fragrances that 'engage your senses'. The Company achieved sales of CHF 6.2 billion in 2019. Headquartered in Switzerland with local presence in over 180 locations, the Company has over 14,900 employees worldwide. Givaudan invites you to discover more at www.givaudan.com.
About Givaudan Flavours
Givaudan's comprehensive knowledge of local flavours, extensive global footprint and strategic insights enable close partnerships with customers wherever they may be. With a customised approach to product creation, the Flavour Division is a powerhouse of knowledge, innovation and creativity equipped to surprise customers and consumers with fresh, unique ideas and solutions. Givaudan creates lasting flavour and taste experiences that touch emotions across key segments including beverages, sweet goods, savoury and snacks; regardless of product category Givaudan's passion is to make food and beverage products taste delicious. We invite you to 'engage your senses' and learn more about Flavours at www.givaudan.com/flavours.
---
For further information please contact
Frederique Carre, Givaudan Flavours
T +33 4 9023 7085
E frederique.carre@givaudan.com