Givaudan Active Beauty introduces B‑Lightyl™
A new marine ingredient with the power to correct dark spots on all skin complexion types
22 Oct 2020 · 13:15 CEST
Givaudan Active Beauty unveils B‑Lightyl™, the first gentle and powerful universal dark spot eraser crafted by marine biotechnology. Created from 'Himanthalia elongata', a brown macro-alga naturally sourced in Brittany, France, B‑Lightyl™ is a natural ingredient addressing hyperpigmentation disorders in a preventive and curative way.
On a daily basis, environmental stress such as UV exposure and pollution as well as chronological ageing generate a loss of control in the pigmentation process, which ends up in the appearance of brown and dark spots on the surface of the skin. According to our recent global online consumer study, algae extract is perceived as one of the most effective ingredients, with 45% of the Chinese beauty care users choosing it to reduce hyper pigmented spots, a prevailing skin concern that impacts over 70% of consumers worldwide. 
Building on the consumers' strong interest in clean and safe ingredients, Givaudan's marine biotechnology and skin experts have designed B‑Lightyl™: a unique and sustainable macro-alga extract which re-establishes the communication between fibroblasts and melanocytes, thereby reverting pigmentation disorders.   
Anne Humeau, Marine Biotechnology Manager said: "'Himanthalia elongata' is a macro-algae growing close to the Pink Granite Coast of Brittany, France. It uses the power of sunlight and captures atmospheric CO2 to produce its key constituents: marine polyphenols, and more specifically phlorotannins. We discovered that these powerful marine molecules can reactivate the expression of SDF-1, a key target in hyperpigmentation disorders. It makes this alga one of the most sustainable resources to develop a cosmetic ingredient able to gain control of the skin pigmentation process."
  
To evaluate the consumers' benefits of B‑Lightyl™ against dark spots and pigmentation disorders, three clinical tests were conducted in double blind versus placebo, on more than 100 volunteers from various ethnic skin types (Caucasian, Asian and African).
B‑Lightyl™ induces a significant decrease of the melanin content in the dark spots of Caucasian volunteers (down to -12.6% in one month, more than twice better than placebo), a significant reduction of the number of visible spots on Asian skin (-156% in one month) and a significant decline of the melanin content in the hyperpigmentation spot (-327% in 2 months) on African skin.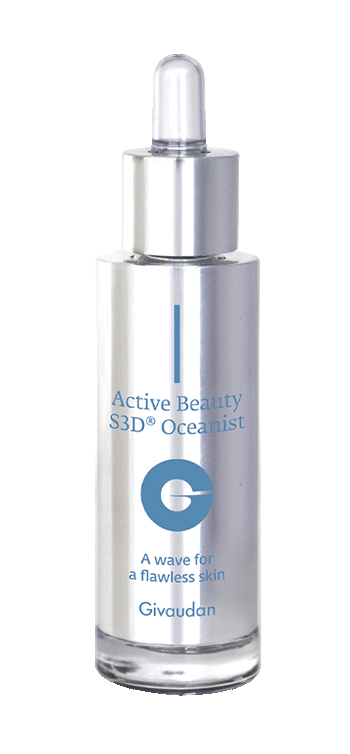 B‑Lightyl™ was formulated by our experts in an inspirational skin complexion boosting essence called S3D® Oceanist. This luxurious formula combines B‑Lightyl™ together with radiance booster, Eutectys™ Sea Fennel, and moisturising water rich in sea minerals sourced from Brittany (Eau de Source Marine).
Its "fat water" texture (a 2020 new skincare trend) gives the product a consistency between the essence and the serum, and its delicate smell makes S3D® Oceanist the perfect beauty product to smooth the skin, erase dark spots and even out complexion.
---
About Givaudan
Givaudan is the global leader in the creation of flavours and fragrances, with its heritage stretching back over 250 years, the Company has a long history of innovating tastes and scents. From a favourite drink to your daily meal, from prestige perfumes to cosmetics and laundry care, its creations inspire emotions and delight millions of consumers the world over. The Company is committed to driving purpose-led, long-term growth while leading the way to improve happiness and health for people and nature. In the fiscal year 2019, the Company employed over 14,900 people worldwide and achieved sales of CHF 6.2 billion and a free cash flow of 12.7% of sales. Let's imagine together on https://www.givaudan.com.
About Givaudan Active Beauty
Givaudan Active Beauty offers an extensive portfolio of innovative active cosmetic ingredients designed to bring beauty to the world. Inspired by the beauty needs of consumers worldwide, Active Beauty offers award-winning products for an expanded range of benefits including anti-ageing, self-tanning, soothing, hydrating, cooling, and more. Our cutting-edge technologies draw on science and nature to create high-performing molecules and functional agents, including customised carrier systems. Part of Fragrance & Beauty, Active Beauty leads the market in crafting innovative products supported by our strong expertise in advanced and applied sciences. We invite you to 'engage your senses' and learn more about Active Beauty at https://www.givaudan.com/ activebeauty.
---
For further information please contact
Pauline Martin, Operational Marketing & Communications Manager
T +33 3 2688 8417
E pauline.martin.pm1@givaudan.com