Givaudan unveils new approach to sugar reduction and satisfaction
Delivering fully satisfying taste in less sweet products
Givaudan, the global leader in flavours and fragrances, has launched a new approach to sugar reduction that delivers fully satisfying, reduced-sugar products without added sweeteners. The approach combines the use of a new proprietary sensory language, novel ingredients, and deep understanding of sweetness and satisfaction to deliver up to 50% reduction in sugar while maintaining consumer preference.
The new approach was developed in response to the global drive towards sugar reduction, prompted by ongoing health concerns around obesity and diabetes, and growing consumer interest in lighter, more refreshing and less sweet taste experiences. However, formulating less sweet products that have the same appeal as fully sweet ones is a challenge that requires more than simply subtracting sugar.
Givaudan worked with forward-thinking chefs to find new ways of delivering a less sweet but fully satisfying taste. Using inspiration from the dishes developed by the Michelin-starred chefs, the Givaudan team looked for what was delivering satisfaction beyond sweetness; from there they were able to identify non-typical natural ingredients and food techniques that created more complex, full bodied or impactful tastes, flavours so good, that the reduced sweetness wasn't missed.
To understand and quantify the full sweetness experience, a new, proprietary, sensory-profiling methodology – the Holistic Language – was developed. This profiling technique allows Givaudan to deeply understand the consumer experience and translate this knowledge into real world solutions.
> Discover more about Sweetness
Media resources Givaudan's Chef's Council Sugar Reduction
We've taken a culinary approach and the creative insight of Michelin-starred chefs to make fully satisfying natural products with less sugar. Using inspiration from the dishes developed by these chefs we identified non-typical ingredients and food techniques that help create more complex, full bodied or impactful tastes. 
At an event in Amsterdam we recently showcased our approach, findings, and developments from the initial brief to tasting delicious products with 50% less sugar and no added sweeteners.
> Download video and photos from the event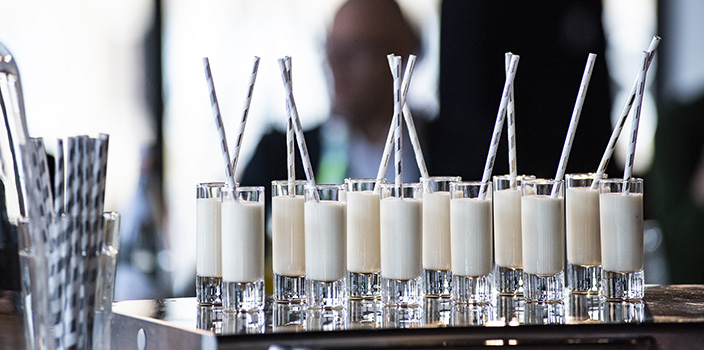 Please find the regional media releases and videos below:
---
About Givaudan
Givaudan is the global leader in the creation of flavours and fragrances. In close collaboration with food, beverage, consumer product and fragrance partners, Givaudan develops tastes and scents that delight consumers the world over. With a passion to understand consumers' preferences and a relentless drive to innovate, Givaudan is at the forefront of creating flavours and fragrances that 'engage your senses'. The Company reported sales of CHF 5.1 billion in 2017. Headquartered in Switzerland with local presence in over 100 locations, the Company has more than 11,100 employees worldwide. Givaudan invites you to discover more at www.givaudan.com.
About Givaudan Flavours
Givaudan's comprehensive knowledge of local flavours, extensive global footprint and strategic insights enable close partnerships with customers wherever they may be. With a customised approach to product creation, the Flavour Division is a powerhouse of knowledge, innovation and creativity equipped to surprise customers and consumers with fresh, unique ideas and solutions. Givaudan creates lasting flavour and taste experiences that touch emotions across key segments including beverages, sweet goods, savoury and snacks; regardless of product category Givaudan's passion is to make food and beverage products taste delicious. We invite you to 'engage your senses' and learn more about Flavours at www.givaudan.com/flavours.
---
For further information please contact
Jeff Peppet, Communications Director Global Platforms
T +1 151 3948 5655
E jeff.peppet@givaudan.com
Floyd Jebson, Communications Partner
T +44 1869 353 813
E floyd.jebson@instinctif.com