Givaudan Active Beauty presents Sensoria, a novel sensory concept unifying fine fragrance and cosmetics to delight consumers
24 Apr 2018 · 08:29 CEST
When the world of fragrances meets cosmetic research, synergies sparkle. At Givaudan, those synergies create innovations of the future to delight consumers' senses and inspire the cosmetic market.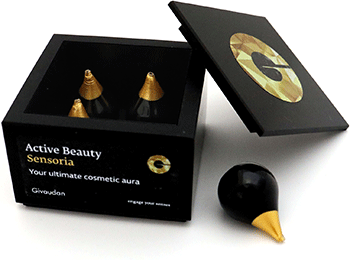 Sensoria is a revolutionary sensorial experience, intimately combining fine fragrance, sensorial ingredients and cosmetic actives. For the very first time, a sophisticated texture captures the essence of the skin care expertise and of the fine fragrance craftsmanship. 
Sensoria's highly perfumed emulsion is designed to initiate a unique moment of delight on the neckline. Each drop promotes positive emotions: its texture charms your mind, its scent lifts up your mood. In the heart of its formula, Sensoria contains extraordinary active ingredients for an ageless appearance:
Vetivyne™, discovered from exhausted vetiver roots, with anti-ageing benefits, plumping effect and long lasting properties to enhance fragrance wear
Neurophroline®, an ayrurvedic extract with stress blocking action and antipollution protection
BisaboLife™, the first 100% sustainable bisabolol, with deep soothing properties
BlurHD®, a Gardenia extract, with anti-ageing and antioxidant properties
Embedded in black and gold droplets, Sensoria reveals a woman's beauty and attractiveness by protecting and rejuvenating their skin, while expressing a sensual fine fragrance aura.
Sensoria allows you discover your ultimate cosmetic aura.
Sensoria is packaged in a custom-made box to hold the uniqueness of the product which is crafted with raw material offering a sensory touch and a high quality finish. The perfect preservation of the droplets offers a delightful moment when consumers open it.
Fabrice Lefèvre, Innovation & Marketing Director, said: "In an ever changing world, consumers are willing to experience more and dive into new universes engaging their senses and re-enchanting their emotions. Sensoria is a highly technical concept leveraging synergies between high levels of perfume oil, sensory ingredients and cosmetic actives. The result is incredible: it creates a holistic sensorial experience. We're very proud to inspire our customers with ground breaking innovative concepts."
---
About Givaudan
Givaudan is the global leader in the creation of flavours and fragrances. In close collaboration with food, beverage, consumer product and fragrance partners, Givaudan develops tastes and scents that delight consumers the world over. With a passion to understand consumers' preferences and a relentless drive to innovate, Givaudan is at the forefront of creating flavours and fragrances that 'engage your senses'. The Company achieved sales of CHF 5.1 billion in 2017. Headquartered in Switzerland with local presence in over 100 locations, the Company has more than 11,100 employees worldwide. Givaudan invites you to discover more at www.givaudan.com.
About Givaudan Active Beauty
Givaudan Active Beauty offers an extensive portfolio of innovative active cosmetic ingredients designed to bring beauty to the world. Inspired by the beauty needs of consumers worldwide, Active Beauty offers award-winning products for an expanded range of benefits including anti-ageing, self-tanning, soothing, hydrating, cooling, and more. Our cutting-edge technologies draw on science and nature to create high-performing molecules and functional agents, including customised carrier systems. Part of the Fragrance Division, Active Beauty leads the market in crafting innovative products supported by our strong expertise in advanced and applied sciences. We invite you to 'engage your senses' and learn more about Active Beauty at www.givaudan.com/activebeauty.
---
For further information please contact
Pauline Martin, Global Communications & Events Manager
T +33 3 2688 8417
E pauline.martin.pm1@givaudan.com