Givaudan Active Beauty unveils its first fragrance concept [Yu] to express and protect your uniqueness
05 Apr 2017 · 19:18 CEST
Fine fragrance is at the heart of Givaudan. We have a rich history of creating fragrances that strike an emotional chord with consumers. We are inspired by our rich heritage and our contribution to defining the evolution of the trends over time.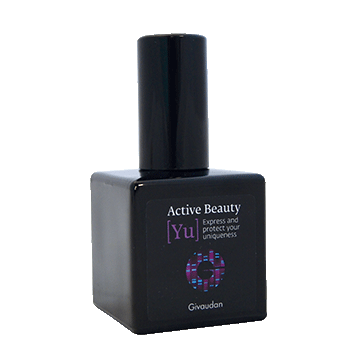 As creators of beautiful cosmetics and part of the Fragrance Division, Active Beauty often look at the natural world for inspiration. We draw upon the extraordinary benefits and properties of plants, microorganisms and vegetable sources, translating these with the latest sustainable biotechnologies into highly functional, high-performance products. 
According to these unique and powerful capabilities within the Givaudan Group, we are very thrilled to present you a world premiere concept called [Yu] (patent-pending), an innovative fine fragrance featuring our latest active ingredient Revivyl™ , a holistic skin renewal accelerator, enabling to express and protect your uniqueness. 
Laurent Bourdeau, Head of Active Beauty, said: "[Yu] is a perfect example of our way we craft synergies between Fragrances and more especially Fine Fragrances and Active Beauty: to be an innovative ideas' incubator inspiring our customers to develop new products for the future. It illustrates our strong commitment to develop our understanding of their needs and expectations".
[Yu] is born from the premise that you are all unique. Your uniqueness is written in your genome but even more in your microbiome. That is the main reason we decided to offer a new way of protecting the skin while using a sensory, enhancing and daily gesture: the perfume.
Romain Reynaud, R&D Director, said: "Analysing the skin micro-flora, our Researchers have a deeper and unique understanding of overall benefits of skin micro flora for the skin and the body. Regarding those information, our Experts developed an active ingredient able to protect this skin micro-flora while stimulating skin regeneration. Revivyl™ instantly protects skin microbiota while maintaining the balance and even improving its composition."
Be seduced by this concentrate of technology beautified by an incredible floral musky notes, with a fresh start neroli, a floral blooming heart with green, pink, iridescent and watery facets while bringing a soft and comfortable sensation.
Fabrice Lefèvre, Marketing & Innovation Director, said: "Innovation is our steady state of mind. We build on exceptional perfumery and scientific talents to craft exclusive fragrances expressing the high performance of our active ingredient. [Yu] is leveraging our pioneering skin microbiome researches into a surprising and appealing consumers' new concept product, while answering a key market trend: customisation. [Yu] make you feel and look beautiful." 
To find out more about [Yu], we will be delighted to welcome you at in-cosmetics Global in London, stand FF10.
---
About Givaudan
Givaudan is the global leader in the creation of flavours and fragrances. In close collaboration with food, beverage, consumer product and fragrance partners, Givaudan develops tastes and scents that delight consumers the world over. With a passion to understand consumers' preferences and a relentless drive to innovate, Givaudan is at the forefront of creating flavours and fragrances that 'engage your senses'. The Company achieved sales of CHF 4.7 billion in 2016. Headquartered in Switzerland with local presence in over 95 locations, the Company has more than 10,000 employees worldwide. Givaudan invites you to discover more at www.givaudan.com.
About Givaudan Active Beauty
Givaudan Active Beauty offers an extensive portfolio of innovative active cosmetic ingredients designed to bring beauty to the world. Inspired by the beauty needs of consumers worldwide, Active Beauty offers award-winning products for an expanded range of benefits including anti-ageing, self-tanning, soothing, hydrating, cooling, and more. Our cutting-edge technologies draw on science and nature to create high- performing molecules and functional agents, including customised carrier systems. Part of the Fragrance Division, Active Beauty leads the market in crafting innovative products supported by our strong expertise in advanced and applied sciences. We invite you to 'engage your senses' and learn more about Active Beauty at www.givaudan.com/activebeauty.
---
For further information please contact
Pauline Martin, Global Communications & Events Manager
T +33 3 2688 8417
E pauline.martin.pm1@givaudan.com