Sustainable ingredients in the heart of nature with blossom[lab]™

Good for perfumers, good for the planet
Component content
Imagine creating a new perfumery ingredient using freshly picked naturals and cutting-edge technology, surrounded by the sights, sounds and scents of nature. blossom[lab]™, our one-of-a-kind new mobile laboratory, makes this immersive experience possible for the first time ever.
Good for perfumers, good for the planet
By bringing our lab to our ingredients (rather than vice versa), we can perfect our naturals extraction techniques and craft beautiful new qualities on-site, using the freshest, most aromatic plants and flowers. This not only enables us to enrich our perfumery palette, but also to reduce our environmental impact – a natural extension of our Company purpose of 'creating for happier, healthier lives with love for nature'.
blossom[lab]™ marks a major new milestone for nature-conscious fragrance design.
Industry-leading innovation
Component content
Industry-leading innovation
Reflecting our commitment to sustainability, the Lab was created from repurposed shipping containers in Grasse, France. It can travel by truck or boat to sites across the world. Designed to blend into the landscape, the outside is covered in mirrors that reflect the surrounding scenery. The inside is fully equipped with all the tools our scientists need to analyse samples and concoct extraordinary new ingredients.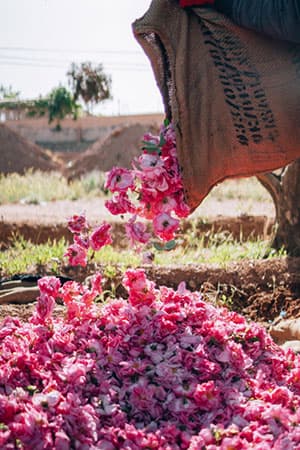 "blossom[lab]™ changes the way our industry creates new naturals and innovations. For the first time, we are bringing our talented teams and technology directly to the places where we source our most precious perfumery ingredients. These inspiring, immersive experiences will help us to design sustainable new solutions for our customers, as we work together towards a brighter future."
Valerie, Business Development Naturality and Naturals at Givaudan
Component content
Rooted in sustainability
This ground-breaking initiative builds on Givaudan's 'Naturals at Origin' approach, which revolves around sourcing and developing ingredients with maximum respect for nature, in the country of origin. It also supports our Naturality Platform™, a unique approach and series of programmes that support our perfumers to formulate nature-conscious fragrances.
"The blossom[lab]™ project encapsulates our commitment to sourcing and innovating responsible naturals directly in the country of origin. This forward-thinking approach not only helps us to protect our planet's natural resources, but also to support local communities and deliver the traceable, responsibly sourced solutions that consumers expect."

Fabien, Head of Naturals Innovation at Givaudan
Component content
Follow the journey
The blossom[lab]™ will make its debut in the iconic fields of Grasse, before carrying out innovation expeditions across our unique 'Naturals at Origin' network, from Egypt to Sulawesi, Indonesia.
Follow the Lab's progress and find out more about this pioneering project on our Instagram, LinkedIn, Twitter, YouTube or Facebook pages.