The Givaudan collection: The iconic perfume bottle from boudoir to bijoux

Leon Givaudan's unique collection
Component content
The perfume bottle has long been coveted by collectors for its beauty and historical significance. The earliest examples of vessels made to hold scent are Egyptian and go back to 1000 BC. It is thought that the complex art of glass-making emerged primarily for the purpose of perfumery. 
It is only natural that Givaudan's 250-year-long odyssey includes some fine examples of the iconic perfume bottle. Our unique collection of containers for perfumes, smelling salts and beauty products from the 18th century was acquired by Leon Givaudan himself. Join our curator, Martine, as we explore Givaudan's fine collection of luxury perfume bottles and get a glimpse into the art of seduction.
It took the perfumer's skill and collector's passion of Leon Givaudan to assemble, in the years from 1924 to 1930, this unusually homogeneous collection of 18th century toilet accessories. Composed of about a hundred items, manufactured from costly materials and lavishly decorated, the Givaudan collection is one of the most important of its kind in Europe: crystal perfume bottles set in gold mounts, bottles in fish scale and tortoiseshell for smelling salts, Vernis Martin étuis, enamelled vinaigrettes, bronze or ceramic bottle cases, patch boxes in ivory or mother-of-pearl.
Component content
The century of gallantry
Since the earliest times, a variety of objects have been available to women as toilet and beauty aids. In France, their use only really developed in the 17th Century, with the arrival of Catherine de Medici: she brought with her the Italian vogue for little bottles in gold, silver, or semi-precious stones; but it was above all the 18th Century that was the century of gallantry, of the pursuit of pleasure and of seduction, when artists competed to create and decorate the most imaginative boxes, caskets and bottles containing the artifices and 'sweet smells' that were essential to persons of quality. Their popularity was linked to the century's love of miniatures which would then inundate the courts of Europe, often as ambassadorial presents.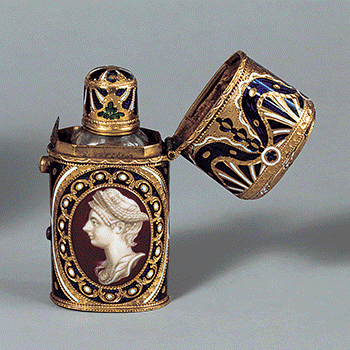 Designed for the dressing-table or to be carried in the pocket, or even attached to a chain and worn as a chatelaine or pendant, these often multipurpose items were veritable works of art, frequently made using the most precious materials and employing innovative techniques: caskets in green jasper or animal scale, galuchat bottle cases, bottles in soft or hard porcelain in the form of a bird, a monkey, or a dog perched on a rocaille base and surrounded by traceries of flowers and foliage.
Component content
The age of appearance
The Age of Enlightenment, illustrated in the paintings of Boucher, Fragonard and Watteau, was also the age of the appearance, of coquetry. The applying of make-up became an important art which, resulting in an artificial appearance, was also a distinguishing mark of rank. Applying perfume was as to apply a second skin, a fantasy, the most secret weapon of seduction and no longer just a means of concealing bad smells. At the court of Louis XV, described by Voltaire and Rousseau as the 'Perfumed Court', different perfumes were worn at different times of the day!
These delicately exquisite objects celebrate a society intoxicated by pleasure: a lover advances his cause by offering the desired being little toilet requisites bearing emblems of love and friendship; the coquette, a figure both fragile and powerful during this Golden Age, casts her spell by deploying a range of rose and jasmine fragrances stored in these graceful figurines representing a mix of allegorical themes centred on Cupid or Bacchus and galant or mythological scenes.
"To view this sumptuous collection is to plunge into the world of dreams, a world setting forth for Cytherea in quest of pleasure and gentle rural well-being; it is to enter the refined boudoirs of the 18th Century and surrender oneself to the intoxicating music of perfumes."

Martine Uzan, Curator of the Givaudan collection
Component content
The journey continues
To view the Givaudan collection is a rare treat for all those who value both the artistry that went into the making of these precious objects and the stories they tell about the history of perfumery and its place in our society. Beyond many exhibits in Switzerland and France, museums from Japan to Brazil have featured the collection.