Givaudan celebrates its 2023 Perfumery School graduates
Givaudan, the global leader in fragrance and beauty, is thrilled to announce the 2023 graduates from the Givaudan Perfumery School, revealing the next generation of perfumers: Mr Andrea Montanari, Mrs Ashley Santiago, Mrs Carol Belli, Mrs Julie Noé, Mrs Laurie Martinez, Mrs Samantha Yu and Mr Wesley Perumal.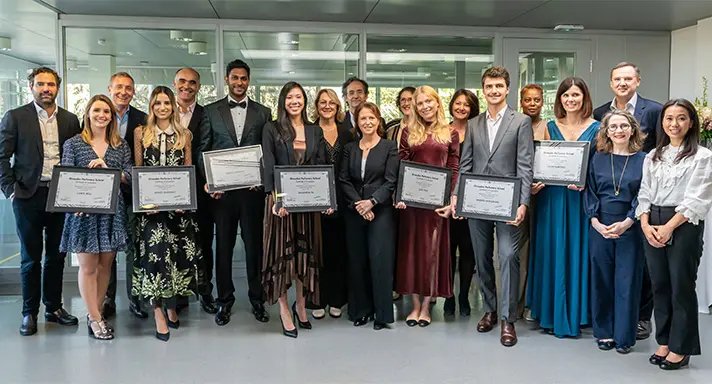 Since 1946, the Givaudan Perfumery School has formed the elite of perfumery creation, to serve prestige brands and manufacturers of consumer products with the most enchanting fragrances. Built upon Givaudan's heritage and unequalled expertise, mixing traditional learning techniques with innovation and digital tools, the Givaudan Perfumery School aims to unleash our pupils' creativity, mastering the fragrance formulation.

After a rich four-years curriculum, we are delighted to unveil Givaudan's new talents, celebrating the beginning of a new creative chapter for the industry.
"Our students have brilliantly embraced an intense olfactive journey, involving the understanding of 600 raw materials and all dimensions of perfumery's craftsmanship. It has been a privilege to mentor such outstanding and diverse personalities. We look forward to seeing them craft the masterpieces of tomorrow with the most delightful and splendid scents."

Calice Becker, VP Perfumer and Director of the Perfumery School
 
Gilles Andrier, CEO, adds: "We are really proud to celebrate the next generation of perfumery talent. They are a wonderful demonstration of Givaudan's mission to foster the future of fragrance, by guiding and encouraging aspiring perfumers from all over the world. The perfumery school exists to reveal, train and encourage the unique and widest diversity of future talents to bring tomorrow's creative freedom. We wish our students all the success as they embark on their future creative journey."
The graduation event took place earlier today, at the Givaudan Perfumery School, in Argenteuil, France.
---
About Givaudan
Givaudan is a global leader in Fragrance & Beauty and Taste & Wellbeing. We celebrate the beauty of human experience by creating for happier, healthier lives with love for nature. Together with our customers we deliver food experiences, craft inspired fragrances and develop beauty and wellbeing solutions that make people look and feel good. In 2022, Givaudan employed almost 16,700 people worldwide and achieved CHF 7.1 billion in sales with a free cash flow of 6.7%. With a heritage that stretches back over 250 years, we are committed to driving long-term, purpose-led growth by improving people's health and happiness and increasing our positive impact on nature. This is Givaudan. Human by nature. Discover more at:
www.givaudan.com
.
About Givaudan Fragrance & Beauty
Givaudan Fragrance & Beauty craft inspired fragrances to perfume lives and memories, and develop innovative beauty and wellbeing solutions that make people look and feel good all over the world. Nature is both our responsibility and our most precious muse. We are just as committed to sustainability as we are to creating innovative products that satisfy consumer needs and anticipate their desires. With a collaborative approach that favours co-creation, we have built a diverse portfolio across personal care, fabric care, hygiene, home care, fine fragrances, and beauty, reflecting our multidisciplinary expertise. This is Givaudan. Human by nature. Learn more at
www.givaudan.com/fragrance-beauty
.
---
For further information please contact
Pauline Martin, Fragrance & Beauty Communications
E pauline.martin.pm1@givaudan.com