Givaudan announces the passing of Master Perfumer Olivier Pescheux
11 Jul 2023 · 15:30 CEST
It is with deep sadness and profound emotion that Givaudan announces the passing of Olivier Pescheux, on 10 July in Paris, France, at the age of 57, after fighting against a long disease.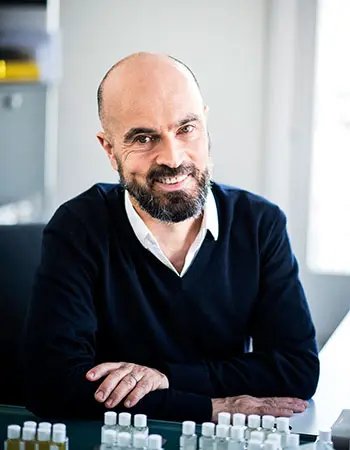 Born in Paris in 1966 and graduated from ISIPCA, Olivier started his career in 1990 by joining Payan Bertrand in Bangkok. On his return to Paris in 1992, he placed his talent to the service of perfume house Annick Goutal, before transitioning to Kao Corporation in 1993. He joined Givaudan in 1998, returning in 2006 after a brief period at Quest International. 
Well-known for his elegant and luminous olfactive writing, Olivier has been at the origin of countless successes such as One Million by Paco Rabanne, Higher by Dior, L.12.12 Blanc by Lacoste, Eau des Sens, Fleur de Peau and Orphéon by Diptyque. His endless talent and creative versatility led him to be elevated to the rank of Master Perfumer.
CEO Gilles Andrier says: "We are deeply saddened by the loss of Olivier Pescheux. He has not only been the architect of many of the most beautiful and iconic fragrances of the industry, but also an adored person, dedicated to his art and committed to mentor the upcoming generation of perfumers."
"Olivier liked to define himself as a craftsman, and he really was," says Xavier Renard, Global Head of Fine Fragrances. "His ability to transcend any material, to make any ingredient tell new stories, made Olivier one of the most important and celebrated creative minds. He leaves us with a prodigious amount of creations and his bright personality will continue to live through his legacy."
Oriol Segui, Head of Fine Fragrances Europe adds: "Olivier immensely contributed to shape today and tomorrow's perfumery. He was loved for his warm and friendly character, his generosity and his boundless artistry. Olivier will be deeply missed."
Givaudan offers his family, relatives and friends its deepest condolences and also fully supports the community of its perfumers, that we know are particularly saddened at this difficult time.
---
About Givaudan
Givaudan is a global leader in Fragrance & Beauty and Taste & Wellbeing. We celebrate the beauty of human experience by creating for happier, healthier lives with love for nature. Together with our customers we deliver food experiences, craft inspired fragrances and develop beauty and wellbeing solutions that make people look and feel good. In 2022, Givaudan employed almost 16,700 people worldwide and achieved CHF 7.1 billion in sales with a free cash flow of 6.7%. With a heritage that stretches back over 250 years, we are committed to driving long-term, purpose-led growth by improving people's health and happiness and increasing our positive impact on nature. This is Givaudan. Human by nature. Discover more at:
www.givaudan.com
.  
About Givaudan Fragrance & Beauty
Givaudan Fragrance & Beauty craft inspired fragrances to perfume lives and memories, and develop innovative beauty and wellbeing solutions that make people look and feel good all over the world. Nature is both our responsibility and our most precious muse. We are just as committed to sustainability as we are to creating innovative products that satisfy consumer needs and anticipate their desires. With a collaborative approach that favours co-creation, we have built a diverse portfolio across personal care, fabric care, hygiene, home care, fine fragrances, and beauty, reflecting our multidisciplinary expertise. This is Givaudan. Human by nature. Learn more at
www.givaudan.com/fragrance-beauty
.
---