Givaudan strengthens e-commerce presence in China with 1688.com partnership
The fragrance industries' most extensive B2B partnership to date expands Givaudan's digital presence in Asia
09 Jul 2021 · 08:00 CEST
Givaudan, the global leader in fragrance and beauty has strengthened its e-commerce offering in China through the opening of its flagship business-to-business (B2B) store on China's leading wholesale website, 1688.com.
The B2B partnership is a first for Givaudan in Asia and for Givaudan Fragrance & Beauty globally. The webstore will offer customers a unified online and offline experience through seamless integration of Givaudan's digital marketing and digitalisation capabilities and its industry-leading perfumery teams.
"This partnership underscores the importance of the digital innovation in Givaudan's 2025 strategy. These digital capabilities are pivotal in expanding customer reach, while providing current and future customers with an extensive and efficient digital business service model that has the tools and insights to support sustainable growth through the digital sphere."

Ben Webb, Regional Head of Fragrances APAC, Givaudan
 
The new webstore at 1688.com builds on Givaudan's purpose of creating for happier and healthier lives with love for nature. This is reflected in the rich portfolio of consumer products, fine fragrances and active beauty ingredients alongside a mix of natural, nature-derived and wellness-centric fragrances that has the potential to enhance mood and overall wellbeing. Technologies that will be available to consumers through the platform include Givaudan's trademarked Dreamscentz™ and Vivascentz™ range.
Yaling Li, Givaudan's Head of Fragrances China and Korea, said: "Partnering with 1688.com will expand our reach amongst the growing gamut of local, regional and niche brands in China. With a presence on 1688.com, we look to grow the portfolio of products and innovations through a deep commitment that includes a combination of physical supply chain infrastructure and operational excellence. This will allow us to meet minimum order quantities from as little as one kilogram and provide customers with an accelerated supply of samples."
Wang Hai, Vice President of Alibaba Group and General Manager of China's domestic trade department said: "Consumption upgrading is leading a new round of industrial upgrading. It is necessary to build a digital flexible supply chain. From upstream industrial raw materials to downstream consumer experience, it is an inevitable trend to use the consumer-to-manufacturer manufacturing system to adapt to branding and personalised needs."
This partnership comes less than a month after Givaudan announced an industry-first B2C partnership with Alibaba's Tmall that will shorten end-to-end product development for fine fragrances from 40 to just four weeks.
Representatives from Givaudan, 1688, Zoteq and Ownsnow at the launch event in Hangzhou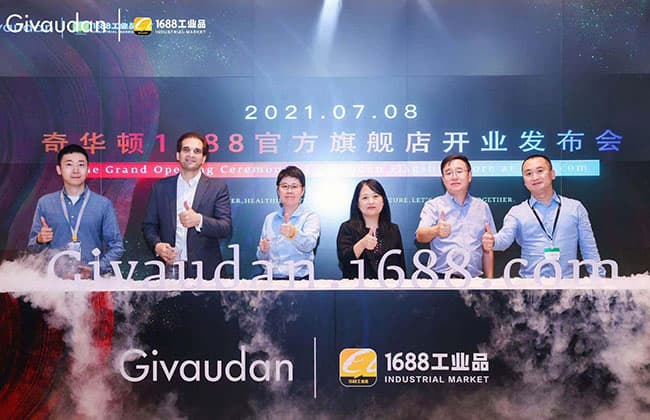 F.l.t.r. Jing Zhu, Marketing Manager 1688 Super Key Accounts; Ali Tahseen, China Country Manager, Givaudan; Yi Zhen, 1688 Raw Materials Industry Operational Director; Yaling Li, Head of Fragrances China and Korea, Givaudan; Wei Tang, Deputy General Manager, Beijing Zoteq and Fengchun Zhang, Sales Director of South China, Guangzhou Ownsnow
---
About Givaudan
Givaudan is a global leading company in taste and wellbeing, and fragrance and beauty. With its heritage stretching back over 250 years, the Company has a long history of innovating scents and tastes. From a favourite drink to your daily meal, from prestige perfumes to cosmetics and laundry care, its creations inspire emotions and delight millions of consumers the world over. The Company is committed to driving purpose-led, long-term growth while leading the way to improve happiness and health for people and nature. In the fiscal year 2020, the Company employed almost 16,000 people worldwide and achieved sales of CHF 6.3 billion and a free cash flow of 12.8% of sales. Let's imagine together on www.givaudan.com.
About Givaudan Fragrance & Beauty
Driven by passion and innovation, Givaudan Fragrance & Beauty aims to bring delightful and memorable sensorial experiences to consumers around the world. Currently present in all major markets, we strive to be the creative partner of choice for customers not only in personal, fabric, hygiene and home care but also in fine fragrances and beauty overall. As the global leader in fragrance creation, the Company is committed to creating scents and cosmetic ingredients for happier, healthier lives with love for nature. Our customers benefit from our expertise in three business units: Fine Fragrances, Consumer Products, and Fragrance Ingredients and Cosmetics Ingredients. We invite you to 'engage your senses' and learn more at www.givaudan.com/fragrance-beauty.
About 1688 Industrial Products
1688 Industrial Products is an industrial product procurement platform built by Alibaba. It is the earliest and largest B2B platform in China. It covers the full range of production materials, production consumables and non-production general materials, including chemicals, hardware tools, labour protection, lighting, building materials, machinery, electronics, packaging, iron and steel metallurgy and other industries. Hundreds of thousands of source factories and tens of thousands of well-known global industrial brands gather in the 1688 industrial product market. There are more than 2,000 types of platform products, and the number of products exceeds 1 billion. For more information, please visit www.1688.com.
---
For further information please contact
Marie Laure André, Fragrance & Beauty Communications, Givaudan
T +33 1 3998 4477
E marie-laure.andre@givaudan.com
Gregory Cheong, APAC Fragrance & Beauty Communications, Givaudan
T +65 9758 7199
E gregory.cheong@givaudan.com
1688.com contact
T 400 800 1688
E qiudi.yj@alibaba-inc.com