Givaudan Active Beauty unveils Neosalyl™, a fully natural and pure substitute for synthetic salicylic acid for skin and scalp
15 Sep 2020 · 09:00 CEST
Givaudan Active Beauty launches Neosalyl™, a 100% natural and pure salicylic acid for skin and scalp that is organic compared to its synthetic alternative. Obtained by Green Fractionation from the natural essential oil of the Wintergreen plant, Neosalyl™ brings all its benefits in dermo-purification for skin, and shininess and anti-dandruff for hair care.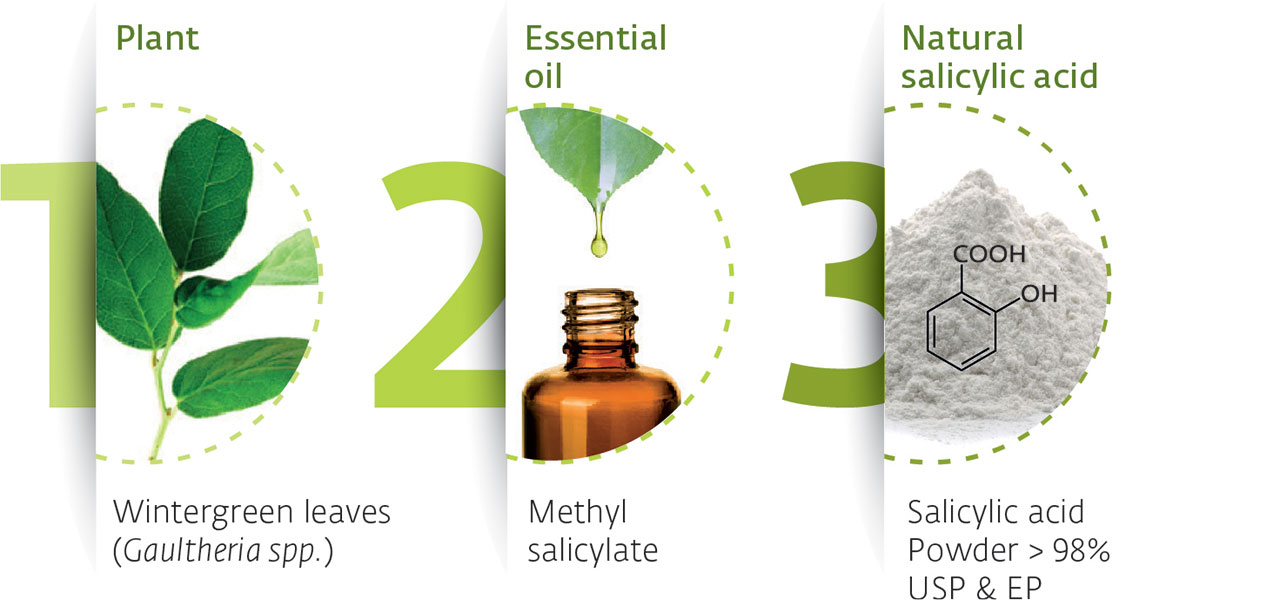 Beauty consumers are looking for more natural products, massively rejecting chemicals, as they see natural ingredients as safe and trustworthy. According to Mintel, 72% of consumers would be most interested in using beauty, grooming and personal care products that are made using natural alternatives to synthetic ingredient or natural ingredients adapted in a lab. This trend keeps growing in any culture and challenges the composition and origin of personal care ingredients, as of today, three out of four women are scanning product composition and looking for hero ingredients. In fact, salicylic acid is, with hyaluronic acid and retinol, one of the most known ingredients by consumers, always looking for performance to take care of their skin and hair.
Yohan Rolland, Global Category Manager said: "Due to its exfoliating properties, Neosalyl™ is a safe and effective peeling agent for a large number of cosmetic purposes for skin care, such as exfoliation, anti-inflammatory and anti-microbial benefits, raising it as the perfect active for prone-to-acne skin conditions. As a strong keratolytic agent, Neosalyl™ is also a very good synergistic active for the treatment of dandruff."
 
Neosalyl™ is extracted from Wintergreen leaves, sourced in Southwest of China in the Yunnan province by small farmers. Rich in essential oil composed of methyl salicylate, they immediately produce the crude essential oil of fresh raw material in a completely traceable supply chain. Then, it is in our Centre of Excellence in Avignon (France), that our phyto-experts begin a green fractionation process to transform the methyl salicylate and obtain the ingredient.
To warrant the authentication of the raw material and the natural origin of salicylic acid from wintergreen, our botanical experts apply an exhaustive set of analysis named IDPack. It includes botanical observation, DNA analysis, GC/FID and isotopic 14C measurement to clearly identify each botanical ingredient.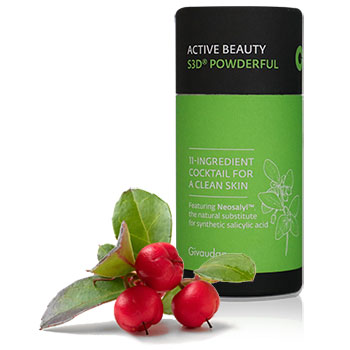 To inspire the beauty industry, Active Beauty formulation team crafted S3D® Powderful. This 11-Ingredient clean beauty cocktail combines Neosalyl™ with powdered hyaluronic acid (PrimalHyal™ 300) for skin immune defence reinforcement and wound healing, as well as biodegradable exfoliating particles (Biogomm'age W180) designed for sensitive skin. This water-free formula is highly concentrated. By adding few drops of water, it turns into a foaming milk to apply to the face. After a gently massaging into the skin and then rinsing, it reveals a cleaner skin and brighter complexion.
---
About Givaudan
Givaudan is the global leader in the creation of flavours and fragrances, with its heritage stretching back over 250 years, the Company has a long history of innovating tastes and scents. From a favourite drink to your daily meal, from prestige perfumes to cosmetics and laundry care, its creations inspire emotions and delight millions of consumers the world over. The Company is committed to driving purpose-led, long-term growth while leading the way to improve happiness and health for people and nature. In the fiscal year 2019, the Company employed over 14,900 people worldwide and achieved sales of CHF 6.2 billion and a free cash flow of 12.7% of sales. Let's imagine together on www.givaudan.com.
About Givaudan Active Beauty
Givaudan Active Beauty offers an extensive portfolio of innovative active cosmetic ingredients designed to bring beauty to the world. Inspired by the beauty needs of consumers worldwide, Active Beauty offers award-winning products for an expanded range of benefits including anti-ageing, self-tanning, soothing, hydrating, cooling, and more. Our cutting-edge technologies draw on science and nature to create high-performing molecules and functional agents, including customised carrier systems. Part of Fragrance & Beauty, Active Beauty leads the market in crafting innovative products supported by our strong expertise in advanced and applied sciences. We invite you to 'engage your senses' and learn more about Active Beauty at www.givaudan.com/activebeauty.
---
For further information please contact
Pauline Martin, Operational Marketing & Communications Manager
T +33 3 2688 8417
E pauline.martin.pm1@givaudan.com