Givaudan Active Beauty unveils Adaptogenes Botanicals Solution™, an in and out beauty concept to enhance well-being
04 Apr 2019 · 10:43 CEST
Givaudan Active Beauty presents Adaptogenes Botanicals Solution™, a collection made of ten botanical extracts including moringa, turmeric, aloe vera and acerola to chill the skin and the body.
The stressful life leads men and women to look for effective alternatives to reach a perfect balance. It turns out that the largest portion of people go for beauty and anti-ageing care with adaptogenes in it to succeed. Adaptogenes Botanicals Solution™ is a strong link between beauty skin and well-being.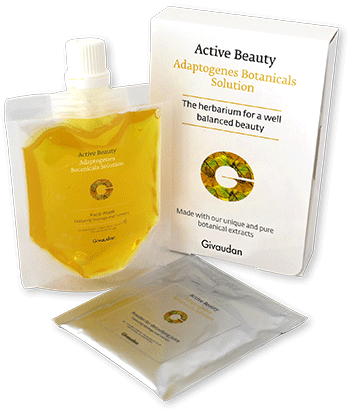 Mélanie Duprat, Category Manager said: "The health and wellness market has grown from an industry to a culture. Adaptogenes are real treasures that abound in many plant extracts. Each one has its features but all can help regulate processes in the body and adapt to give the skin what it needs at a given point in time. Thanks to our unique expertise in plant extraction, we have pulled the best of each plant, especially moringa and turmeric, to develop this collection."
To inspire the cosmetic market with this new collection, our formulation experts crafted a 2-in-1 inside out beauty concept. 
Designed from moringa leaves with dermo-purifying virtues and turmeric with radiance virtues, the duet comes in two distinct forms. One is used as a mask to detoxify the skin and make it fresh and radiant, the second is a moringa powder, which can be added to a large glass of water, juice or smoothie to enhance the effects of the mask and take care of your inner beauty.
The well-being was also important during the production. Indeed, if moringa leaves are the key elements of this beauty duet, the sustainability of the production was an obvious part of the deal. It was therefore important to ensure fair monitoring of production and extraction. From picking to stripping, drying and grinding, everything is set up to ensure sustainable work by the teams in Southern Africa notably through our unique and sustainable Pathfinder programme for the Moringa extract. This is how Givaudan Active Beauty is able to give a perfect balance between, skin, body and soul.
---
About Givaudan
Givaudan is the global leader in the creation of flavours and fragrances. In close collaboration with food, beverage, consumer product and fragrance partners, Givaudan develops tastes and scents that delight consumers the world over. With a passion to understand consumers' preferences and a relentless drive to innovate, Givaudan is at the forefront of creating flavours and fragrances that 'engage your senses'. The Company achieved sales of CHF 5.5 billion in 2018. Headquartered in Switzerland with local presence in over 145 locations, the Company has almost 13,600 employees worldwide. Givaudan invites you to discover more at www.givaudan.com.
About Givaudan Active Beauty
Givaudan Active Beauty offers an extensive portfolio of innovative active cosmetic ingredients designed to bring beauty to the world. Inspired by the beauty needs of consumers worldwide, Active Beauty offers award-winning products for an expanded range of benefits including anti-ageing, self-tanning, soothing, hydrating, cooling, and more. Our cutting-edge technologies draw on science and nature to create high-performing molecules and functional agents, including customised carrier systems. Part of the Fragrance Division, Active Beauty leads the market in crafting innovative products supported by our strong expertise in advanced and applied sciences. We invite you to 'engage your senses' and learn more about Active Beauty at www.givaudan.com/activebeauty.
---
For further information please contact
Pauline Martin, Global Communications & Events Manager
T +33 3 2688 8417
E pauline.martin.pm1@givaudan.com