Givaudan Active Beauty gets high level recognition from the beauty industry by winning 5 awards last week in Paris
12 Apr 2019 · 15:29 CEST
Givaudan Active Beauty is delighted to announce that its three newest active ingredients, Agefinity™, Sensityl™
and
Darkenyl™ have won five innovation prizes last week in Paris.
Laurent Bourdeau, Head of Active Beauty, said: "It is a real pleasure to receive the recognition of the entire beauty industry. The whole Givaudan Active Beauty team works with passion to develop innovative actives. Being awarded five times this year is truly outstanding."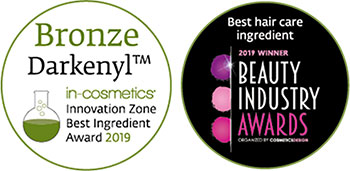 Two awards for hair repigmentation
Darkenyl™ was awarded as winner for "Best Hair Care Ingredient" at the Beauty Industry Awards and as "Bronze Active Ingredient" at the Innovation Zone Best Ingredient at in-cosmetics Global in Paris. Darkenyl™ is an exclusive hair care molecule reactivating the entire pigmentation process in the hair follicle to get rid of grey hair, down to -56% in 4 months (clinically tested versus
placebo).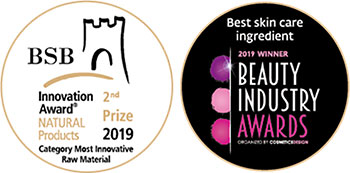 Two innovation prizes for sensitive skin and mood upliftingLogomark
Sensityl™ was awarded as winner for "Best Skin Care Ingredient" at the Beauty Industry Awards and as 2nd prize in the category "Most Innovative Raw Material Natural Products" at the BSB Award. Sensityl™ is an active cosmetic ingredient that fuses nature and scientific expertise to offer consumers' dual benefits on beauty and well-being.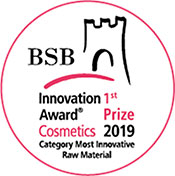 An award for clean and natural anti-aging
Agefinity™ is a revolutionary cosmetic active rejuvenating the Y-zone – the face and neck area – developed with natural ingredients and pioneering biotechnology to energise and reshape skin cells. Agefinity™ had also its moment of glory by winning the first prize at BSB Innovation award in the category of "Cosmetics/Ingredients/Actives/Anti-ageing".
Romain Reynaud, R&D Director, said: "We managed to push the barriers of creation to develop active ingredients that are both innovative and delivering new benefits for consumers. Those awarded actives reflect the scientific performance of Givaudan Active Beauty experts who are passionate and dedicated at crafting inspirational products for our customers."
To find out more about Darkenyl™, Sensityl™ and Agefinity™, we invite you to visit our website https://www.givaudan.com/fragrances/active-beauty
---
About Givaudan
Givaudan is the global leader in the creation of flavours and fragrances. In close collaboration with food, beverage, consumer product and fragrance partners, Givaudan develops tastes and scents that delight consumers the world over. With a passion to understand consumers' preferences and a relentless drive to innovate, Givaudan is at the forefront of creating flavours and fragrances that 'engage your senses'. The Company achieved sales of CHF 5.5 billion in 2018. Headquartered in Switzerland with local presence in over 145 locations, the Company has almost 13,600 employees worldwide. Givaudan invites you to discover more at www.givaudan.com.
About Givaudan Active Beauty
Givaudan Active Beauty offers an extensive portfolio of innovative active cosmetic ingredients designed to bring beauty to the world. Inspired by the beauty needs of consumers worldwide, Active Beauty offers award-winning products for an expanded range of benefits including anti-ageing, self-tanning, soothing, hydrating, cooling, and more. Our cutting-edge technologies draw on science and nature to create high-performing molecules and functional agents, including customised carrier systems. Part of the Fragrance Division, Active Beauty leads the market in crafting innovative products supported by our strong expertise in advanced and applied sciences. We invite you to 'engage your senses' and learn more about Active Beauty at www.givaudan.com/activebeauty.
---
For further information please contact
Pauline Martin, Global Communications & Events Manager
T +33 3 2688 8417
E pauline.martin.pm1@givaudan.com