Givaudan Active Beauty invites you to live an Hair Odyssey with its new entertaining concept: Immersive Beauty Experience
21 Mar 2017 · 10:45 CET
Sharing innovation, creativity and inspiration with customers is a core priority of Givaudan Active Beauty experts. By building on synergies between its cellular biology and digital marketing teams, Givaudan Active Beauty is releasing its new 'Immersive Beauty Experience' application combining virtual reality and motion sensing technologies.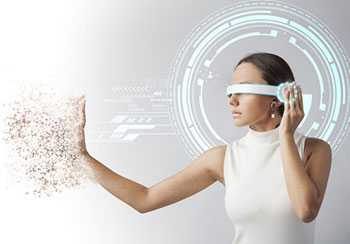 After the huge success of Skin Odyssey last year, the very first educative virtual reality application showing skin's beauty architecture, enabling a full immersion into the body and more specifically into the layers of the skin, Active Beauty digital team has gone one step further to create Hair Odyssey.
This new 3D experience allows travelling into the human scalp and discovering all the details of the hair from the roots to the end.
Let yourself be enchanted by a unique experience lead by a voice-over who will bring you through an unforgettable journey discovering the whole details of the scalp highlighting the different elements: follicle, matrix, sebaceous gland and the reserve of stem cells. You will also explore the whole composition of the hair, principally the three main structures: cortex, medulla and cuticle cells and finally the different steps of the hair regrowth. This journey will let you visualise the benefits of different cosmetic active ingredients on the scalp and hair.
Embrace the essence of this incredible sensation and engage your sensitive touch while interacting with what will be shown through its sensational world of motion gaming with our new Hair Odyssey experience.
Célia Goudin, Digital Marketing Project Manager, said: "Following the great success of our virtual reality Skin Odyssey, celebrated by our customers worldwide, we really wanted to offer them an augmented version by creating Hair Odyssey. We have been able to encapsulate this new odyssey in a user friendly iOS and Android application called "Immersive Beauty Experience" which can they can download for free on their smartphones. We strive to inspire our customers and we have no limits when it comes to bring them real breakthrough innovations."
Come to enjoy this experience while seducing your senses in our Virtual Reality corner, booth FF10 at in-cosmetics Global in London.
---
About Givaudan
Givaudan is the global leader in the creation of flavours and fragrances. In close collaboration with food, beverage, consumer product and fragrance partners, Givaudan develops tastes and scents that delight consumers the world over. With a passion to understand consumers' preferences and a relentless drive to innovate, Givaudan is at the forefront of creating flavours and fragrances that 'engage your senses'. The Company achieved sales of CHF 4.7 billion in 2016. Headquartered in Switzerland with local presence in over 95 locations, the Company has more than 10,000 employees worldwide. Givaudan invites you to discover more at www.givaudan.com.
About Givaudan Active Beauty
Givaudan Active Beauty offers an extensive portfolio of innovative active cosmetic ingredients designed to bring beauty to the world. Inspired by the beauty needs of consumers worldwide, Active Beauty offers award-winning products for an expanded range of benefits including anti-ageing, self-tanning, soothing, hydrating, cooling, and more. Our cutting-edge technologies draw on science and nature to create high- performing molecules and functional agents, including customised carrier systems. Part of the Fragrance Division, Active Beauty leads the market in crafting innovative products supported by our strong expertise in advanced and applied sciences. We invite you to 'engage your senses' and learn more about Active Beauty at www.givaudan.com/activebeauty.
---
For further information please contact
Pauline Martin, Global Communications & Events Manager
T +33 3 2688 8417
E pauline.martin.pm1@givaudan.com