Active Beauty beautifies your lips with its new marketing concept S3D® Fascination
15 Mar 2018 · 17:05 CET
"If you're sad, add more lipstick and attack." Coco Chanel.
Whatever the intention at the beginning, apply lipgloss on her mouth is a decided and strong act. There is something there that touches on being, on desire.
 
Givaudan Active Beauty has pushed the concept of seduction and hypnotic effect at its zenith through the creation of a groundbreaking and very active make-up formulation: S3D® Fascination.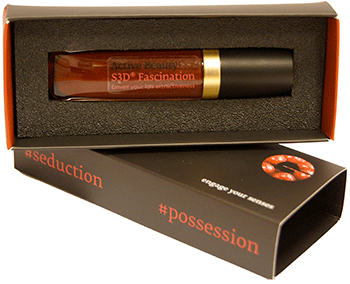 Featuring PrimalHyal™ Gold, coming from fully sustainable white biotechnology, S3D® Fascination is a deep and long lasting hydrating formula that will beautify your lips instantly. This exclusive lipgloss also provides anti-ageing properties as it contains Megassane™, an active ingredient discovered by marine biotechnology, which restores the proteasome activities after UV-exposure.
To deliver a water-resistant texture which perfectly covers the lips surface, S3D® Fascination includes the Unimer U-151 polymer, also favouring the protecting actions of the sun filter and the dispersion of cherry pigments on the lips. Your lips are now hydrated, protected and embellished for a long time.
Caroline Reverte, Formulation Project Manager said: "Our new S3D® Fascination is a very innovative concept because it is a multi-functional bio-active formula enabling new benefits for the final consumer. We crafted a formula for a high covering result with an amazing texture. S3D® Fascination is intense, powerful, sophisticated and delicate at the same time."
The intensity of its dark cherry colour added to the creaminess of the texture and to the awesome gourmand fragrance and flavour make this lipgloss a new addictive beauty weapon. 
S3D® Fascination will definitely unveil your lips attractiveness. Come to discover it at Cosmetagora in Paris, stand 55-56.
---
About Givaudan
Givaudan is the global leader in the creation of flavours and fragrances. In close collaboration with food, beverage, consumer product and fragrance partners, Givaudan develops tastes and scents that delight consumers the world over. With a passion to understand consumers' preferences and a relentless drive to innovate, Givaudan is at the forefront of creating flavours and fragrances that 'engage your senses'. The Company achieved sales of CHF 4.7 billion in 2016. Headquartered in Switzerland with local presence in over 95 locations, the Company has more than 10,000 employees worldwide. Givaudan invites you to discover more at www.givaudan.com.
About Givaudan Active Beauty
Givaudan Active Beauty offers an extensive portfolio of innovative active cosmetic ingredients designed to bring beauty to the world. Inspired by the beauty needs of consumers worldwide, Active Beauty offers award-winning products for an expanded range of benefits including anti-ageing, self-tanning, soothing, hydrating, cooling, and more. Our cutting-edge technologies draw on science and nature to create high- performing molecules and functional agents, including customised carrier systems. Part of the Fragrance Division, Active Beauty leads the market in crafting innovative products supported by our strong expertise in advanced and applied sciences. We invite you to 'engage your senses' and learn more about Active Beauty at www.givaudan.com/activebeauty.
---
For further information please contact
Pauline Martin, Global Communications & Events Manager
T +33 3 2688 8417
E pauline.martin.pm1@givaudan.com