Givaudan and Thimus advance understanding of consumer preferences through neuroscience
Collaboration will unlock food emotions and offer a new window into the consumer mind
21 Nov 2023 · 09:00 CET
Givaudan today announced an agreement with neuroscience company Thimus, the developer of the exclusive TBox platform that provides an integrated collection of explicit and implicit data for exploring how humans experience food. Givaudan's collaboration with Thimus is the first extensive use of the TBox platform in the world of food, resulting in Givaudan's new programme, Food Emotions powered by Thimus. The agreement adds to Givaudan's growing set of digital capabilities designed to deliver unique consumer insights and shape the future of food.
Food products are being redesigned to meet new expectations and sustainability, health, quality and emotion are crucial considerations in this re-invention. Understanding and responding to consumer preferences has never been more important, but there's often a gap between what consumers say and their actual experience and behaviour. Neuroscience may be the key to closing that gap. A portable tool developed by Thimus is used to gain a fuller understanding of the consumer experience.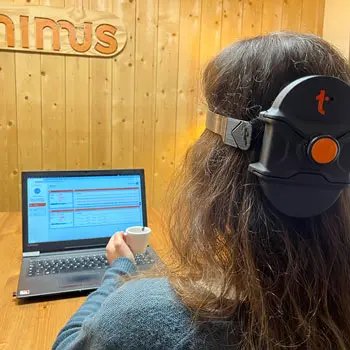 In addition to only having consumers participate in a focus group or answer a questionnaire, Thimus' TBox provides participants with a headset to wear during taste tests.
The headset records brain signals, which are then processed by validated algorithms to measure four key mental states including frontal asymmetry, engagement, cognitive workload and relaxation.
Using proprietary software and a cloud-based database for data analysis and retrieval, the tool is able to deliver insights that were previously unavailable or unreliable.
"Neuroscience has the unique ability to reveal how consumers truly feel about a product throughout the eating or drinking experience. The collaboration with Thimus marks a significant milestone in consumer understanding. It has the power to revolutionise how we co-create with our customers, increasingly satisfying consumers, and transforming the way the world eats while enabling more nutritious food choices."

Fabio Campanile, Global Head of Science & Technology for Taste and Wellbeing at Givaudan

  

"We were immediately excited about the prospect of working with Givaudan because we see such a strong alignment in our missions of transforming food systems through a food experience lens. At Thimus, we're humanising neuroscience and using it to redesign the foods we eat. We're eager to support Givaudan in gaining an in-depth understanding of the motivations, culture and emotions that underlie these experiences."

Mario Ubiali, Thimus Founder and CEO
Givaudan has used the Thimus technology extensively in several customer projects with very successful results. For example, Givaudan used Thimus technology in recent consumer tests on botanical soft drinks, comparing two prototypes. The results revealed that consumers implicitly found one concept significantly more satisfying than the other. The implicit data gathered from Thimus was used to pinpoint a negative reaction during the taste phase in the second product. The team was then able to identify a successful route to optimise the soft drink by improving mouthfeel. In this instance, the problem and its resolution could not have been uncovered by examining declarative data alone.
The technology will gradually be rolled out within Givaudan and will be available for selective customer use in some regions.
---
About Givaudan
Givaudan is a global leader in Fragrance & Beauty and Taste & Wellbeing. We celebrate the beauty of human experience by creating for happier, healthier lives with love for nature. Together with our customers we deliver food experiences, craft inspired fragrances, and develop beauty and wellbeing solutions that make people look and feel good. In 2022, Givaudan employed almost 16,700 people worldwide and achieved CHF 7.1 billion in sales with a free cash flow of 6.7%. With a heritage that stretches back over 250 years, we are committed to driving long-term, purpose-led growth by improving people's health and happiness and increasing our positive impact on nature. This is Givaudan. Human by nature. Discover more at
www.givaudan.com
.
About Givaudan Taste & Wellbeing
Powered by innovation and creativity, Givaudan Taste & Wellbeing aims to shape the future of food by becoming the co-creation partner of choice to its customers. Built on its global leadership position in flavours and taste, the Company goes beyond to create food experiences that do good and feel good, for body, mind and planet. With an expanded portfolio of products across flavours, taste, functional and nutritional solutions and a deep knowledge of the food ecosystem, Givaudan's passion is to collaborate with customers and partners to develop game-changing innovations in food and beverage. This is Givaudan. Human by nature. Learn more about how we are shaping the future of food at:
www.givaudan.com/taste-wellbeing
.
About Thimus
With offices in Italy, Hungary, and Canada, Thimus is a unique global player to help the world better understand humans experiencing food, unlocking the true power of neuroscience. Thimus is the creator of the TBox, a unique ready-to-use platform able to monitor unconscious processes playing a role in human behaviour and an exclusive asset in the Research & Development of F&B products. Learn more at:
www.thimus.com
.
---
For further information please contact
Eve Landen, Taste & Wellbeing Communications, Givaudan
E
eve.landen@givaudan.com
Maria Ciubotaru, Media Specialist, FINN Partners
T +44 7872 328 284