A strong commitment to return cash to shareholders
Givaudan is strongly committed to return surplus cash to shareholders and year-on-year the dividend has risen since 2000.
The graph below shows the free cash flow (in million CHF) and year-on-year increase of the dividend (in CHF) which we returned per share to our shareholders.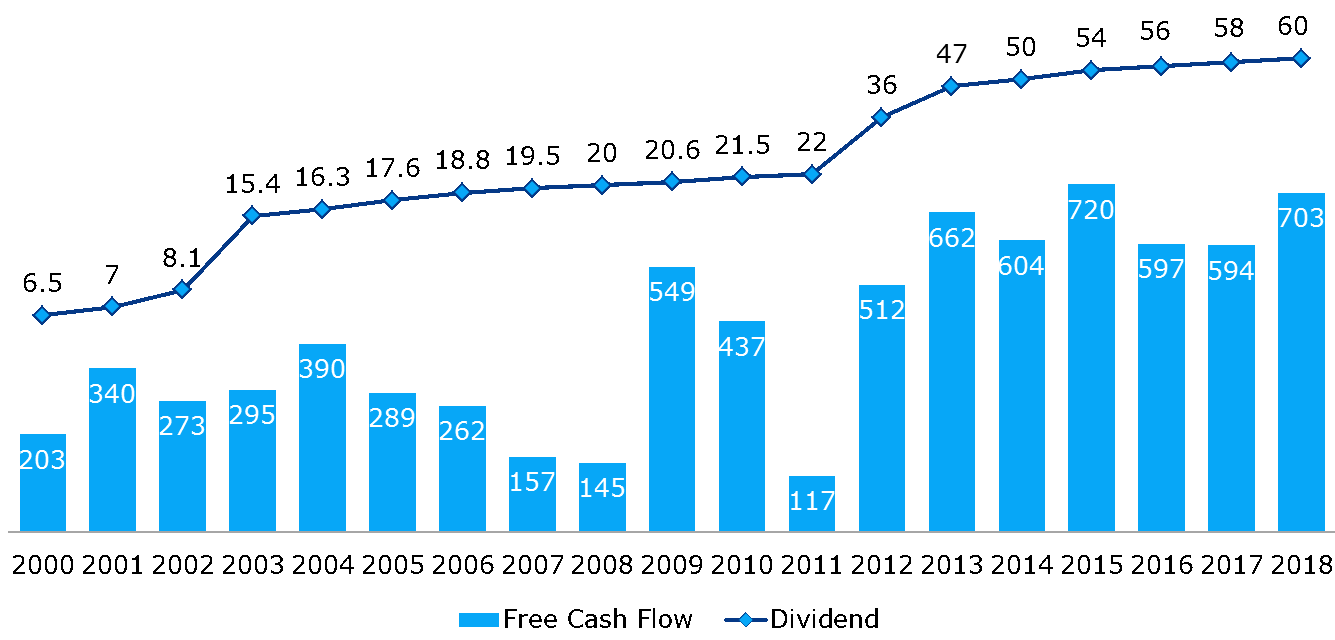 In 2018, Givaudan's free cash flow was CHF 703 million. At the Annual General Meeting on 28 March 2019, Givaudan's Board of Directors approved a cash dividend of CHF 60.00 per share for the financial year 2018, an increase of 3.4% versus 2017.
Dividends 2000 - 2018
Financial Year

Dividend

per share (CHF)

Increase

Date of Payment

Dividend Yield1

2000

6.50

 

23 May 2001

1.5%

2001

7.00

7.7%

02 May 2002

1.4%

2002

8.10

15.7%

16 April 2003

1.3%

2003

15.40

90.1%

21 April 2004

2.4%

2004

16.30

5.8%

2 May 2005

2.2%

2005

17.60

7.9%

12 April 2006

2.0%

2006

18.80

7.0%

4 April 2007

1.7%

2007

19.50

3.7%

31 March 2008

1.8%

2008

10.00 (cash)

10.00 (warrant)

2.6%

9 April 2009

2.4%

2009

20.60

3.0%

6 April 2010

2.5%

2010

21.50

4.4%

31 March 2011

2.1%

2011

22.00

2.3%

29 March 2012

2.5%

2012

36.00

63.6%

28 March 2013

3.7%

2013

47.00

30.6%

27 March 2014

3.7%

2014
50.00
6.4%
25 March 2015
2.8%
2015
54.00
8.0%
23 March 2016
3.0%
2016
56.00
3.7%
29 March 2017
3.0%
2017
58.00
3.6%
28 March 2018
2.6%
2018
60.00
2.6%
3 April 2019
3.8%
1 Based on market price at year-end
Monday 1 April 2019: ex-dividend date
Wednesday 3 April 2019: dividend payment date