Nyamplung oil
Certified organic oil to prevent photo-ageing
Nyamplung oil is a virgin oil extracted from the nuts of an Indonesian tree, Calophyllum Inophyllum, well-known as Tamanu. Production of this truly golden oil in Selayar Island uses eco-responsible methods.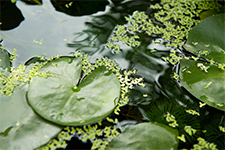 Activity
- Optimises sunscreen performance,
- Protects DNA: 85% protection against UVB-induced damages,
- Leaves a dry and soft after feel.
Applications
Nutritive cream, Oil, Massage, Hair care, Mature skin, After shave, Sun protection, After sun
Origin
Regulation

INCI China IECIC
Ecocert (Natural and Organic)
Associated claims
Emollient/Oil, Anti-oxidant, Regenerating/Repairing/Revitalising, Sensory agent, UV / Sun protection (no SPF) / SPF booster