PlanetCaps™ – biodegradable fragrance encapsulation technology

No lasting impact on the environment
Component content
Givaudan has launched the world's first biodegradable fragrance encapsulation technology, marking a major new milestone for the fragrance industry.
Reflecting our Company purpose of "creating for happier, healthier lives with love for nature," PlanetCaps™ solves the complex challenge of balancing greenness with performance in fabric softeners. This breakthrough technology also enables manufacturers to stay one step ahead of upcoming restrictions on microplastics.
How fragrance encapsulation works
Component content
Fragrance capsules are used to bring long-lasting freshness to products such as fabric softeners, which often contain millions of these microscopic spheres. The capsules protect fragrance oils by surrounding them with an outer shell. When a consumer uses laundry washed with a fabric softener containing these microcapsules – sometimes days or even months after the wash itself – the shells break and the capsules are activated, releasing a blast of freshness exactly when it's needed. 
This is why microcapsules play an important role in boosting consumer satisfaction and enhancing brand loyalty. And now, with PlanetCaps™, we can deliver the same great results in a greener way!
Blending performance with sustainability
Component content
Givaudan has been developing fragrance capsules for more than 15 years. The PlanetCaps™ project began around six years ago as a joint effort between our Science & Technology, Business and Creation experts. This new technology is produced at our facility in Vernier, Switzerland, and will soon be available in Singapore and Mexico, too.
PlanetCaps™ is certified as biodegradable according to OECD test criteria, meaning that over 60% of the shell is degraded within 60 days of use. It is also officially bio-sourced, as described in ISO 16128, meaning it is sourced from more than 50% renewable carbon.
Long-lasting fragrance experience
Component content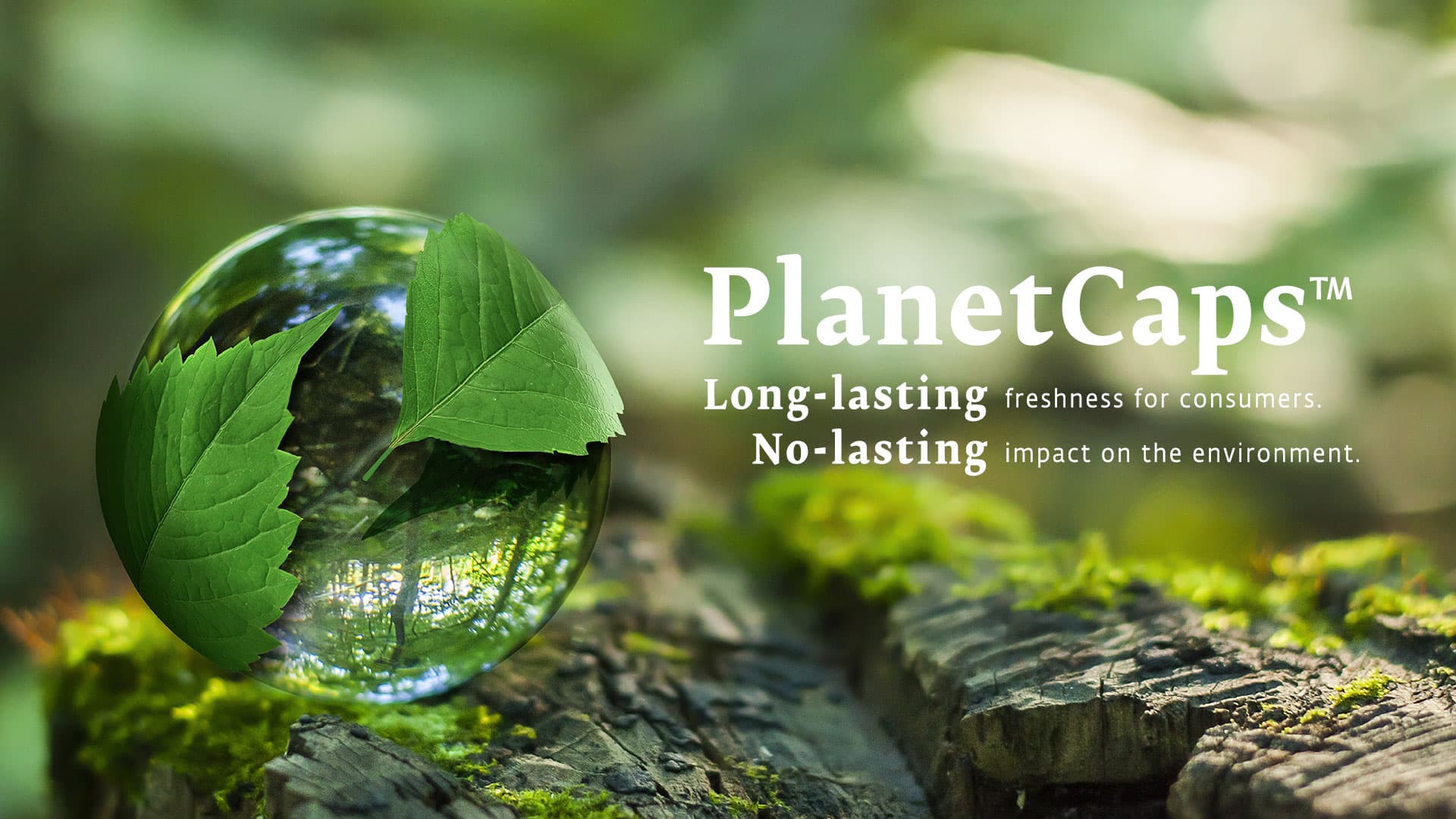 PlanetCaps™ has no microplastics
Component content
PlanetCaps™ enables long-lasting fragrance experience in a biodegradable and bio-sourced delivery system.
With its nature-friendly features, PlanetCaps™ will help fabric softener manufacturers to meet new regulations relating to microplastics. This is the case in Europe for example, where the ECHA's (European Chemicals Agency) proposed restriction on microplastics is due for ratification in 2022, with a full ban on non-biodegradable microplastics coming into force by 2027.
"What makes PlanetCaps™ stand out is that it is not only biodegradable, but it also performs well. That makes it possible to develop delightfully scented, nature-friendly fragrance encapsulates for fabric softeners, without the need to compromise on performance or quality. It's good news for consumers, our customers and the planet."

Jeroen, Global Head Delivery Systems
More applications coming soon
Component content
The PlanetCaps™ journey is only just beginning, as we will be expanding this biodegradable innovation to other product categories over the next few months and years. A whole new world of compliant, sustainable and consumer-friendly products awaits!
Read more about our other sustainable creations
Contact us to find out more about our bespoke fragrance delivery systems.