MyBloom: an expression of olfactive extimacy

Component content
Self-love, mindfulness and slowing down have become increasingly important in many people's lives but, until now, the prestige fragrance industry has not really tapped into this trend. 
MyBloom is an exciting new creative vision that translates these values in an olfactive way for the first time ever. Combining detailed consumer research and unbridled creativity, MyBloom helps our customers to meet the demand for more authentic fragrances that consumers can genuinely connect with.
MyBloom is the olfactive interpretation of the definition of 'extimacy': new technologies have facilitated interdependency between what is private and what is public, leading us to reveal, in an increasingly natural manner, our experiences, thoughts and feelings. This enlarges the circle of intimacy to the point of sharing our inner life with others.
Effortless allure
MyBloom aims to accentuate, rather than transform, the wearer's inner beauty and allow their personality to shine. We discovered that consumer's want to express their intimacy in real life, just like the natural or 'no makeup' makeup trend and we aimed to craft a collection of extraordinary fragrance accords that exhibit the concept of reverse intimacy.
A revolutionary olfactive design process
Component content
A revolutionary olfactive design process
We asked our perfumers to take a deep dive into their own emotions and experiences. They were encouraged to challenge their own olfactory language and to explore unfamiliar creative spaces without constraints. Perfumers were encouraged to use our state-of-the-art AI tool, Carto, to achieve the perfect balance of ingredients.
Read more about Carto, the artificial intelligence tool to create fragrances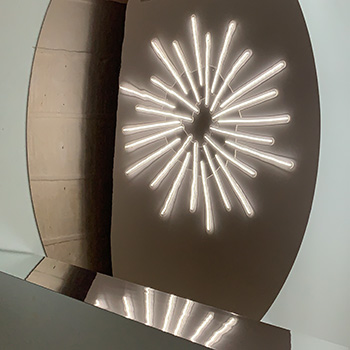 Transforming their inner most ideas into fragrances, the perfumers crafted authentic scents each one unique with a personal story. These scents are not exactly linked to specific olfactive families as we know them, instead they're linked to light, vibrations, and textures.
The collection has a specific olfactive design: a presence in the air, as opposed to an overpowering sensation. Scents that are pure and soft, minimalist and nude, natural and unostentatious, subtle and powerful at the same time, in one word: atmospheric.
"MyBloom marks a turning point in Givaudan's creative approach. Using game-changing consumer insights as a starting point and discovering the untapped need for olfactive extimacy, we gave our perfumers complete freedom to seek inspiration within to find what 'extimacy' meant to them. We were able to find the right expressions and olfactive designs, and by doing so, we are shaking up the entire way the industry thinks and creates."

Arnaud, Global Marketing Head Fine Fragrances
Uncover the 'extimacy' of MyBloom
Component content
Uncover the 'extimacy' of MyBloom
It was a powerful and moving journey for our perfumers resulting in fascinating results. The MyBloom collection of fragrance accords all share a subtle, yet very diffusive, and highly emotive designs. 
Several common themes emerged, including the idea of fragrance as a 'halo' that makes us glow from within, or a 'cocoon' of love symbolising self-acceptance and mindfulness. Skin and intimate relationships, spirituality and rebirth were other key sources of inspiration.
Fragrances of the future
The quest for new olfactive patterns also reflects a change in consumer behaviour. Many people now order perfumes online and sample them at home, instead of testing them in-store where scents need to make a big impact to stand out. New geographies and new gestures also question the way we traditionally design perfumes.
MyBloom offers our customers the opportunity to discover an unexplored olfactive trend and create products that truly resonate with consumers in a new way. An exciting chapter in fine fragrance creation has begun.
Follow us on social media to discover the collection and for more fragrant stories from our perfumers.  
Component content
Givaudan China promotes the fragrant beauty of MyBloom in Shanghai