Unishapes
One step ahead in visual effects

This technology is based on a high-definition manufacturing process creating amazing 3D shapes. Four existing standards are available: Unihearts: red and pink hearts, Unistars: gold stars, Uniflowers: lila flowers and Unibutterflies: bronze butterflies.
Activity
These tiny shapes magically disappear as you rub them in: delivered dry, they have the amazing properties to soften in the formula making them more malleable and ready to disintegrate when pressure is applied.
Applications
Body care: shower gels, refreshing body gels, liquid soaps, hand sanitisers, bronzing creams;
Face care: cleansers, creams, lotions;
Hair care: shampoos, hair styling gels;
Intimate care: personal lubricants, massage gels;
Oral care (depending on pigments): toothpastes, tooth gels, mouthwashes.
Origin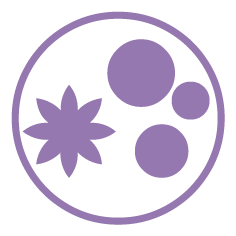 Regulation
INCI China IECIC
Halal certified
Associated claims
Visual attractiveness