FlavourVision®:
Trends for food experiences

Component content
The world is complex and fraught with uncertainties from economic and political instability to the ongoing threat of climate change and supply chain shortages. These factors are impacting people's behaviours, values and even taste preferences
Making sense of change and navigating through the disruption is a huge challenge for the food and beverage industry.
FlavourVision® is designed to help us meet this challenge head on. FlavourVision® is Givaudan's proprietary trendscaping tool first developed over 15 years ago. The new version of FlavourVision® was built together with one of the leading insights agencies - Canvas8.
Understanding Consumer Trends
Component content
Understanding consumer trends
FlavourVision® was made in consultation with a selection of leading experts from the worlds of design, anthropology, futurology, holistic-wellbeing, sustainability and sensorial research.
Five trend ambassadors, drawing on world-class expertise from outside the world of food and beverage to analyse, explore and develop five macro trends.
Trend expert ambassadors

Amber Case
Cyborg anthropologist

One of the most influential women in technology. Extensive expertise in the field, acting as a speaker and advisor for companies including Microsoft, Bank of America, AirBNB, SWIFT, Warner Bros, and Virgin.

Julia Scott
Expert on integrative health

Academic and research background with a BSc in Psychology and Neuroscience, MA in Anthropology of Food and Nutrition, certification as nutritional advisor from Bauman College Berkeley. Consulted for the BBC on a documentary series on the future of food and health called 'Follow The Food'.

Patsy Ramirez- Arroyo
Expert on sustainability and eco-food trends

Over 25 years  as a consultant and investor in the space of sustainability, specialising in eco-food trends, food waste, and alternative proteins. 

Dr Barry Smith
Expert in sensory science

Pioneering researcher on the multisensorial nature of perceptual experiences, with a focus on taste, smell and flavour. Lead for the global group researching COVID-19's lasting impact on the senses.

Xiaojing Huang
Design Consultant and consumer trends expert

Over 15 years of experience in observing and commenting on subcultures, communities, and changing lifestyles, and how these broader socio-cultural shifts impact consumer trends, especially in design.
Component content
Five key trends
Our research identified five key trends driving developments in food and beverages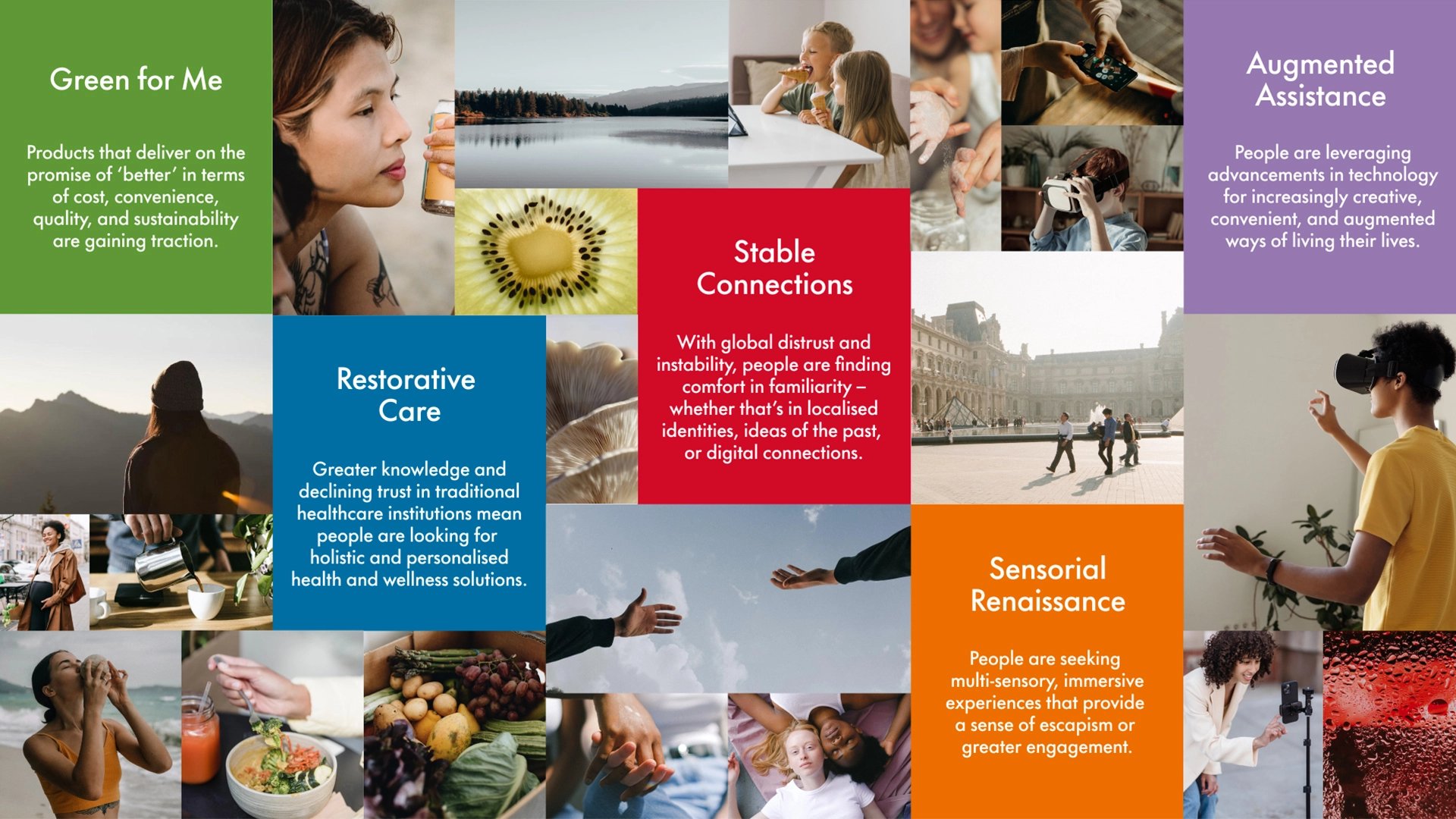 Are you ready to shape your own vision?
Component content
Are you ready to shape your own vision?
Reach out to our Givaudan team for a view of FlavourVision®, our comprehensive programme for food and beverage experiences. 
Augmented assistance macro trend
Component content
Explore the augmented assistance macro trend
Discover how consumers are leveraging advancements in technology for increasingly creative, convenient, and augmented ways of living their lives.