AI-enabled digital tools for consumer understanding and product development
Our digital tools translate consumer insights into actionable data to create food and beverage products. The result? Speedier product development and a higher chance of commercial success.
Consumers are the starting point for all that we do and all that we create. But, in today's world, their desires and demands are changing at lightning speed. To keep on top of these shifts, it is critical to be able to identify local and regional consumer insights, trends and preferences, and respond as quickly as possible. That's why Givaudan has developed many different approaches and technologies for delivering quantitative and qualitative insights.
Designing market-ready products
For decades, we have worked at the intersection of human perception and digitisation. Our proprietary hardware and software technologies enable us to transform consumer information into actionable data for flavour and taste creation. Here are just a few examples from our ecosystem of digital and artificial intelligence (AI) tools.
Customer Foresight
Customer Foresight is a powerful tool that combines big data, artificial intelligence, and deep industry expertise to anticipate future challenges and consumer expectations. 
By detecting weak signals, identifying drivers of change, and scenario planning, the platform provides actionable foresight extending a decade or more into the future. 
With a proprietary digital engine and a team of experts known as 'futurescapers', Customer Foresight refines mass data to create potential scenarios that ultimately lead to innovative food and beverage experiences.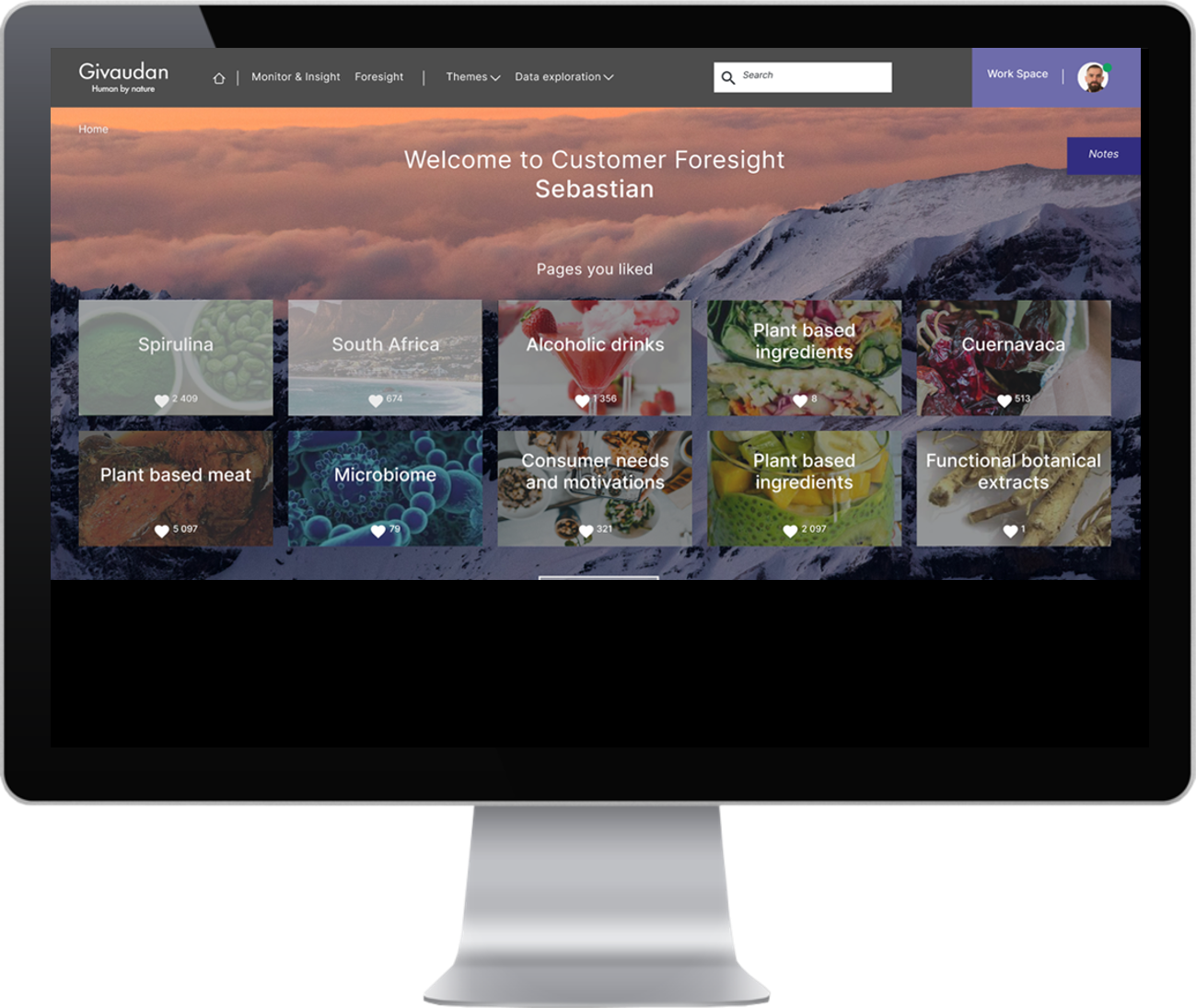 ATOM
Our Advanced Tools for Modelling (ATOM) use state-of-the-art AI to optimise food and flavour formulation, and facilitate collaboration with customers. Building on over two decades of research, ATOM generates new options and insights aligned with consumer preferences, enabling us to co-create game-changing new food experiences.
Early projects using the tools have been highly successful. For example, ATOM was recently used to reduce salt in cheese snacks. Narrowing down the perfect blend of ingredients would normally take extensive trial and error, but the team was able to quickly identify the ideal recipe, with 33% less salt but just as tasty, from a much smaller range of options predicted by ATOM.
"ATOM strikes the right balance between AI and human intuition, complementing the work of our expert flavourists and developers."

Fabio Campanile, Givaudan's Head of Global Science & Technology, Taste & Wellbeing
Virtual Aroma Synthesizer® (VAS)
The Virtual Aroma Synthesizer® (VAS) was invented as a way to speed up flavour creation and eliminate inconsistencies in descriptive language. Today, it is still used as such, but it has evolved immensely. Efficient and precise, it allows for a faster generation of concepts, with 'real-time' flavour creation, as well as a high level of interaction between customers and our own teams. Thanks to the newer and smaller VAS Air, the technology has become much more portable and easy to set up for consumer testing trials.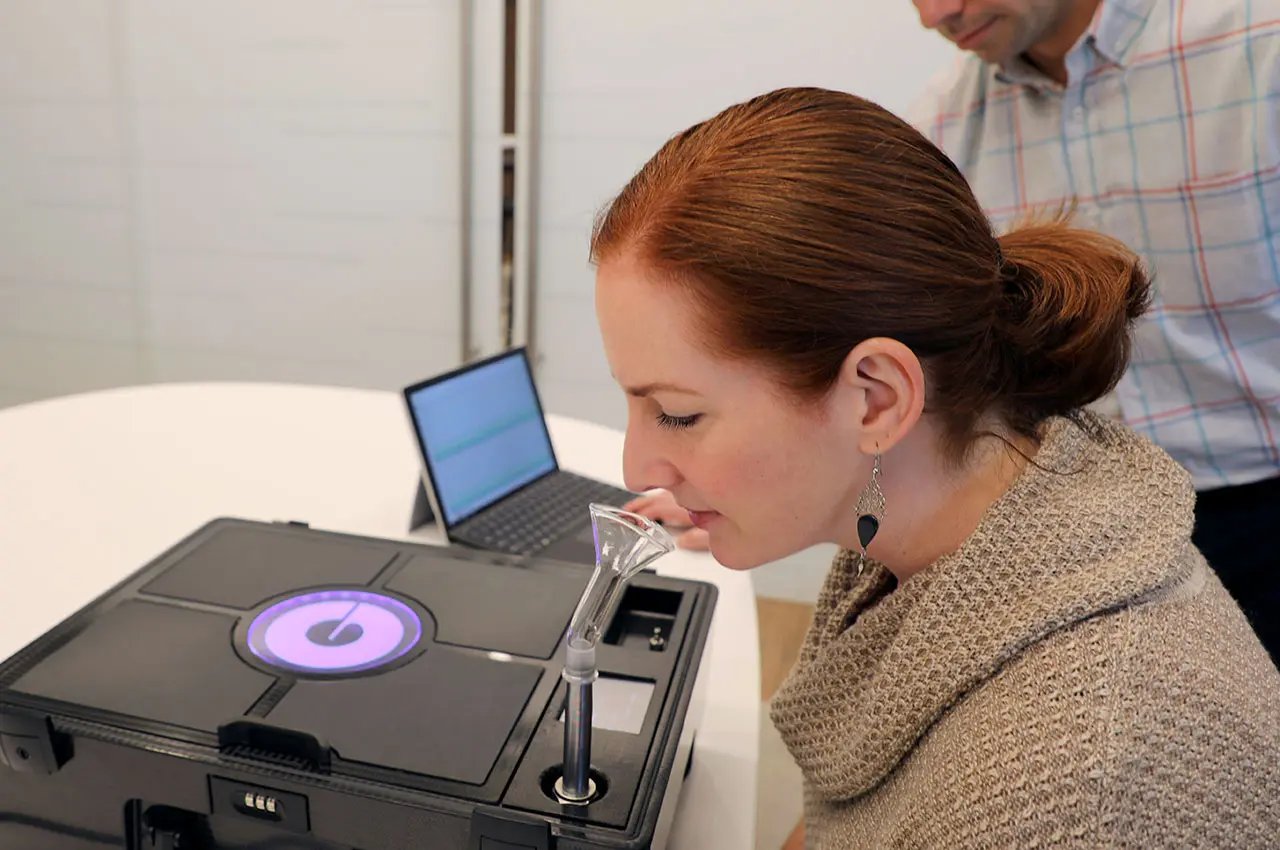 Working with the VAS helps us to identify commonalities with flavours. Take lemons, for example: are consumers expecting the same smell in a lemon in Switzerland as they are in Argentina, Italy, Thailand or Saudi Arabia? Are there common patterns in the lemon aroma, or do consumers in different regions expect different experiences? The VAS allows us to work with regional consumers to pinpoint these nuances, then use these findings to co-create winning products.
Aroma Kiosk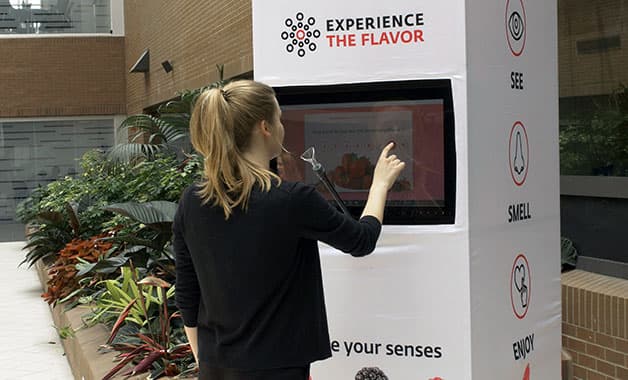 Aroma Kiosk makes it possible to gather valuable consumer insights and recommend products in real time. This ground-breaking digital sensory insights tool is designed to connect with consumers in dynamic environments, such as grocery stores and shopping malls. Compact and mobile, it consists of a simple, user-friendly touchscreen linked to our ATOM and VAS technologies. Consumers smell and rate different aroma profiles, then an AI-based algorithm translates the results into personalised flavour preferences. This data can help to accelerate product development and increase the chances of a successful launch.
In Mexico, we used the Aroma Kiosk to understand the evolving consumer perception of a fresh strawberry flavour. The results were quite surprising, as they showed how people of different generations perceive flavours and aromas in different ways. For example, fresh strawberry attributes, as perceived by older generations, were considered to be artificial-like by younger generations.
Co-creating the future of food
By using our suite of advanced tools to understand consumer preferences, we can explore flavour diversity more comprehensively and create targeted solutions for specific consumer groups. This knowledge enables us to provide our customers with insights that help bring products to market faster, increasing the likelihood of commercial success.