A year in review
Delivering with excellence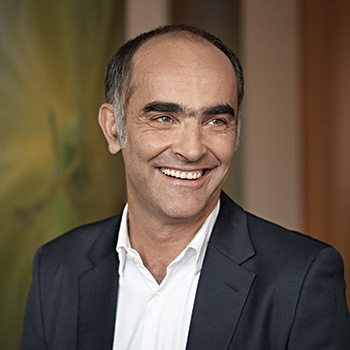 "I am pleased to report we delivered a strong performance in 2018, demonstrating our continued ability to deliver on our short-term objectives whilst also continuing to invest for the long-term future success of our business."
Gilles Andrier, Chief Executive Officer
The positive results are testament to the strength of the partnerships we have with our customers, the resilience of our business and the hard work and dedication of all of our employees.
Strong financial performance 
In 2018, the third year of our 2020 strategy, we continued to maintain good business momentum. Our topline growth, with sales of CHF 5,527 million, an increase of 5.6% on a like for like basis, and 9.4% in Swiss francs, as well as our free cash flow of 12.7% of sales, are both in line with our 2020 financial targets. Our growth was well balanced between our Flavour and Fragrance divisions and was fuelled by the strong operational progress we made across all areas of the strategic pillars of our 2020 strategy.
Adapting to the external environment
While 2018 was a year of good progress against all our strategic pillars, we also faced some challenges. Raw materials prices increased significantly in all categories and we continued to implement price increases in collaboration with our customers to compensate for the increases in input costs. In addition, Givaudan and the whole industry were impacted by a significant supply disruption of a major supplier of fragrance ingredients. Our strong teamwork and collaboration allowed Givaudan to avoid customer disruption.
We continue to see the global megatrends, and rapidly changing consumer behaviours bring much change to our business and our industry. Consumer demand for more natural and organic products is a key opportunity, and we continued to respond to this shift by joining forces with companies that allow us to provide a strengthened offering to our customers and become the market leader in naturals.
Expanding our capabilities
In 2018, we welcomed the addition of Naturex, Centroflora Nutra and Expressions Parfumées to the Givaudan Group, and announced our intention to acquire Albert Vieille SAS. Since 2014, we have made nine acquisitions which represent an additional CHF 1 billion of annualised sales.
In our Flavour Division we completed the acquisition of Centroflora Nutra, supporting our commitment to provide customers with a broader range of flavour and taste solutions that match consumer demands for clean label, organic and natural ingredients. This was further enhanced with the acquisition of Naturex, with its strong portfolio of plant extracts and natural ingredients across the food and beverage, nutrition and health and personal care sectors. Combining our joint portfolios makes us the undisputed leader in natural flavours and natural ingredients, and provides an entry into natural colours, preservatives and phytoactives.
To expand the capabilities of our fragrance business, we completed the acquisition of Expressions Parfumées, a French fragrance creation house with a strong portfolio of local and regional customers. We further reinforced our presence in Grasse by announcing our intention to acquire Albert Vieille SAS, a French company specialised in natural ingredients used in the fragrance and aromatherapy markets. We expect to close this acquisition in the first quarter of 2019. Finally, we entered into a strategic partnership with Synthite, a global player in the supply of high quality botanical extract ingredients. We will jointly work on research and development of exceptional qualities of floral and spicy natural ingredients such as jasmine, tuberose, ginger and cardamom, to enrich our palette of ingredients.
We are making good progress with the integration of these companies to bring our complementary strengths to our customers. With each of these acquisitions we are not only combining our expertise and product portfolios, but enriching and evolving our culture. Our integration approach is to preserve and enhance the strengths of these acquired companies, and incorporate their values into our DNA.
Delivering with excellence
We are constantly challenging ourselves to deliver with excellence across our value chain, always taking our customers' needs and perspectives into account. We focus our investments on the areas that bring most value to our customers, while continuously looking at the way we can improve the efficiency of our operational and business processes. Today, our recently launched Givaudan Business Solutions organisation integrates a range of core business solutions to improve our agility, reduce the complexity of our internal processes and focus entirely on delivering a superior customer experience.
Being close to our customers is also an important part of offering a 'superior customer experience'. Our global footprint offers a key competitive advantage in being able to build closer partnerships with customers, and provide a faster response to the needs of the local market. We continued to invest in new facilities with the opening of a new commercial and development centre in Jakarta, Indonesia demonstrating our ongoing commitment to the Asia Pacific region. We also made new strategic investments in our Applied Microbiomics Centre of Excellence in Toulouse, France to support further scientific innovation in microbiomes. In early 2019, we will open a world-class flavour manufacturing facilities in Pune, India, cementing our 50-year heritage of investment in India.
We set a target of reducing our global water consumption per tonne of production by 15% by 2020, and we have reached this target three years ahead of schedule. This demonstrates our ability to innovate and implement the most efficient and sustainable processes, as part of our commitment to take action for the environment across our operations and beyond. We have a target of 100% renewable electricity for our operations by 2025, and are on track with 20 sites using renewable electricity at the end of 2018. To further advance our goals, we joined a consortium of 16 partners who are participating in HyCool, an innovative energy technology project funded by the European Union which aims to develop cost-effective solutions using solar heat for industrial purposes.
Givaudan Business Solutions implementation
GBS is the foundation of our 2020 strategy pillar, 'Delivering with excellence'. It is a large transformation for us, and is unique to our industry. It will provide best-in-class business services and solutions that support the Company to further improve our operational efficiency, and increase our agility. Building on the achievements in 2017, the implementation of GBS continues to progress very well against the plan. The first financial benefits of CHF 20 million were also delivered in 2018.
Our three regional delivery centres in Budapest, Buenos Aires and Kuala Lumpur are fully operational. Importantly, these teams all receive onboarding to ensure they feel part of Givaudan, our unique culture and DNA, but also so they understand the role GBS plays to make us more agile and efficient. All global functions have successfully transitioned to the new ways of working, with many improved internal efficiencies. Those areas of the business that are being transitioned country by country, including some supply chain activities, are also progressing as planned, having completed the transformation in Europe. In addition, we're on track with building our digital capabilities that will help us to deliver new solutions to support the business.
The success to date of this project has been down to the great collaboration of the teams in the centres, working in partnership with the functions and sites to deliver for our customers. Going forward, the scope of GBS has been expanded, as we continue to leverage the best practices from our divisions to define a common way forward for our engineering activities.
Strength of our partnerships
Being a 'partner of choice' is embedded in our 2020 strategy, and our partnerships are crucial to driving responsible and sustainable growth.
We continue to foster a culture of innovation, looking beyond our internal capabilities to develop strategic innovation partnerships with external players such as academia, start-ups, technology providers and research institutions. We launched MISTA, a new innovation platform for the food industry, focused on product innovation and development. Opening in early 2019, the MISTA Optimisation Center (MOC) will provide start-ups and companies access to a product development facility, equipment for pasteurisation and fermentation, experts providing market and leadership development strategies, as well as input from world renowned culinary and food scientists.
How we partner with our suppliers is also a key part of our 2020 ambition. Our 'Sourcing for Shared Value' approach to sustainable procurement practices covers three core areas of Responsible Sourcing, Sourcing at Origin and Communities at Source. In 2018, we strengthened our sustainable patchouli oil sourcing in Indonesia. In cooperation with international NGO Swisscontact, we are supporting patchouli producers to develop their smallholder businesses in a way that is respectful of the environment.
One of our most valuable assets is our people. We place great emphasis on developing their skills, promoting a diverse workforce and building a pipeline of future leaders. Our ambition is to create a great place to work where every employee feels able to contribute to the success of the Company. This year we also launched a Company-wide programme, the Givaudan Awards, to celebrate and share success and recognise teams and individuals who go 'above and beyond' to deliver outstanding results and make exceptional contributions to our business.
Our role as a responsible and sustainable business
Being a responsible and sustainable business means we embrace our role as a corporate leader in the global effort to safeguard the future of the planet. Companies must be prepared to put sustainability at the forefront of their strategies, and at Givaudan we want to secure our business while making a positive impact on the environment and society as a whole. Meeting today's needs without compromising the interests of future generations is fundamental to our business model.
Our guiding framework is 'A Sense of Tomorrow', a consolidation of all our global sustainability activities around three key areas of sourcing, innovation and the environment. Initiatives within each area look at the way we source materials, develop products and reduce our environmental footprint. This allows us to better meet our customers' needs, but also anticipate ever-evolving challenges for our industry, our environment and society as a whole. Importantly, these initiatives not only support our objectives but address the United Nations' Sustainable Development Goals. Aligning our own priorities on global aspirations such as dietary shifts, health and well-being and environmental protection shows our commitment to sustainability.
Our leadership on climate change continued to be recognised by CDP, the non-profit global environmental disclosure platform. We received an A- grade for both climate change and water security. This was the fourth consecutive year on the leadership level for the Company, which has been disclosing GHG emissions through its participation in CDP since 2007.
Key priorities for 2019
For the year ahead, we will continue along the path of delivering our 2020 strategy, staying alert to the evolving market environment and adapting as needed.
We will continue to leverage the acquisitions we have made, maximising the unique set of talents, creativity, products and technology that each company brings. Where we see opportunities, we will continue to acquire companies that further strengthen our capabilities and allow us to bring even greater value to our customers. Our focus on delivering with excellence remains, with the continued implementation of GBS helping us to create the additional financial resources needed to continue growing with our customers in the years to come.
Critical to our future success will be the areas of innovation, biotechnology, digitalisation and sustainability. We see many opportunities to leverage these to create differentiated services, new ways of working and develop new ingredients and creations that delight our customers.
In 2018 we marked our 250-year heritage of engaging people's senses, and inspiring emotion through our creations every day, everywhere, as we strive for a better tomorrow. It was fantastic to share so many inspiring stories with our employees, partners, customers and shareholders. I am excited about the year ahead, and the next chapter of our journey to deliver our 2020 strategy.
Gilles Andrier
Chief Executive Officer