ONE Givaudan
Onboarding new employees
Our people bring enormous value and strengthen our business. This is why it is important for us to integrate our new employees from the very start. We are committed to providing a solid foundation to set them up for success.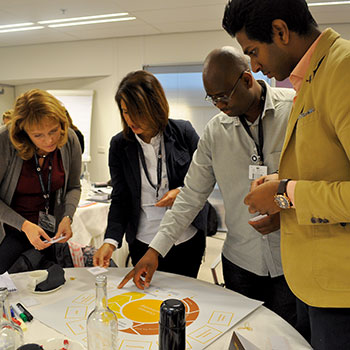 Launched in 2017, ONE Givaudan offers a holistic and engaging experience for new employees across all regions. Global onboarding, a first for us, ensures that new joiners acquire fundamental knowledge about our Company and its rich heritage, our business and our DNA. Internal experts deliver the sessions with passion, communicating their expertise and the value we bring to our customers.
Participants have shared an appreciation of the content and the opportunity to network with experts and peers from across the organisation. They leave with a great sense of pride, motivated and engaged to begin their journey.
"This is such a great opportunity to leverage the diversity of our new joiners across our regions and introduce them the value chain that puts the customers at the heart of everything we do. We have created a shared experience where we come together to be part of ONE Givaudan."
Michèle, Global Learning and Development Consultant
---
> This story is a key achievement supporting the strategic pillar partnering for shared success