Cultivating a flourishing future for patchouli
At source, the natural ingredients that Givaudan uses in perfumery are subject to all kinds of external influences, from unstable geo-political activity to extreme weather conditions. Many of these raw materials are only used in the fragrance industry, hence why it is important that we take our role as purchaser so seriously. By ensuring correct stewardship of these beautiful, precious ingredients, we can secure the future of these crops and offer a more stable livelihood to the farmers that grow them.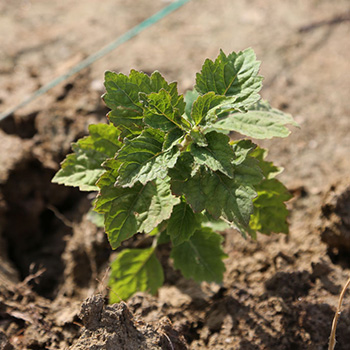 To strengthen our efforts in crop supply security and get even closer to the issues and challenges of farmers and producers that grow and transform our much-needed materials, in 2013 Givaudan established Origination teams for a select number of natural raw materials. Origination puts resources 'at source', posting Givaudan employees in the countries where naturals are present, including in Sulawesi, Indonesia, to work hand-in-hand with local patchouli growers and distillers.
By having full-time employees on the ground, we can be better informed of changing climatic and economic conditions of these crops, which are often grown in developing countries, or in far-flung corners of the globe. This helps us anticipate changes in crop supply for ourselves and our customers, thus better ensuring a constant supply in terms of quantity and quality. 
New sourcing models
In Indonesia and Malaysia, our Origination team has set up two new sourcing models for patchouli, both of which evolved and deepened during 2014. The first model, a collection network on the Indonesian island of Sulawesi, enables Givaudan to team up with local producers and to collect and monitor patchouli oil purchase at source. On the Island of Borneo, Malaysia, an exclusive farming partnership has been established in collaboration with a passionate plantation owner. The objective is to develop unique and exclusive qualities of this iconic, much-used ingredient.
Stéphane, Head of Origination at Givaudan explains the importance of being close to the patchouli source: "Patchouli oil is one of our most prized and frequently used ingredients, yet over 80% of global volumes are sourced from this one country. This poses a supply risk in case of changes in weather, geo-political or economic conditions. Although we cannot avoid this kind of upheaval, being close to the source means we can improve market intelligence and better anticipate or address issues that may affect steady supply. It allows us to manage the process end-to-end for our customers, ourselves, and with the patchouli oil producers."
Givaudan's patchouli collection network
Origination teams also help Givaudan and its customers understand the broader socio-economic context of local farmers, as Stéphane states: "Patchouli is an essential crop for the fragrance industry, but doesn't necessarily have such importance for growers! Smallholders are free to choose any crop that brings them an income. It is our role to support farmers to grow patchouli, and to create sustainable conditions for them to ensure that this precious raw material is upheld for perfumers across the world."
An example of this can be seen in Givaudan's patchouli collection network in Sulawesi. Laetitia, Givaudan's Responsible Sourcing Partnerships Manager explains how the network reinforces relationships with growers and takes the long-term view: "Producers in the collection network choose to leverage Givaudan's commitment and expertise, gaining support, increasing their yields and provide a constant quality of patchouli oil. We build on this approach by training farmers and distillers in quality requirements and techniques. Givaudan has created a dedicated centre of expertise on the island, which is also home to a demo distillery, where they can be trained to meet our standards, thus better guaranteeing them a more regular income due to improved yields and a lower rejection rate. Essentially, we're creating real relationships through mutual understanding, and we're closing the gap between ourselves and patchouli oil producers." 
Working side-by-side
Elsewhere in the region, 2014 saw Givaudan initiate a long-term farming partnership with GaiaOne and Gaya Naturals in Malaysia. Laetitia explains the principles of this partnership and its unique, environmentally friendly perspective: "We are working side-by-side with passionate patchouli plantation owners, united in a common objective to grow and distill the finest quality patchouli oils. We're doing this in a sustainable manner, making ecologically sound choices such as running the distillery off a renewable wood source. We have supported the building of houses for the workers in the plantation and financed production equipment. This is a prime example of our responsible sourcing approach."
Laetitia outlines Givaudan's hopes for this initiative: "We're still in a development phase, with no product created as yet, but the hallmark of this GaiaOne and Gaya Naturals partnership is innovation. We have an open-air laboratory where we develop new patchouli oil qualities. Working on the plantation enables us to be closer to the raw material and potentially, to create premium quality oils. This is an on-going process and in 2014, different qualities of oil were tested by our perfumers."
Both these models demonstrate Givaudan's commitment to investing time, funds and expertise into securing key natural ingredients and developing new levels of quality – and that this can be done hand-in-hand with local producers. We are fostering a continual circle of learning, fluidly sharing insights among farmers, distillers and with perfumers and customers. We are confident that this holistic long-term vision will not only help secure volumes and quality, but will protect this precious crop for our industry – and the world's favourite fragrances – in years to come.