Access to safe drinking water and sanitation installations is limited in many parts of the world, and this is particularly true in Haiti. Facing this challenge, a group of local women and members of the vetiver cooperative we partner with called on the Givaudan Foundation to support a project to improve access to both.
The people who live and work at the sources of strategic raw materials are critical to our business and the Givaudan Foundation is committed to supporting these communities. The new sanitation and hygiene facility – operational since July 2018 – features showers, toilets and a washing area for clothes. Open to all villagers in the area, it is already being used by approximately 100 families, and is expected to contribute to a reduction of water-borne diseases in the community.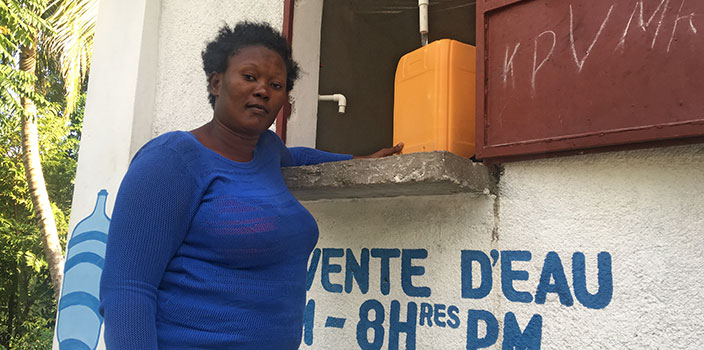 The project also involved, in partnership with the NGO Terre des hommes, the installation of a drinking water kiosk on the same premises. The women who initiated the whole project sell purified water to the community at low prices, and use the profit to ensure the maintenance of the sanitation facility.
"Before the installation of this system I had to go into town to buy treated water. Buying 20 litres cost me 25 gourdes for the water and as much for the transportation. This meant we could only buy 20 litres per week. Today, thanks to the new system, I can get the quantity my family needs – I now buy about 60 litres per week on average. The water is of good quality."
Léonce, a local woman who lives in a family of nine people in the village of Faucault
This project was just the latest achievement in our collaboration with this cooperative of vetiver root famers across three villages in South Haiti. Going back to 2012, the relationship has helped Givaudan source organic and fair-trade vetiver essential oil and allowed more than 270 vetiver farmers to benefit from price premiums and technical support. The three villages have also benefitted from community infrastructure projects.
This supports our goal of strengthening the social, environmental and economic prospects of the people producing precious natural ingredients.