Going beyond guarana production in Brazil
Communities at Source enters second phase of development with a focus on quality of life for our producers of the Bahia province. Givaudan's guarana development programme, initiated in 2014, has now launched a farmer literacy project funded by the Givaudan Foundation in the Bahia province of Brazil, a poor area with little infrastructure.
"We believe that literacy is key to improving living conditions because if the farmers can't read or write, they are outside of the system," explains Candice Filipak Monsano, head of the Floravida Institute, a partner non-profit association dedicated to socio-environmental education initiatives cutting across health, environment and local development.

"With support from the Givaudan Foundation, we have recruited and trained teachers to conduct a 15-month literacy course for up to 60 producers and their family members in 20 communities, using a methodology specifically aimed at people in remote regions."

Candice Filipak Monsano, head of the Floravida Institute
Givaudan has also conducted farm level sustainability assessments with the Atlantic Forest cooperative earlier this year. Questionnaires for each of the producers across the southern Bahia region reviewed sustainable practices at the farms and identified improvement areas on social, health, safety and environmental topics. Ensuing action plans to address needs such as enhancements of sanitation, drinking water and access to medical care have been defined.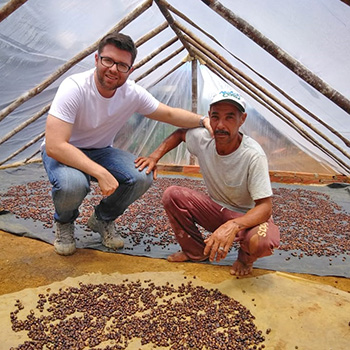 Continuing to secure a precious livelihood
This year, the guarana harvest faces reduced yields due to Tripe Fungus, 'Auricularia mesenterica', which has affected the entire south of Bahia. The cooperative is working closely with the producers to find a natural remedy for the fungus and expand its membership to meet the increased demand for guarana.
André, Givaudan's Natural Purchasing Coordinator for Flavours in Brazil, sees a marked change in mindset after five years of working closely with the producers:
From 2014 to 2018 the programme focused on good agricultural practices, the promotion of a producer's cooperative and soil enrichment to help secure income by enabling the farmers to diversify their activity through agroforestry to also include crops like cacao, bananas and palm. Givaudan is committed to supporting the communities who live and work at the source of its strategic raw materials by strengthening the social, environmental and economic fabric of their lives through 'Sourcing for Shared Value'.
About guarana
 
| | |
| --- | --- |
| Guarana seeds | Guarana seeds are processed by GNUTRA (a Givaudan Group member) for caffeine extraction and use in various beverages) |
| Guarana dried seeds | In 2019, the harvest delivered 35 tonnes of dried seeds |