Equal opportunities: inclusion and participation
Lucia's extensive experience with issues linked to equal opportunity and her own stellar career won her an invitation to address some 500 people at a town hall meeting organised by Boticário, one of our biggest customers in Brazil.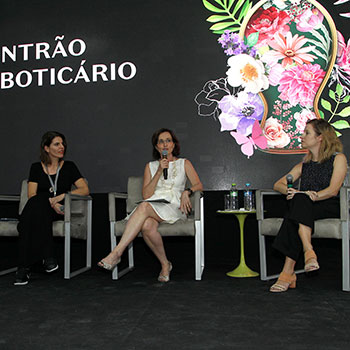 When Lucia, now Regional Head of Fine Fragrances for Latin America first started at Givaudan, women employees were not eligible to get health insurance coverage for their partners – this was a benefit reserved for men. Lucia pointed out that it was unfair and the policy was changed. 
Some 18 years later, she sought and won full support to hire a woman who was already pregnant because she was the right person for the job on her team.
"At Givaudan, there has been a real evolution," Lucia said. Her expertise with such issues and her personal success in navigating them won her an invitation to address a December town hall meeting of about 500 people organised by Boticário, one of our biggest customers in Brazil. 
She and three other panellists were invited to discuss four main themes, including their personal stories, experiences with prejudice, the obstacles that they had faced during their careers and, finally, whether they had any tips or advice to give.
During the meeting, they covered a broad range of topics, touching on areas such as maternity leave and the critical role of partners in supporting careers, the difficulties women may face when travelling alone, the challenges of being accepted as a discussion partner in certain parts of the world as well as differing communications approaches between men and women.
Overall, she finds that the situation is beginning to change for the better and looking to the future, she says that women should not be afraid to create opportunities for development as she has been able to do at Givaudan.
"We have a culture that is open and Givaudan has always given me the opportunity to grow when I was ready for it," she said. The simple fact that she and some of her female peers are in positions of leadership in various regions of the world shows clearly that Givaudan understands the importance of having better balance – not just diversity, she says. For her, diversity is simply inclusion, while better balance is about inclusion with real participation.
"Diversity is when you just invite someone to a party, but better balance is about asking them to dance too. This is exactly what is happening with Givaudan. I feel like I am actively contributing and bringing different perspectives to the group. We know that companies with this approach are much more efficient and have better results."

Lucia, Regional Head of Fine Fragrances, Latin America