Engaging with stakeholders on our material issues
A core part of our sustainability management approach is listening and responding to our priority stakeholders. These are the people who affect our business or who are affected by it.
The feedback we receive from these stakeholders helps us understand their expectations, enables us to prioritise issues effectively and contributes to our overall sustainability strategy, as well as helping deliver against our combined sustainability goals.
We have identified six stakeholder groups, namely Customers, Suppliers, Employees, Owners and Investors, Local communities, Public and regulatory agencies, which, at the moment, are of primary importance to our Sustainability programme.
Examples of how we have engaged with these key stakeholders, on the topics most material to each group, are shown in our sustainability reports.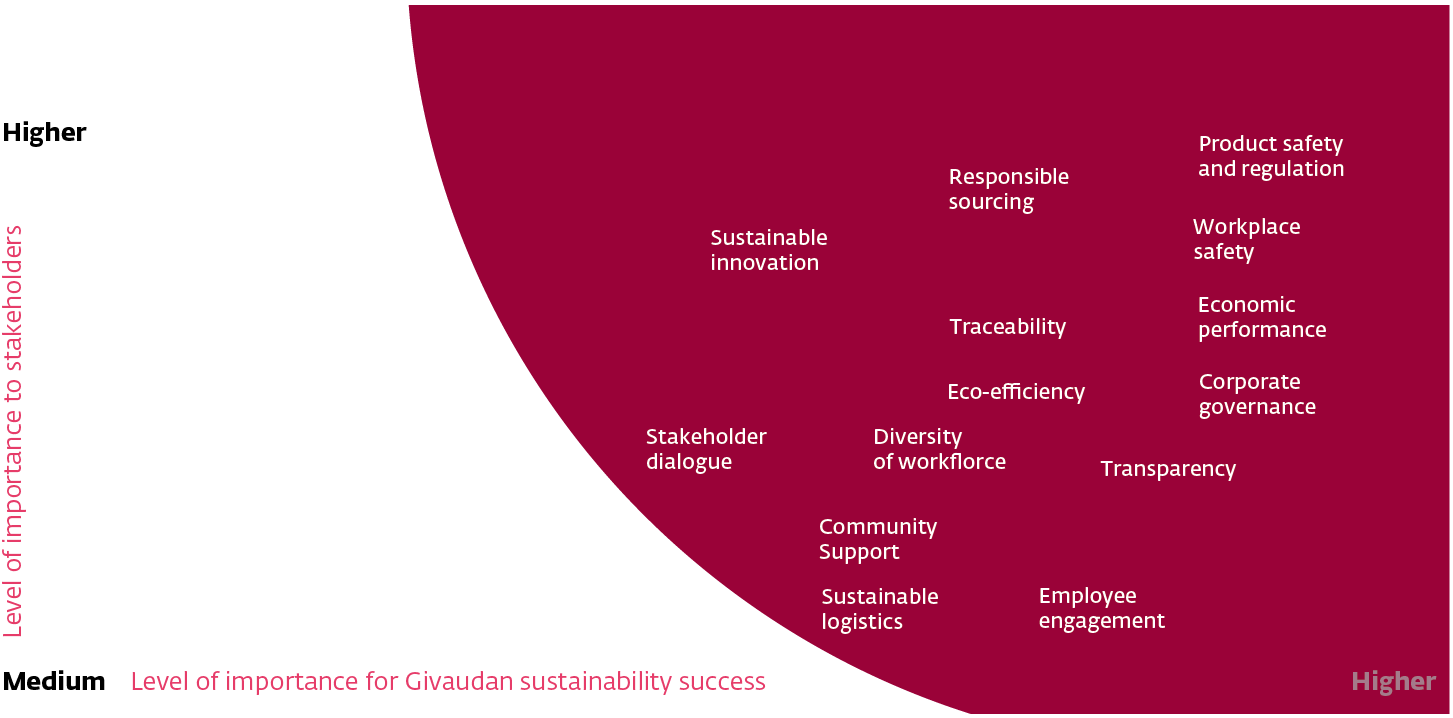 Materiality matrix: Glossary of material issues
Product safety and regulation
The safety of our products and the processes that are used to comply with local laws and regulations.
Workplace safety
Minimising accidents and injuries in the workplace, including the training and systems to ensure the health and safety of our employees.
Economic performance
Operating a Sustainable Business Model. This means respecting the planet, including the people living on it, while running a viable, profitable business.
Responsible sourcing
The process of purchasing goods and services without causing harm to, or exploiting, humans or the natural environment.
Sustainable innovation
Development of products which are more efficient to make, have fewer negative byproducts, or have a positive impact when used by the consumer (health and wellness/ environmentally-friendly innovation).
Traceability
The ability to track, trace and predict the location of a batch, its sub-components and raw materials throughout the supply chain.
Eco-efficiency
Improving the efficiency of operational activities with regard to harmful emissions, water efficiency and waste disposal.
Corporate governance
Ensuring our practices are in alignment with international standards and safeguard the effective functioning of the governing bodies of the Company.
Diversity of workforce
Having a diverse workforce which reflects the societies in which we operate.
Stakeholder dialogue
Engaging with stakeholders to build understanding of their priorities and to find opportunities for collaboration on sustainability initiatives.
Community support
Building relationships for the benefit of the communities in which we operate.
Transparency
Being open to sharing data and information; disclosure of data.
Sustainable logistics
Eco-efficient management of product flow including: packaging, warehousing and transportation.
Employee engagement
Engaging and inspiring employees to be a motivated workforce.