Jigani celebrates World Environment Day with a focus on single-use plastic
Employees at our Jigani site have celebrated World Environment Day (WED) for many years, but 2018 was special – India hosted the event.
To celebrate, the local Green Team – local teams of employees that volunteer to engage in sustainability projects – came together to propose multiple activities based on this year's theme: 'Beat Plastic Pollution – if you can't reuse it, refuse it'.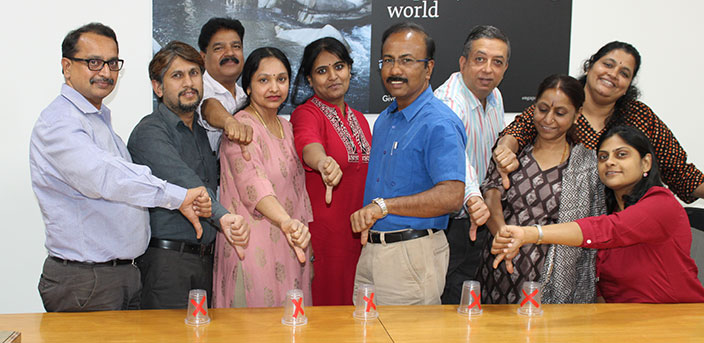 They started out by making a huge effort to raise awareness about how plastic is polluting the earth and how it finds its way into our bodies. They engaged not only employees, but also their families in making contributions through drawings and essays on ways to beat plastic pollution. Then they moved on to the next part of the plan: stopping single-use plastic.
In line with the Indian government's commitment to abolish such items by 2022, the team took on plastic straws, bags, stirrers and cups, highlighting how the use of plastic disposables adds to pollution. Their activities raised awareness, helped people share ideas and motivated them to act for a pollution-free environment – at Givaudan certainly, but also around the world, thanks to the spotlight brought on by the WED.
"Jigani has pledged to reduce the use of plastic disposable. Our Green Team has initiated the correct approach with stopping one-time use, and we will continue our journey to reduce the use of plastic."

Karthikeyan, Operations Director