Localised cleaning station cuts water and detergent use
The hunt for ways to reduce water use at Hungary's Makó site led a local Green Team – local teams of employees that volunteer to engage in sustainability projects – to identify an opportunity for improving the system used to clean the trolley cars that transport the powders that go into the thousands of products made there.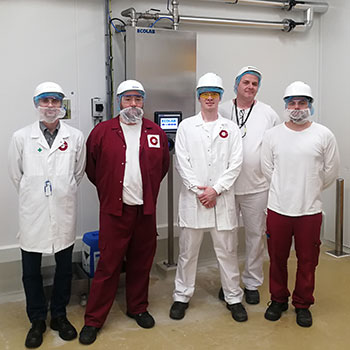 A study of the site's clean-in-place (CIP) system revealed that washing the site's big manual pouring (BMP) trolleys was a critical area for improvement. 
Because there was a distance of about 60 metres from the centralised CIP station to the actual cleaning area, the pipeline had to be filled up with a significant amount of water before each cycle. These concerns led the group to come up with a proposal to replace the centralised system with a localised foaming station.
Though there was huge potential in terms of water savings, they were aware that meeting the same hygienic requirements with a new cleaning process would be the biggest challenge. 
After several tests, the team proposed installing two foaming stations local to the BMP cleaning stations. Management then played a critical role in making sure the project got off the ground.
"We are really happy that we got the strong support to make this happen. It was a great collaboration between a number of different teams at the site and management."

Balazs, Project Coordinator
 
They could not halt production, so figuring out how to install and test the new system involved a huge effort involving collaboration among a number of people and teams including local engineering, maintenance technicians, the BMP area leader, and the operators as well, the Quality team, external experts, even lab assistants.
While the first weeks involved a learning curve, the site has since gained a lot of flexibility with the new equipment and the excellent returns are becoming more and more apparent. The modifications allow for more efficient cleaning, a shorter CIP cycle, hot water supply from the network and, critically, no need to fill up the 60-metre pipeline with water. The benefits have been huge: the water consumption of the cleaning station has been reduced by 60% to 450 litres. CIP and the team has cut the use of detergent by 50% a year from reduced consumption of water, detergent and natural gas.
 
"The challenge in this project was to achieve our goal to reduce water consumption with maintaining the same CIP and hygiene," said Melinda, Quality Systems Manager. "We did it!"