Clear objectives on eco-efficiency
We're working across the entire organisation to meet ambitious eco-efficiency targets in relation to energy, water and waste.
Givaudan identifies its own eco-efficiency targets on energy, water and waste with the very conscious intent of helping to make a difference to the world's broader needs to preserve resources, and acting responsibly as a global company that impacts local communities.
Givaudan recently announced its strategy for 2020 with a focus on delivering 'Responsible growth. Shared success.' over the next five years. We recognise that our success as a Company is no longer measured by financial figures alone. Our new roadmap forward clearly articulates Givaudan's commitment to reducing our impact on the environment and strengthening the social and economic fabric of the communities within which we operate.
Given that we anticipate achieving many of our 2020 eco-efficiency targets* already this year, five years ahead of schedule, we saw the opportunity to be more ambitious. 
Ahead of schedule


2010-2020 eco-efficiency targets (consumption per tonne of product)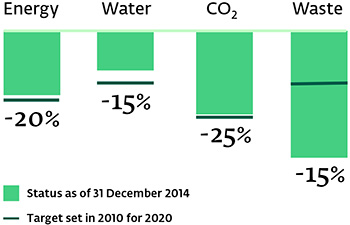 Our revised 2020 eco-efficiency targets are as follows:
Stabilise our carbon footprint by reducing our absolute CO2 emissions by at least 4% year on year in order to compensate for our growing production volumes
Reduce our waste production and energy consumption per tonne of product by 4% year on year
Reduce our water usage by 15% per tonne of product between 2010 and 2020**
Below you'll find descriptions of just a few of the many ongoing initiatives we have in place that are dedicated to reducing our environmental impact. These activities will be critical to driving our commitment to responsible growth over the next five years. 
Clear objectives
On the topic of power, Givaudan is now committed to moving to the purchase of electricity produced from 100% renewable sources. In Europe, the electricity sourced in Germany, Spain and Switzerland, is already 100% green, with other regions following suit.
Elsewhere on energy, Givaudan runs Energy Saving Workshops, which focus on overcoming inefficiencies at plants. The outcome of the workshops leads to 5-10% energy savings. 
> Workshopping a new mindset
Investing in energy-efficient infrastructure
Koos, Head Sustainability Flavour & Fragrance Operations, explains how, with every infrastructure investment Givaudan plans, reducing energy is taken into consideration: "We now have an agreed procedure in every investment proposal called 'The Green Chapter', whereby the environmental impacts of any future development are covered and considered in detail."
Innovation also plays its part, and the Company is constantly looking to innovate around new production infrastructure. Koos notes a couple of examples: "We are looking at new technologies for waste product treatment, as well as exploring innovations in spray drying, both of which can drive major energy savings."
The role of Green Teams
Recognising that we have numerous ways to save energy indirectly, on each site we have a cross-functional team of volunteer employees who propose innovative ways to look at eco-efficiency. Green Teams play a pivotal role in generating great ideas that feed into Givaudan's global target to reduce energy usage.
Every year since 2010, Givaudan's Executive Committee formally recognises the three best local sustainability initiatives through the Green Team Award. This includes a dedicated award for eco-efficiency.
> Making an impact at a local level
Water usage is an essential aspect of Givaudan's production processes, for example in the manufacturing of products as well as the cleaning of equipment. Read about our proactive initiatives that look to reduce water usage and conserve water, as witnessed at our plants in Brazil and the Netherlands.
> It's a matter of fluidity
To formalise our commitment to eco-efficiency, Givaudan is a signatory to four commitments put forward in the Carbon Disclosure Project (CDP) 'Road to Paris' initiative. 
> On the road to Paris
As all this shows, right across the Company the mindset is focused on reducing the Company's environmental impact.
* Per tonne of product against 2009 baseline:
Energy consumption: 20% reduction per tonne of product by 2020; water use: 15% reduction per tonne of product by 2020 (for municipal and groundwater); Direct and indirect CO2 emissions: 25% reduction per tonne of product by 2020 (indirect relates to purchased energy and not energy used by others i.e. our raw materials suppliers); total weight of incinerated and land-filled waste by type and disposal: 15% reduction per tonne of product by 2020.
** This target remains unchanged compared to the original 2020 eco-efficiency target for water announced in 2010.