Healthier choices, rich in possibilities
Health and wellness remains a key pillar of Givaudan's corporate strategy, and lies at the heart of our sustainability efforts. 2014 saw Givaudan launch its latest addition to the TasteSolutions® portfolio, which has driven flavoursome, healthier eating options in the 21st Century. TasteSolutions® Richness goes some way to seeking out the 'Holy Grail' of flavour in readymade, processed foods, namely the recreation of rich, authentic 'homemade' taste sensations.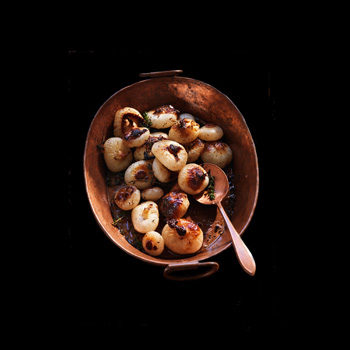 For years now, Givaudan has made great inroads in helping the food industry to meet increasing requirements to lower sugar, fat and salt levels across all different food categories.
TasteSolutions® has pioneered in this regard, enabling food manufacturers to maintain the strong flavour and taste profiles that consumers demand, which are often lost when key taste enhancers are removed. Now, from biscuits to bouillons, cheeses to chewing gums, and soups to sodas, the world's supermarket shelves burst with tasty, healthy options, thanks to TasteSolutions®.
Once every few years, Givaudan holds its flagship innovation event, Givaudan Chef's Council, in different cities, under different themes. In 2010, Givaudan Chef's Council, brought together some of the world's leading chefs to explore themes of taste enhancement in food – which, in layman's terms, meant seeking the secrets to the rich, authentic flavours that consumers crave.
A revolution in flavour
Starting a chain reaction of internal development, exploration and innovation, four years later at Givaudan Chef's Council 2014, Givaudan unveiled TasteSolutions® Richness. Put simply, TasteSolutions® Richness heralds a revolution in flavour delivery, bringing the depth and richness of flavours we associate with home-cooked dishes, lovingly prepared over a hot kitchen stove, to everyday foods. The key to complexity is time itself, which allows for a fusion of molecules to create intense flavours –so imagine if you could achieve the same taste sensations in a powder, mixed with hot water and left to stand for three minutes –herein lies the essence, and magic, of TasteSolutions® Richness. Early commercialisation has seen TasteSolutions® Richness applied to two of our biggest flavour icons, namely beef and chicken in savoury, but there is no barrier to rolling the solution out across categories, including dairy, snacks and even sweet goods.
While this innovation offers superior flavour possibilities, what of its contribution to healthier eating and Givaudan's commitment to promoting health and wellness? The answers are two-fold: Firstly, in creating more authentic flavours, we can actually reduce reliance on elements such as salt and sugar, which manufacturers currently use to build or enhance a 'home-cooked' taste in their products. This makes TasteSolutions® Richness a natural evolutionary addition to the TasteSolutions® portfolio, the ideal complement to our other products in the range.
Less meat, more taste
Secondly, TasteSolutions® Richness has the potential to address a much broader sustainability issue: that of the pressures on livestock, such as cattle and poultry. The desire for meat, in its many forms, is an increasing phenomenon across the world. In emerging markets in particular, consumer demand is now outstripping supply, which brings myriad problems relating to the environment and food resources. By reducing the reliance on meat powders and extracts, TasteSolutions® Richness ultimately reduces manufacturers' need to draw on livestock, and that could make a significant difference to relieving pressures on the global meat industry.
The latest from Latin America
In our Sustainability Report 2013, we highlighted a series of seminars in Latin America, held in partnership with the health industry, including a number of high profile medics. Central to our message was how we can help to change one of the most important consumer barriers to healthier products, which is the perception of the poor taste of reduced fat, salt and sugar products. 2014 saw a repeat of this successful seminar programme, with the Givaudan Health and Wellness Symposium 2014 in Mexico, Brazil, Argentina and Colombia.
2014 UK Health and Wellness Day
Meanwhile in the UK, the Flavour Division, inspired by successes in Latin America, held the first European Health and Wellness Day in London. The event was attended by many of our major customers, keen to deepen their knowledge of today's health and wellness environment. The day-long programme also shared inspirations and innovations on how Givaudan addresses the myriad of challenges from a flavour company's perspective.
It was also an opportunity to learn from our customers, as Michele, Marketing Director Savoury EAME, revealed:
"The day provided us with valuable insight into our customers' challenges and what they may be looking for in terms of today's health and wellness trends. It also gave us a chance to share the exciting developments Givaudan has made in addressing these needs – from salt to sugar reduction – reinforcing us as the ideal solution provider and partner for today's health and wellness needs."
Debating the issues
During the event, Givaudan welcomed a local leading celebrity chef to the event and a speaker from a leading retailer, who talked of the struggle people face today in balancing hectic lifestyles with a healthy diet. Delegates also took part in panel discussions on topics including regulation and sustainability, and were encouraged to try examples from our entire TasteSolutions® portfolio at dedicated taste booths.
The event was considered a great success, showing how Givaudan brings its global knowledge and expertise to bear at a local level. Some customers go to ingredient companies for salt or sugar replacement, but at our Health and Wellness Day, we gave them another possibility to address their challenges, thanks to our expertise in understanding taste. We showed them that healthy food really can taste great.