GRI 102 General disclosures
Organisational profile
UNGC Principles
1
Businesses should support and respect the protection of internationally proclaimed human rights
6
The elimination of discrimination in respect of employment and occupation
SDG Goal
Decent Work and Economic Growth
Responsible Consumption and Production
Climate Action
GRI 102-1
Name of the organisation
GRI 102-2
Activities, brands, products, and services
The Company is the global leader in the flavour and fragrance industry, offering its products to global, regional and local food, beverage, consumer goods, fragrance and cosmetics companies. The Company operates around the world and has two principal divisions: Flavours and Fragrances.
The Flavour Division consists of four business units: Beverages, Dairy, Savoury and Sweet Goods.
The Fragrance Division has three business units: Fine Fragrances, Consumer Products, as well as Fragrance Ingredients & Active Beauty.

www.givaudan.com – Our company – About Givaudan

2019 Integrated Annual Report: Performance highlights
GRI 102-3
Location of headquarters
Chemin de la Parfumerie 5
1214 Vernier, Switzerland
GRI 102-4
Location of operations
Givaudan has 181 locations in 49 countries worldwide.

2019 Governance, Compensation and Financial Report, Givaudan sites worldwide, pages 120-126
GRI 102-5
Ownership and legal form
Givaudan SA, the parent company of the Givaudan Group, is a 'société anonyme', pursuant to art. 620 et seq. of the Swiss Code of Obligations. It is listed on the SIX Swiss Exchange under security number 1064593, ISIN CH0010645932.

GRI 102-6
Markets served
We operate in the B2B-market and are the industry leader worldwide for flavours and fragrances. Both Divisions have a sales and marketing presence in all major countries and markets as well as research and development organisations. They share resources and knowledge in the areas of research and consumer understanding, where applicable. 57% of our revenues come from mature markets (North America, Western Europe, Japan), and 43% from high-growth markets (Asia Pacific, Latin America and Eastern Europe).

www.givaudan.com – Our company – About Givaudan – Our global presence

2019 Integrated Annual Report, Our global presence, pages 16-17
GRI 102-7
Scale of the organisation

GRI 102 – 8
Information on employees and other workers
The following tables give a breakdown of employees by category, region and gender.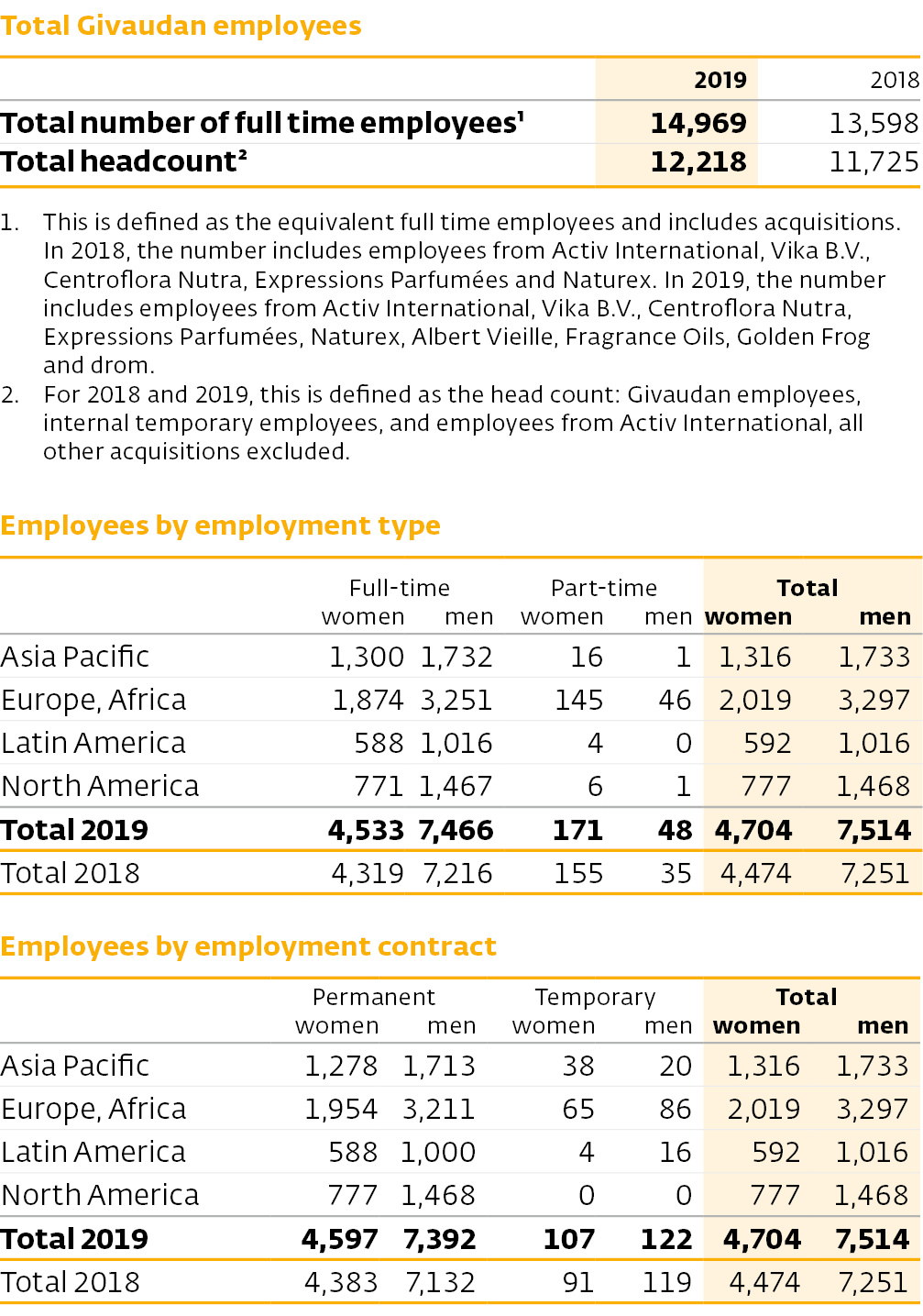 GRI 102-9
Supply chain
Givaudan spends more than CHF 3.7 billion per year sourcing 11,000 different raw materials and indirect materials and services. With about 3,000 raw material suppliers in more than 100 countries and 12,000 additional partners supplying indirect materials and services, we manage more than 25,000 contracts – procurement and the supply chain are strategic to Givaudan's responsible and shared growth.
Our procurement innovation team works closely with category managers on innovation that is enabled by suppliers and on generating new business opportunities. Together with the Science & Technology organisation, we have built a significant project pipeline of novel opportunities. Our teams follow new technologies carefully and work to align business needs with the capabilities of the supplier base. Many innovative ideas come from the suppliers themselves and we are keen to pursue opportunities for mutual benefit.
Our comprehensive Sourcing for Shared Value approach covers procurement and supply chain sustainability practices and aims to ensure that raw materials are produced in a way that respects people and the environment. Working with local producers and suppliers to create new value for all is the essence of the approach. It is based on the principles of Responsible Sourcing, Sourcing at Origin and Communities at Source.

www.givaudan.com – Sustainability – Sourcing

2019 Integrated Annual Report, Sourcing, pages 52-55
GRI 102 – 10
Significant changes to the organisation and its supply chain
Since 2014, we have announced 15 acquisitions which represent an additional CHF 1.5 billion of annualised sales. Our acquisitions are fully aligned with our 2020 strategic priorities: Naturals, Health and well-being, Active Beauty, Integrated Solutions, local and regional customers.
To strengthen Active Beauty, we purchased the cosmetics businesses of AMSilk and are acquiring the cosmetics business of Indena to strengthen our global capabilities in botanical active cosmetic ingredients. We acquired Albert Vieille and Golden Frog to expand leadership in Naturals; Fragrance Oils and drom to consolidate our expertise in Fragrances; and we are in the process of acquiring Ungerer to bolster specialty ingredients in both Flavours and Fragrances.
We inaugurated a new flavour technical and commercial centre in Casablanca, Morocco, a new Flavours production facility in Pune, India, and our newest fragrance encapsulation centre in Singapore for the Asia Pacific market. We have also doubled our flavour production capacity in China with the opening of a new extension at our Nantong production facility.
We opened our Digital Factory in Paris, a project accelerator to transform our business and drive opportunities as well as a new flagship innovation centre in Kemptthal, Switzerland.
In 2019, we had no changes in the share capital structure and no significant change in our supply chain.
GRI 102-11
Precautionary principle or approach
Risk taking is essential to our capacity to innovate, our entrepreneurial success and ultimately to sustained value creation. Managing risk is therefore an integral part of Givaudan's business and we have robust structures and processes to ensure that we do it effectively. Our system of identifying, assessing and deciding on responses to mitigate key risks helps us take the appropriate amount of risk and manage it competently.
Enterprise Risk Management (ERM) is our approach to assessing, treating and monitoring how uncertainty may affect our ability to attain objectives or jeopardise long-term success. The approach is based on our ERM Charter, which is compliant with applicable laws, directives and best practices.
The charter's main aim is to lay out how we review and report on all risks in terms of their nature, source and consequences. It contributes to safeguarding Company value and assets and protecting shareholder interests; to exploiting strategic opportunities for creating additional Company value, and to improving awareness of the nature and magnitude of the Company's risks amongst internal stakeholders. It also provides information for effective decision making in compliance with good corporate governance guidelines and practices as well as applicable laws and regulations.
We identify and manage risk at strategic, operational and legal and regulatory level.
Strategic risks include business model risk, risk of changes in consumer preferences, customer risk and competition risk.
Sustainability risks include risk of climate change/water scarcity. We address climate change risk through a comprehensive programme designed to minimise our impact on climate change and move to a low carbon economy, by rigorously reducing the environmental impact of our activities.
Operational risks include disruption or breakdown of operations, disruption of supply chains or suppliers, environment, health and safety risks, information technology risks and financial risks.
Legal and regulatory risks include product quality and safety risks, as well as legal and compliance risks.
Finally, while we acknowledge political and economic uncertainties in many parts of the world, we believe our business model and agility allow us to continue to evolve and grow our business.

2019 Integrated Annual Report, Managing risks and assuring our long-standing success, page 70
GRI 102-12
External initiatives
We engage in numerous external initiatives and strategic collaborations with relevant organisations and partners to support and inform our work on the most material sustainability issues. Collaboration across our supply chain as well as with other businesses and non-profit organisations is essential; the more we do together, the quicker we drive sustainable solutions. Some of the most significant external initiatives are listed below.
United Nations Global Compact (UNGC)
CDP
Science Based Targets Initiative (SBTi)
The Global Reporting Initiative (GRI)
Sedex (Supplier Ethical Data Exchange)
EcoVadis
RE100

Our Sustainability Approach, pages 35–37
GRI 102 -13
Membership of associations
The strategic organisations we are currently engaged with include:
AIM-Progress
World Business Council for Sustainable Development (WBCSD)
Roundtable on Sustainable Palm Oil (RSPO)
French Alliance for Sustainable Palm Oil
American Cleaning Institute (ACI)
Earthworm Foundation (formerly The Forest Trust TFT)
Natural Resources Stewardship Circle (NRSC)

Our Sustainability Approach, pages 37–38