GRI 400 Social
GRI 405: Diversity and equal opportunity
UNGC Principles
6
The elimination of discrimination in respect of employment and occupation
SDG Goal
Gender Equality
Decent Work and Economic Growth
Partners for Goals
GRI 103-1
Explanation of the material topic and its boundary
Diversity is critical to helping us manage our complex operating environment and serving our customers in the best possible way. Providing equal opportunities is necessary to cultivate leaders with legitimacy and to make better business decisions. We address Diversity and equal opportunity through the material topics Diversity and inclusion, Women's empowerment and Talent management.
We approach Diversity and inclusion by looking to have a balanced workforce that reflects the societies in which we operate. This involves efforts to eliminate all discrimination and to give people from all backgrounds the chance to succeed.
Equal treatment of women and men is not just the right thing to do – it is also good for business. The full participation of women at Givaudan makes sound business sense and embracing women's empowerment as a key goal will benefit us all.
Managing talent allows us to attract and keep the best and the brightest. We also seek to attract local talent and industry experts to support growth in all markets. We embrace diversity throughout our organisation and recruit to build a representative and inclusive workforce.
GRI 103-2, 103-3
Management approach
We embrace diversity throughout our organisation and are fully committed to inclusiveness. We assess and review the numbers of our balanced workforce, particularly relating to gender and nationality, and track progress in this regard, including the percentage of women and high growth market nationalities in leadership positions. Our Diversity Position Statement outlines our commitment to ensuring a representative workforce that reflects the diverse communities in which we operate. Two of our new purpose goals specify that before 2030, 50% of our senior leaders will be women and 50% will be from high growth markets.
One way we will continue to promote a representative workforce is through our approach to a better balance: a good mix of nationalities and gender reinforces our inclusive culture and is essential to achieving our business goals. We are committed to providing and contributing to a work environment that is based on mutual respect among people and is free from harassment.
The path to leadership is open to all motivated, talented and qualified people and we are committed to equal opportunity. Our Principles of Conduct state that it is our policy to recruit, employ and promote people on the sole basis of the qualifications and abilities needed for the work to be performed without regard to race, age, gender, national origin or any other non-relevant category.
This is fundamentally the right way of doing things and makes sense from an operational perspective. Highly qualified candidates may be more likely to consider working for a company if they believe opportunities for economic growth will be available to them as they demonstrate their value, regardless of their gender or nationality. Companies who compensate men and women and people from all backgrounds equally will have access to a larger talent pool when recruiting and hiring and are more likely to retain these highly skilled people.

2019 Integrated Annual Report, People contributing with passion and talent, pages 45-47

Our Sustainability Approach, pages 26, 27, 49, 52, 53
GRI 405-1
Diversity of governance bodies and employees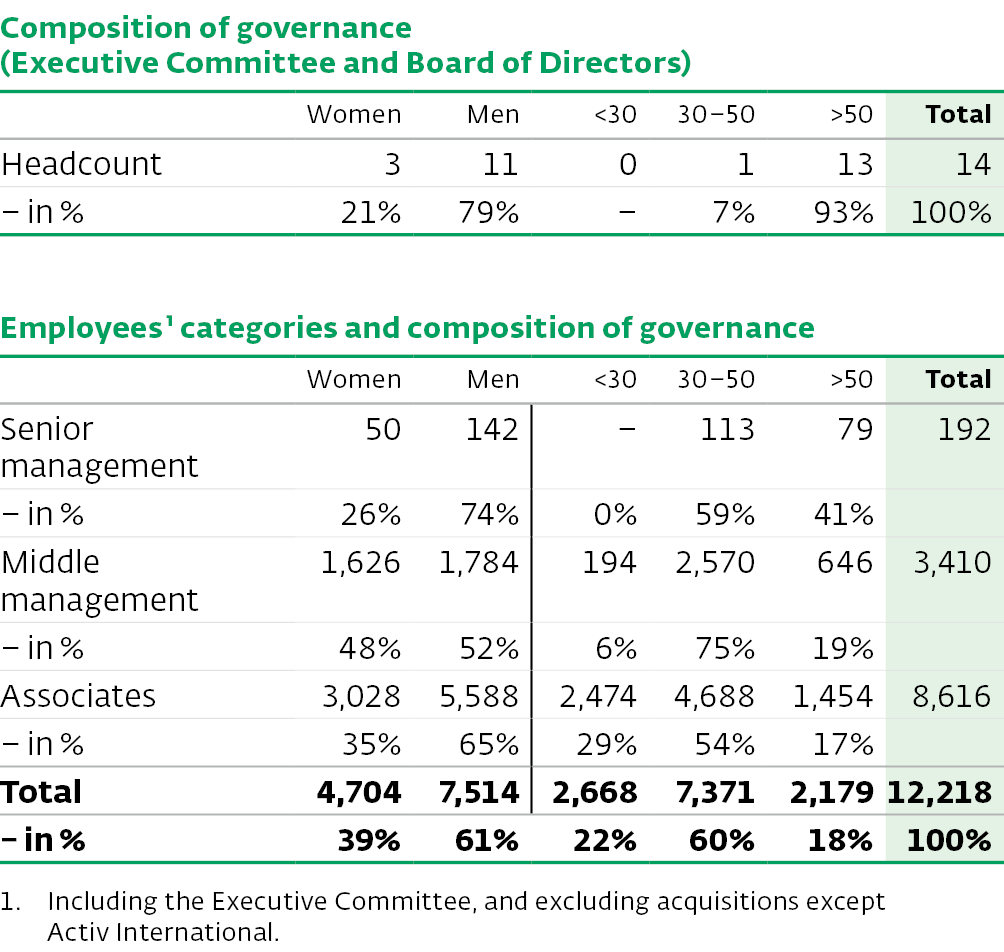 GRI 405-2
Ratio of basic salary and remuneration of women to men
For the Givaudan Group globally, our results show that the average base salary difference between men and women is 1.4% for equivalent roles and skills sets. For total cash compensation (fixed and variable pay) the difference is 1.6%, remaining stable from 2018. The results for our headquarters in Switzerland are similar, showing differences in the order of 1% for base salary and total cash compensation.