GRI 400 Social
GRI 401: Employment
UNGC Principles
6
The elimination of discrimination in respect of employment and occupation
SDG Goal
Gender Equality
Decent Work and Economic Growth
Partners for Goals
GRI 103-1
Explanation of the material topic and its boundary
Givaudan is the leading employer in the flavour and fragrance industry with a global workforce of over 14,900 employees. It is our people, working in a wide variety of roles, who help transform the original creations of Givaudan's talented perfumers and flavourists into products that are designed to satisfy the most demanding requirements. These innovative, creative professionals are fundamental to our success.
Givaudan addresses the topic of Employment through our material topic Talent management. Effectively recruiting, developing, engaging, deploying and retaining a balanced workforce that meets future business imperatives is critical to improving staff retention, reducing costs and increasing our revenue.
Managing and encouraging people is a critical element of meeting our business and sustainability goals. People who are passionate about our work and committed to creating a sustainable society make significant contributions to the success of our business. We focus on employee development to improve skills and productivity, to constantly adapt skills to requirements and to offer the best opportunities to our people.
GRI 103-2, 103-3
Management approach
Our business is about our people and their talent. It is their passion that continues the Company's long history of delivering with excellence and ensures the best possible customer experience.
We reflect the societies and cultures in which we operate by providing opportunities for people of all backgrounds, gender and origin. We believe that diversity and inclusivity add strength and balance to our workforce and we look to contribute to full and engaged employment and decent work for all. We insist on fair compensation, labour rights and good labour and management relations as well as continuous development of the skills of our talented workforce.
This results in an engaging and inspiring environment for employees and allows them to realise their career aspirations. We foster proactive talent development, offer targeted technical and functional support and work to strengthen our leadership capabilities. We also underpin the growth of a strong workforce by nurturing a pipeline of industry experts and future leaders to develop skills for sustained success; similarly, we seek to attract local talent and industry experts to support growth in all markets.
At Givaudan, the path to leadership is open to all motivated, talented and qualified people and we are committed to equal opportunity. It is our policy to recruit, employ and promote people on the sole basis of the qualifications and abilities needed for the work to be performed without regard to race, age, gender, national origin or any other non-relevant category. Our Company purpose now includes a goal to be rated among the leading employers for inclusion globally before 2025.
Finally, fair and competitive compensation is essential to attract, motivate and retain the best talent in the industry. Our remuneration policy is based on the principles of pay for performance, external competitiveness, internal consistency and fairness.

22019 Integrated Annual Report, People contributing with passion and talent, page 45-47

Our Sustainability Approach, pages 26–29, 52
GRI 401-1
New employee hires and employee turnover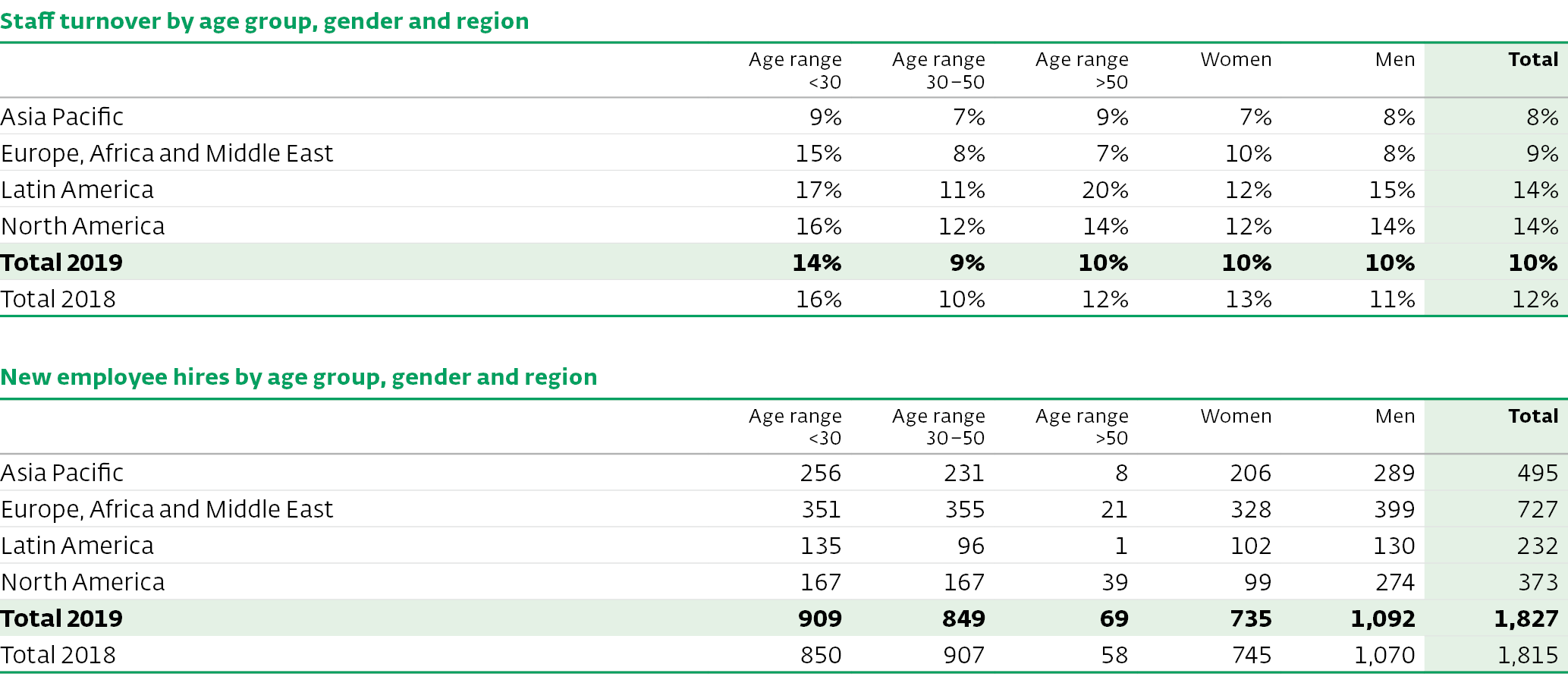 1 of 14

GRI 402: Labour/management relations

Next