GRI 300 Environmental
GRI 301: Materials
SDG Goal
Zero Hunger
Industry,Innovation and Infrastructure
Responsible Consumption and Production
Climate Action
Life on Land
Partners for Goals
GRI 103 – 1
Explanation of the material topic and its boundary
Our business depends on natural resources and the communities who grow them – continuity of supply is critical to successful operation. We are also committed to ensuring that our raw materials are sourced responsibly in terms of both people and the environment. The topic of Materials is related to our material topics Raw material availability, Product environmental and societal impact, and Deforestation.
Our efforts in these areas extend beyond Givaudan to include the supply chain. As population and consumption levels rise, agriculture, energy, and settlement are replacing natural ecosystems. This land-use change and land degradation put the ecosystems that underpin the sources of our natural ingredients at risk. We work with suppliers to end it where necessary.
GRI 103 – 2, 103 – 3
Management approach
Our raw materials should be produced in a way that respects people and the environment. We work in partnership with local producers and suppliers to transform the way we source and create new value to be shared by all. This is the essence of the Givaudan Sourcing for Shared Value.
We have integrated locally sourced raw material activities into a global Raw Materials procurement team to increase our geographical footprint and better control spending. This team is responsible for purchasing globally and works to understand and manage potential risks. Approaches include reducing dependence on single-source suppliers and strengthening risk management governance as well as constantly assessing geographical risks.
The team works with suppliers to monitor other risks and ensure continuity of supply, continuing too to build relationships with local producers around the world. Travelling to remote areas to visit and buy directly from farmers, distillers and producer associations, they develop personal relationships to build trust and ensure the long-term supply.
We look to minimise the environmental impact of our raw materials sourcing by developing new technologies and processes. This includes investigating and developing alternative sources of key natural raw materials, increased use of renewable raw materials, finding ways to increase yield both in terms of biomass and essential oils as well as ways to produce more fragrance with less material. We also look to minimise waste by using recycled materials and incorporating elements of the circular economy, reusing the by-products of our processes where possible for additional products. Externally, we engage with customers to develop new products and technologies that are more sustainable.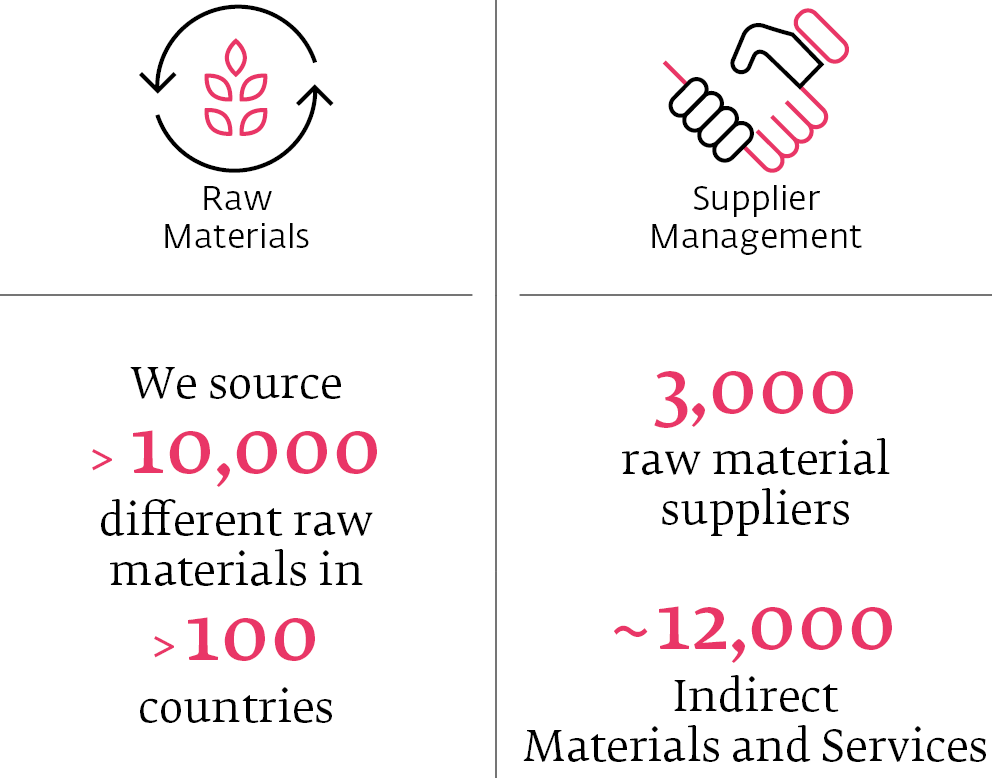 2019 Integrated Annual Report, Sourcing for shared value pages 53-55, Acting for our environment pages 58-61

Our Sustainability Approach, pages 24, 25, 48, 51, 52
GRI 301 – 1
Materials used by weight or volume

1. The figures refer only to the volume of ingredients from the Cardex and the Palette used for fragance and flavour products as shown in the 2019 figures below:
| Weight of purchased raw materials (tonnes) | 2018 | 2019 |
| --- | --- | --- |
| Total | 448,012 | 481,873 |
| Weight of purchased packaging (tonnes) | 2018 | 2019 |
| --- | --- | --- |
| Plastic HDPE | 6,956 | 7,299 |
| Steel/Metal | 14,029 | 14,698 |
| Fibre | 304 | 616 |
| Paper/Board | 2,667 | 2,909 |
| Wood | 13,082 | 12,232 |
| Total | 37,037 | 37,754 |