Making a positive difference by renewed eco-efficiency commitments
We have been tackling our eco-efficiency targets to limit the impact of our activities on the environment for some time, and now we are setting  more ambitious goals for 2020.

Some of our original targets, set in 2010 around energy, waste, water and CO2, are being reached ahead of schedule. This is a cause for celebration and gives us a chance to further reduce our environmental impact while strengthening the social and economic fabric of the communities in which we operate.
Some initiatives we have in place that are already making an impact include site energy saving workshops and mapping and reducing our CO2 footprint in goods transportation. In addition, our Green Teams, on individual sites, contribute to making a difference with local innovative actions.
2010-2010 eco-efficiency targets
(consumption per tonne of product)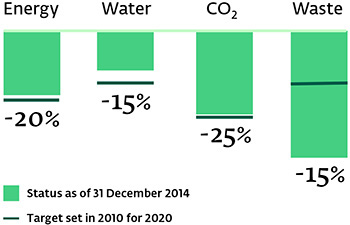 Road to Paris signatory
To formalise our commitment to eco-efficiency, Givaudan is a signatory to four commitments put forward in the CDP's 'Road to Paris' initiative.
This sets a solutions-oriented agenda on climate change in cooperation with business, governments and the financial community and which was part of the UN Conference on Climate Change (COP21) in late 2015.
The four Road to Paris commitments Givaudan signed up for are: 100% renewable electricity, reporting climate change information in mainstream reports, adopting science-based emissions reduction targets and removing commodity-driven deforestation from supply chains.
By signing up to the Road to Paris commitments, our Company is demonstrating its desire to work in a broad global partnership of proactive companies dedicated to making a positive difference.
CDP recognition
We were recognised by the CDP with the highest possible score of 100A for corporate reporting and action on climate change mitigation – a key milestone in embracing our responsibility. With this score, we are listed in CDP's regional and global 2015 reports as country leader for Switzerland and as a global A-list category leader in the Materials sector.